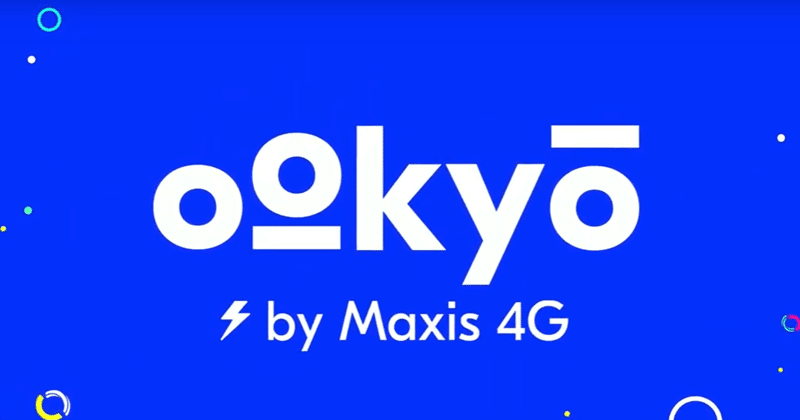 Two years after debuting as one of the pioneering digital telcos in Malaysia, ookyo is calling it a day. A subsidiary of Maxis, the telco announced that it will be absorbed as part of the Hotlink family effective 21 January 2020, with existing subscribers automatically migrated to Hotlink RED.
According to the website, ookyo has stopped accepting new registrations from 21 November 2019 onwards, although those who had just recently signed up will still get their SIM pack and be able to enjoy ookyo until the switch to Hotlink RED on 21 January next year. Interested ookyo customers, on the other hand, are suggested to get a Hotlink Starter Pack or Hotlink Postpaid Flex instead.
As for existing customers, they will be automatically switched over to Hotlink RED when the time comes, along with the available balance in their ookyo account. All subsequent account balance management will be conducted from the Hotlink RED app instead. That said, existing customers can continue to use and renew their ookyo base plan, purchase unlimited add-ons, and top up their ookyo wallet as per normal until 20 January.
To sweeten the deal, existing subscribers are entitled to a welcome offer of free 8GB valid for 30 days with Non-Stop RED Social (Facebook, Instagram, Snapchat, Twitter, and Pinterest) upon the switch. They will also be able to enjoy a discounted rate for this package at RM30/month (NP: RM45/month) for the following 12 months.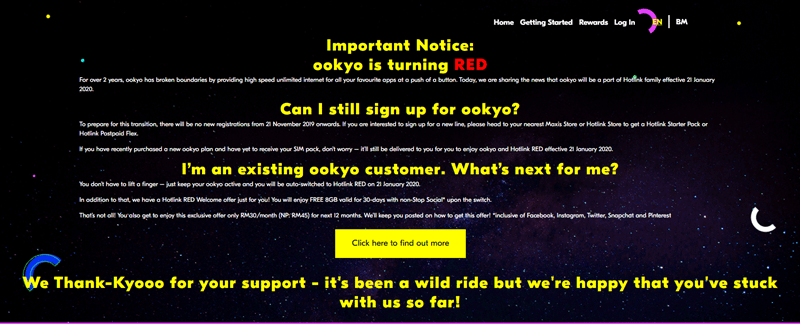 ookyo subscribers should also remember to utilise all their Google Play wallet balance before 20 January as these will not be transferred. Google Play Rewards is a bonus shared with ookyo members, in which they are given free credits to make app or in-app purchases when they buy things from the ookyo store or invite members to sign up on ookyo with their code.
ookyo was Maxis' shot at a fully-digital telco within Malaysia, where all processes – from subscription of the service to management of the account – are accomplished online through an app.
A unique selling point of ookyo lay in its unlimited data for its customers' favourite apps, which can be purchased at only RM30 per month, although customers could also get unlimited passes for individual apps if they want.
To find out more, head over to ookyo's FAQ.
(Source: SoyaCincau)