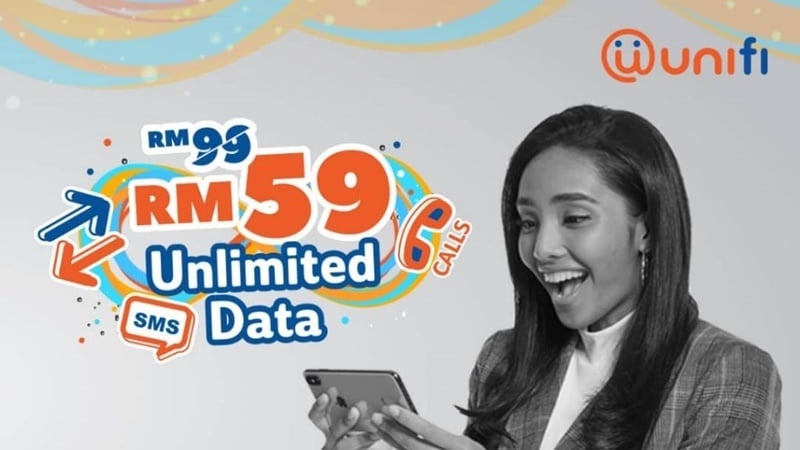 Telekom Malaysia (TM) is offering the Unifi Mobile 99 postpaid plan for just RM59 a month, almost 40% less than the usual RM99. This promotion will run until 31 December 2019 and is only available to new subscribers.
The discounted Unifi Mobile 99 plan offers new users the same unlimited data, calls, and SMS that existing users already enjoy. In addition, the plan also comes with a generous monthly 10GB LTE hotspot pass that can be utilised when users are within the LTE coverage area.
The promotional price is only available on a 12-month contract – if you opt for the no-contract option, you will be charged the standard full price of RM99 per month. The good news, however, is that the price will remain at RM59 even after your 12-month contract ends.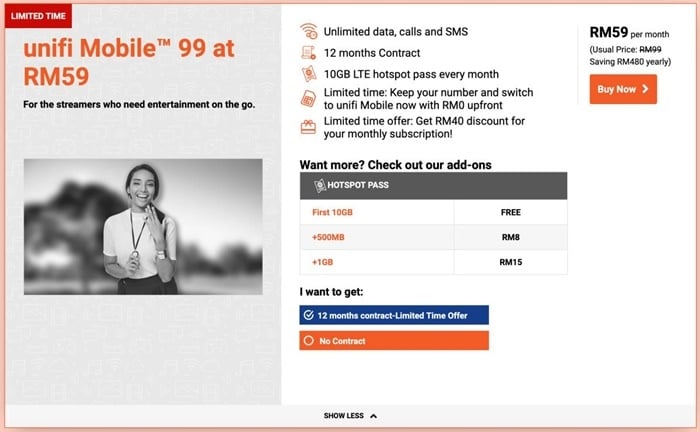 Customers who subscribe to a new number under the plan will be charged with an upfront payment of RM100, but customers from other telcos who wish to keep their existing mobile numbers will have the RM100 upfront payment waived for a limited time. As for Unifi Mobile members on any existing plan, unfortunately you cannot change your plan in order to enjoy the special price.
Interested customers may visit TMpoint outlets, TM Authorised Dealers, other authorised resellers nationwide, or the official Unifi website for more information.
While this plan saves subscribers a yearly total of RM480, making it especially worthwhile for mobile users who heavily consume data on-the-go, Unifi Mobile's LTE network coverage remains substantially smaller and slower than the leading telcos.
(Source: Amanz)