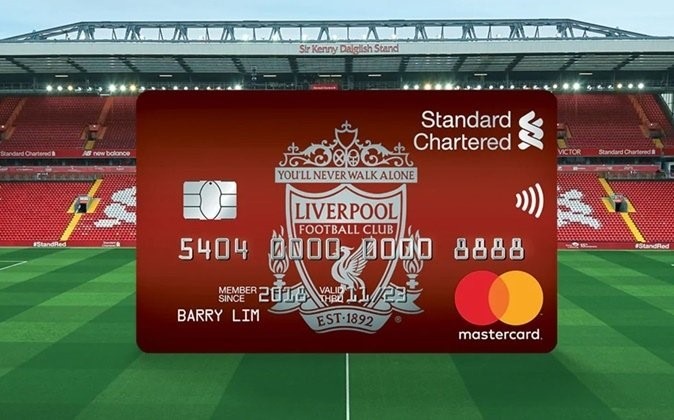 Effective 1 January 2020, there will be some changes to the Standard Chartered Liverpool FC Cashback credit card. The card will no longer have a minimum spend requirement, but the cashback rates will be tweaked.
Currently, there is a minimum spend amount of RM500 in order to be eligible for any cashback on the Liverpool FC Cashback card. From there, the card offers a tiered cashback benefit that increases the more you spend, maxing out at 5% capped at RM50 when you spend a minimum of RM1,500.
The 1 January 2020 revision removes the RM500 minimum spend, but at the same time the cashback tiers and caps will also be changed. Any expenditure less than RM1,000 will only yield 0.2% cashback, which amounts to a maximum of RM2 in cashback at the lowest tier. The cashback rate for the middle tier of spending has also been reduced from 3% to 2%, with the maximum cashback cap per month lowered from RM25 to RM20.
As for the third and highest tier of spending, Standard Chartered has kept the cashback rate and cap the same at 5% and RM50 respectively. However, you would now need to spend a minimum of RM2,000 to unlock this 5% rate instead of RM1,500 previously.
Here's a comparison of the current and future cashback benefits in the table below.
Retail spend per month
Cashback
Cashback cap per month
Before 1 January 2020

RM500 – RM799.99
RM800 – RM1,499.99
RM1,500 and above

After 1 January 2020

RM0 – RM999.99
RM1,000 – RM1,999.99
RM2,000 and above
Besides the above changes, all other features of the Standard Chartered Liverpool FC Cashback credit card remain the same. As before, petrol and insurance transactions are not eligible for cashback, but do count towards your retail spend amount.
You can find out more about the Standard Chartered Liverpool FC Cashback credit card here.
(Source: Standard Chartered)