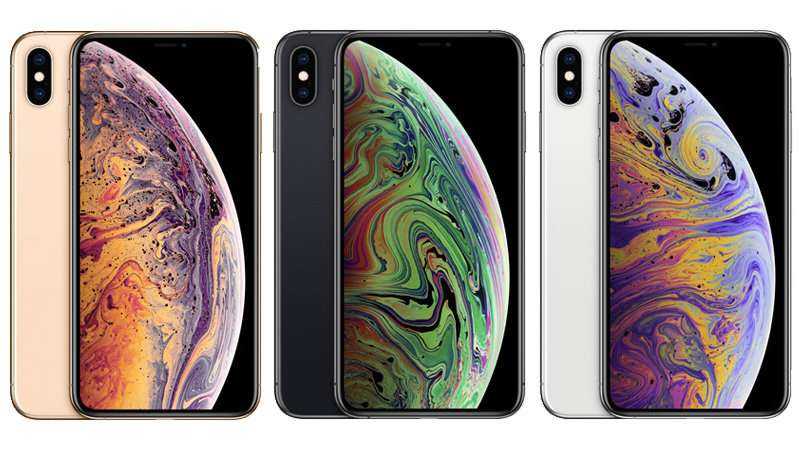 With official retail prices for the iPhone XS Max set at RM5,399 for 64GB, RM6,099 for the 256GB model, and RM7,049 for the 512GB variant, the new iPhone are the most expensive iPhone models to date. That said, online e-commerce platforms are starting to offer great deals for the iPhone XS Max, with potential savings that can be more than RM1,000. If you've been waiting for a good deal to grab the new iPhone and not willing to go down the telco contract route, these deals should catch your eye.
Senheng is offering the iPhone XS Max 64GB for RM4,999 in Lazada, which is 7% or RM400 off the retail price. All three colours (Gold, Silver, Space Grey) are available, with the option of paying with a 0% installment plan of up to 12 months. Note that Senheng also has a RM50 coupon code (CNYLASTMIN) to further offset the price.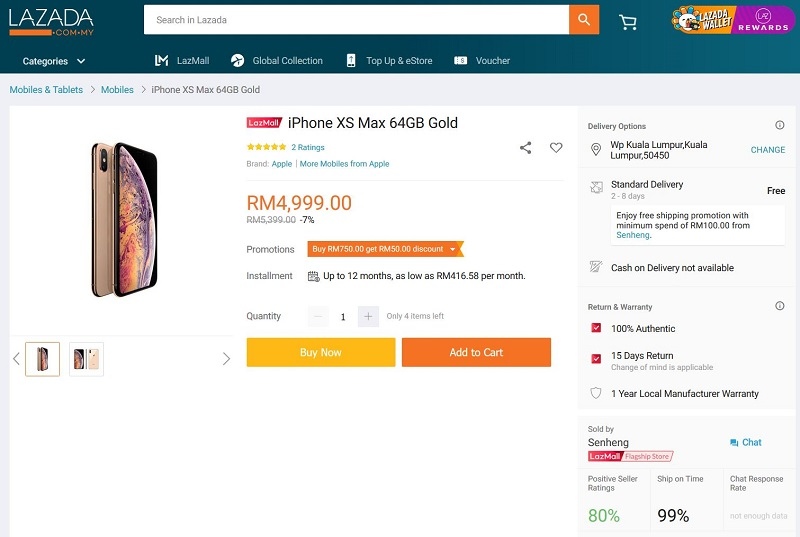 If 64GB is too tiny for you, the best deal for the iPhone XS Max 256GB on Lazada is at RM5,599 from popular phone store, G Store. This store also features the absolute best iPhone XS Max deal: the 512GB model for just RM5,999 – a massive 15% (or RM1,050) discount. No other (legitimate) listing comes close to matching this price on Lazada and on Shopee and 11street.
Speaking of which, there's a solid deal on 11street as well. The 256GB model is available for RM5,699 in Gold and Silver colours, but with RM100 + RM10 seller vouchers, the final price goes down to RM5,589 – just slightly lower than the best price we found on Lazada. One advantage 11street has over Shopee and Lazada is that it accepts American Express cards, so you can enjoy 5x TreatsPoints and 5% weekend cashback when you use the Maybank 2 Gold and Platinum Amex cards here. That would bring the total cost down even further (though the 512GB model for RM5,999 still takes the cake as the best overall value).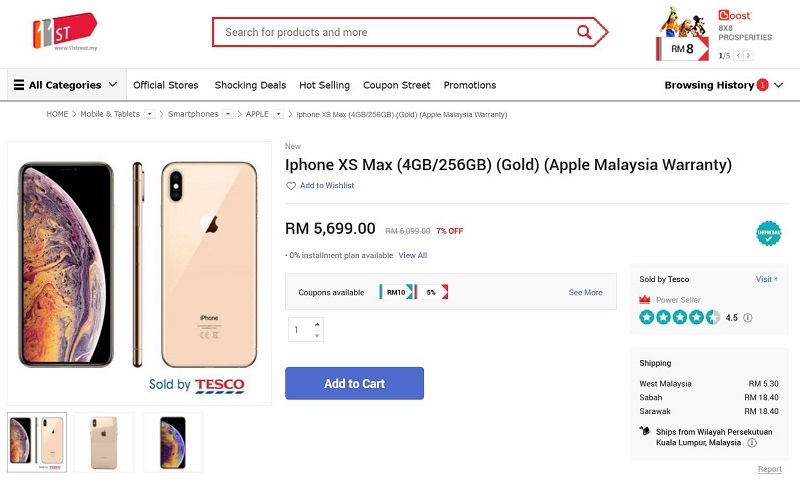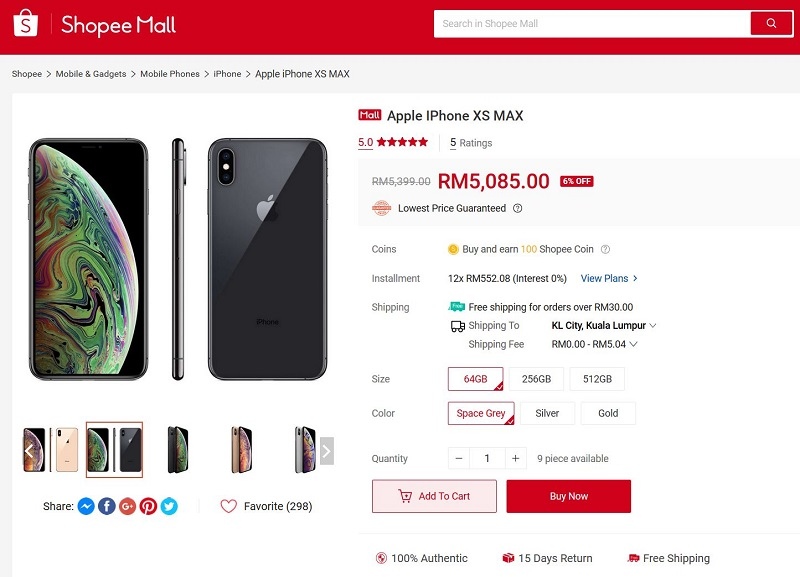 Finally, Shopee's official electronics store offers all three storage options for the iPhone XS Max at discounted prices as well. At RM5,085 (64GB), the RM5,735 (256GB), and the RM6,625 (512GB), they aren't as good as the Lazada and 11street deals highlighted above, but Shopee offers regular seasonal coupons that can be combined with the Shopee coins and reduce the final price further.
All the iPhone XS Max listed above are all official Apple Malaysia units with 1 year local warranty, and from reputable sellers with solid track records so buyers won't need to worry about warranty issues. If you've been planning to upgrade to an iPhone XS Max, this is certainly a great time to do so.