Samsung's latest flagship smartphone, the Galaxy Note 9, has officially been unveiled at its global launch event late last night. Interestingly, the company has immediately announced the pre-orders for the device in Malaysia, with a starting price of RM3,699 with generous freebies included.
The Galaxy Note series have always been engineered for the power user, with an emphasis on performance and battery life. These two factors were a strong focus for Samsung this time around, and from the spec sheet, it is very clear to see. The company is offering the Note 9 with a minimum of 6GB of RAM and 128GB of storage, while taking a leaf out of Chinese smartphone companies by offering a "turbocharged" version with 8GB of RAM and a whopping 512GB of storage.
Other hardware areas see notable updates as well. The Samsung Galaxy Note 9 is powered by the same Exynos 9810 chipset that debuted on the Galaxy S9 and S9+, but the entire internal system has been tweaked with enhancements to the graphics processing unit (GPU), as well as the introduction of a "water carbon cooling system" with larger heatpipes. Together with the extra RAM, Samsung is positioning the Galaxy Note 9 not just as a productivity machine, but also a gaming monster as well.
The cameras on the Galaxy Note 9 are also similar to that in the Galaxy S9+. There's a dual 12MP + 12MP rear sensor with variable aperture (which adjusts automatically to let more light in when necessary) and dual OIS (optical image stabilisation), but the changes are seen on the software side. There's an AI-assisted feature that detects when someone blinked in the photo you just took, or if it is blurry, and will inform you of it so you can take a better shot. It also has auto-scene detection and optimises the settings to enhance the output.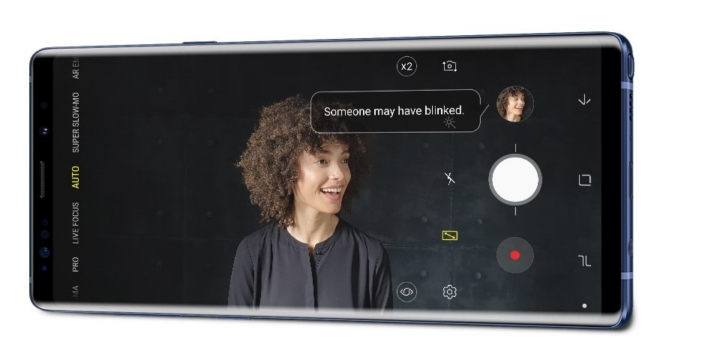 On top of that, the battery has seen a sizeable increase to 4000mAh – 21% larger than the 3300mAh unit in the Galaxy Note 8. This is the largest battery ever fitted on a Galaxy Note smartphone, and Samsung has sent them to third-party experts to ensure the batteries' safety so that it doesn't suffer a similar fate as the Galaxy Note 7.
The Note 9 also has a slightly larger screen at 6.4 inches compared to the 6.3-inch Galaxy Note 8. Rounding up the spec sheet is a USB Type C port, an audio jack, a microSD card slot that supports up to 512GB cards, and fast wired and wireless charging. The company also integrated DeX, the desktop environment solution, into the Galaxy Note 9, and can be activated only by connecting a monitor using a USB Type C to HDMI adapter – no more separate DeX Station to carry around.
Finally, it wouldn't be a Note without the S Pen, and this year, Samsung has made huge strides for the S Pen. It is now embedded with Bluetooth, and is fitted with a "Super Capacitor" that is wirelessly charged when it is inside the phone. The introduction of Bluetooth allows users to use the S Pen as a wireless remote or clicker, letting you remotely control the camera, for example, or move between presentation slides on PowerPoint.
Retail Price & Where To Pre Order Galaxy Note 9 In Malaysia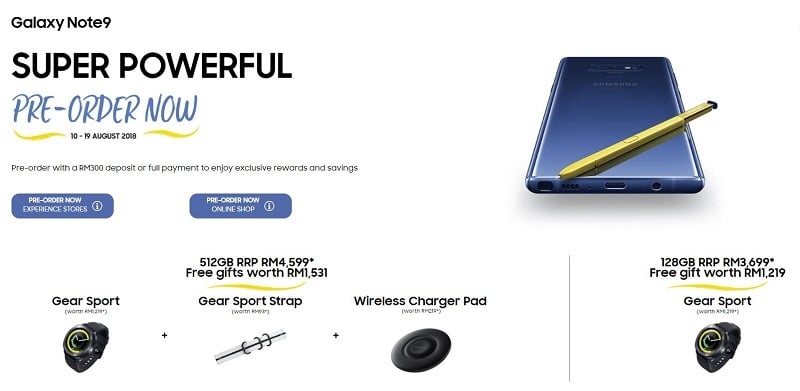 Malaysia is in the first wave of global availability of the Samsung Galaxy Note 9. Pre orders have gone live across various channels, from Samsung's own website to popular retailers like Senheng and Harvey Norman, telcos (Celcom, Digi, Maxis, U Mobile, Yes 4G), and of course, the e-commerce sites (Lazada, 11street, Shopee (128GB, 512GB)).
The Samsung Galaxy Note 9 retails for RM3699 for the 6GB/128GB unit, and RM4599 for the 8GB/512GB model. Both variants come with freebies during this pre-order campaign. The 6GB/128GB model will come with a free Samsung Gear Sport smartwatch worth RM1219, while the 8GB/512GB version will come with the Gear Sport worth RM1219, an extra watch strap, and a fast wireless charging pad that have a total value of RM1531.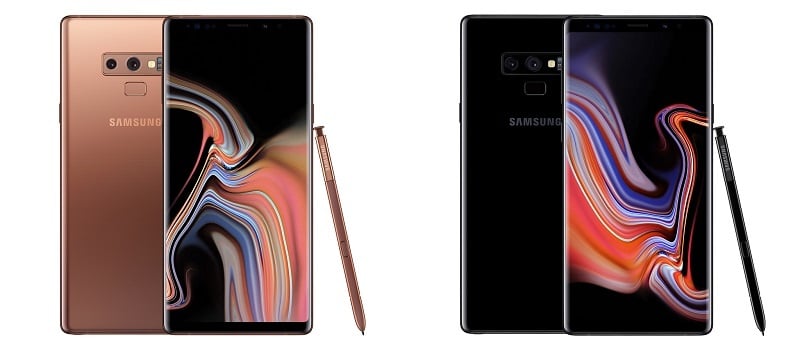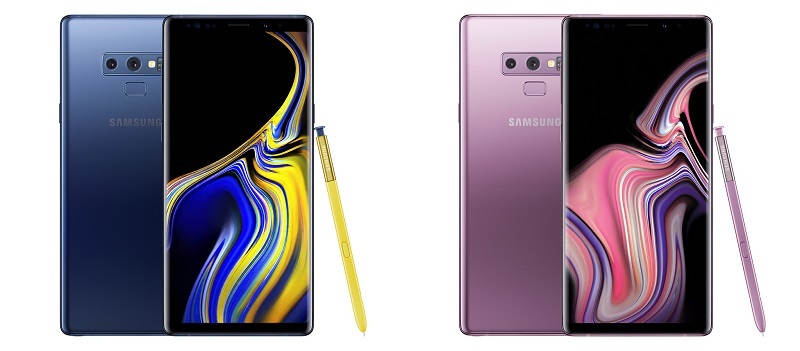 Four colours will be available: Midnight Black (128GB & 512GB), Ocean Blue with Yellow S Pen (128GB), Metallic Copper (128GB), and Lavender Purple (128GB).
Best Pre-Order Deals & Best Credit Cards To Use To Buy Galaxy Note 9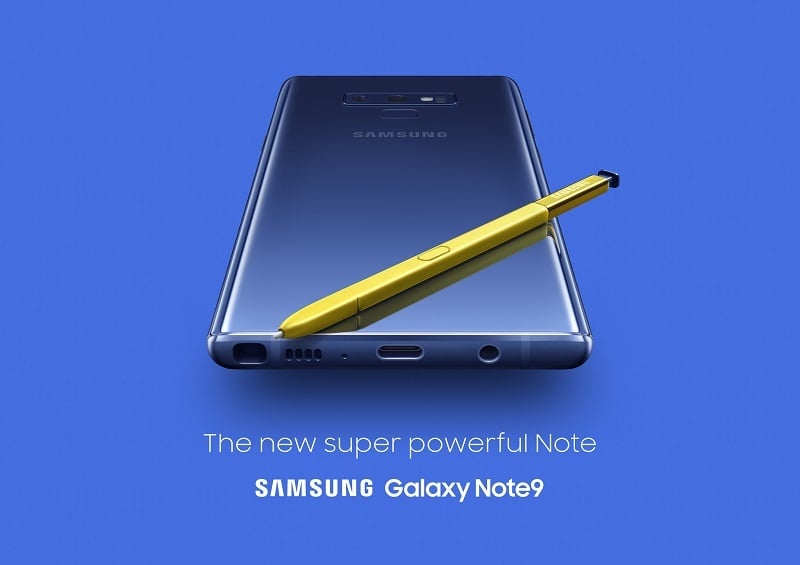 Samsung has ensured all its retail, telco, and e-commerce partners follow its pre-order freebie campaign, so across the board you'll find the same deal. However, Senheng is offering a free 32GB Samsung microSD card (first 999 orders only) on top of the set of freebies for the Galaxy Note 9 pre-order. Senheng's PlusOne members also get an extra year of warranty for free.
Meanwhile, the telcos all have their own pre-orders in place, with various subsidised device prices. However, do note that you will be locked down to a 24-month contract to enjoy the special prices.
As for the e-commerce partners, Lazada, 11street, and Shopee all currently have live listings, but none are offering anything extra on top.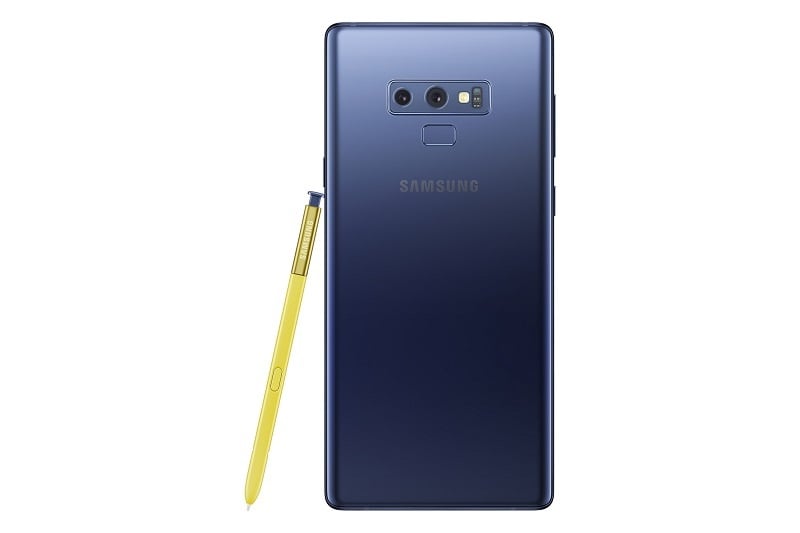 So, which credit cards to use to maximise your savings? For starters, the Maybank FC Barcelona Visa Signature is the best credit card to use here, as it offers 10% cashback capped at RM100 for the month of August – that's an instant RM100 in savings for the purchase.
On the other hand, 11street and Senheng's websites accept American Express credit cards, so if you have the Maybankard 2 Gold or Platinum credit cards, you'll get 5X TreatsPoints if you purchase today, or if you take the risk and wait until the weekend (the pre-order campaign ends on Sunday, 19 August), you can get 5% cashback as well (capped at RM50).
Not to forget, there's also the Public Bank Visa Signature and the Public Bank Quantum credit cards. The PB Visa Signature offers 6% cashback (capped at RM38) as well as VIP Points, while the Quantum cards feature 5% cashback for online transactions (capped at RM30) and has VIP Points as well.