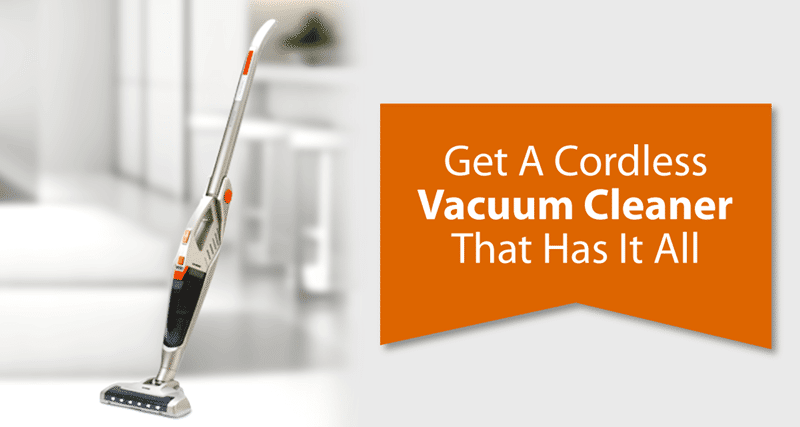 Don't miss out on the plethora of options you have when it comes to vacuum cleaning! There is a whole range of top-notch features your vacuum cleaner can offer that will make your routine chores a whole lot easier. Have a look at the following qualities of Khind's latest VC9660 model and see for yourself how easily vacuuming can be a breeze.
Long battery operating time

Plugging and unplugging your appliance at power points as you clean your whole house is way too much of a struggle. Clearly, cordless vacuum cleaners are the way to go. This is where the operating time comes in as super important – you wouldn't want your vacuum cleaner to run out of battery halfway through your cleaning session. Powered by a new-generation Li Ion Battery, the VC9660 can run up to 23 minutes at high speed and up to 50 minutes at low speed, from just one single charge.
Choose a more thorough clean

When the result you are looking for is a squeaky-clean floor, the type of brush in the vacuum cleaner you're using matters. You want a brush that has the ability to remove more dust particles from all types of flooring, whether it's parquet, hard floor, or carpets. For those of you who tussle with picking up stray strands of hair every day, you'd want a vacuum cleaner that removes hair effectively, too. With the VC9660's AnimalPro brush, all it takes is a few passes over each surface to get a clean and dust-free result.
Maximum flexibility

Unlike Mr Incredible from The Incredibles, you probably don't have super strength to lift tables and sofas out of the way when it's time to vacuum. What you'll need instead is a vacuum cleaner with a handle that is flexible enough for you to vacuum around corners and under your furniture. With the VC9660, its strength lies in its foldable handle that can fold both forwards and backwards for maximum flexibility. That way, you won't have to worry about missing any hard-to-reach spots when you vacuum.
2-in-1 vacuum

Why settle for one type of vacuum cleaner when you can have both? At first glance, the VC9660 acts as a hardy upright vacuum cleaner. When you need to really get down to it though, it doubles up as a handheld vacuum cleaner that is detachable from the main body. There's no need to buy a smaller vacuum cleaner for little nooks or cleaning your car when you can get both the handheld and upright functions in one!
So, if you want to make your regular vacuum cleaning session a quick and easy affair, do yourself a favour and check out the Khind Cordless Vacuum Cleaner VC9660. With all the right features, you know you'll be best equipped to effectively tackle those dust bunnies. Head on over to KHIND's website now to find out more or purchase it online at www.khindonline.com