Mr West, this is your business manager. Your slightly delayed album is finally released on Tidal. We didn't think it would do very well considering how young the music streaming service is, but it exceeded our expectations. It even propelled Tidal to the number 1 spot on the App Store. Good work.
Once that growth slows down, we can think about rolling the album out on the other services so more people can get to it. While growth for Tidal is good, with your friend Jay Z being the owner of the app and all, we do still need to sell more copies. Limited release to a single platform just isn't smart for the long run.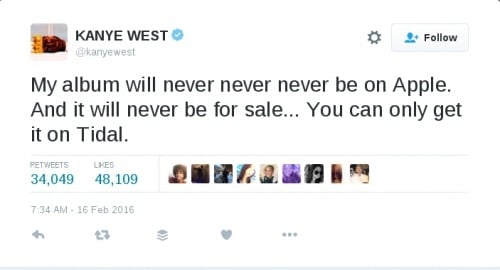 Um… Alright. That's fine. Maybe your one album can make users of Spotify, iTunes, and the rest switch over to Tidal for good? It's a gamble, but it might be worth it. Although we did allocate a budget for the cover art. Not having a physical copy of that to at least sell as a collectible item feels like a waste. What does the cover look like, by the way?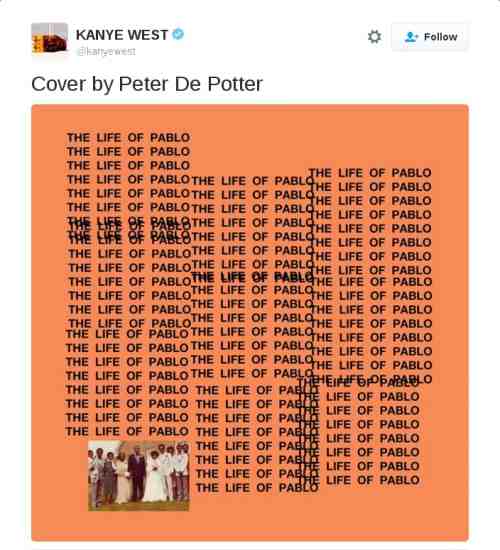 I see. That looks…artistic. Perhaps the decision not to sell a physical copy makes sense after all. As long as Tidal's servers hold up and the service can handle the influx of new users, we have nothing to worry about. In fact, I'm confident that making it exclusive to this one platform, it reduces our losses from illegal file-sharing.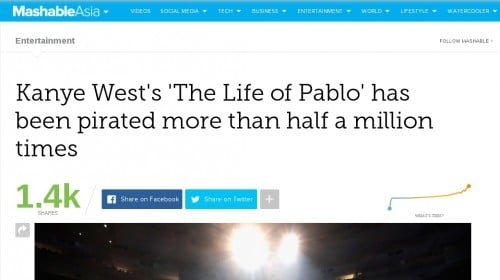 Whoa. That has to be some sort of record. Okay, Mr West, here's what we can do. We need to recoup some of these losses. Let's start working on a tour. You can perform the hits from your album. This way we can start making some money off of your new songs. What's also important is to maintain the image that you're doing fine. You can co-headline with a top name. Drake is hot right now and he has an excellent image. He's on top of the charts and if we put him standing next to you, you'll look a million bucks.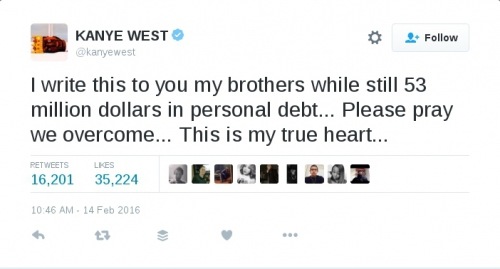 Is that why you haven't been paying me on time? Mr West, it's clear that you value honesty, and I can respect that. But this is getting a little out of hand. We really have to buckle down now and I suggest you stop sharing too much sensitive information with the public in this manner.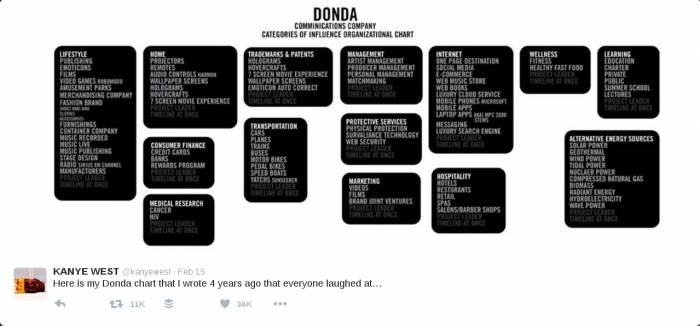 Mr West? Is that the organisation chart for the project you said you wanted me to work on? Why didn't you let me finish it before tweeting it out? Also, what is a Comminications Company? It looks like under "transportation" you put there something called "Yatchs"? Mr West, as good as these ideas are, you mustn't forget that you're currently in debt as you yourself tweeted. Where are you going to get the funds to pull this off?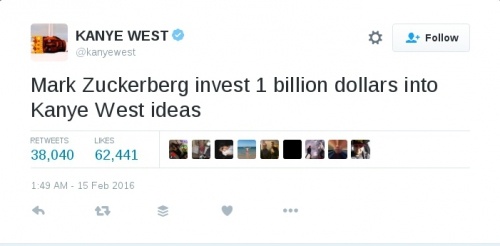 After careful consideration Mr West, I'm coming to the conclusion that you may not be the best client for me to continue providing business management for. Perhaps it's time that we dissolve this professional relationship.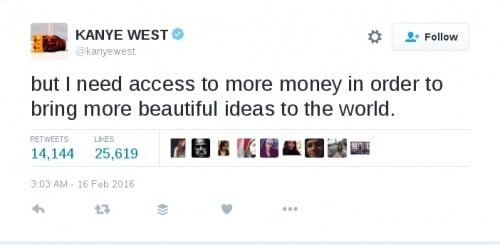 Goodbye, Mr West. I would've loved to help you #GetMore For Your Money and bring those beautiful ideas to the world but this just isn't working.
This exchange is a work of fiction and any similarities to real-life is merely coincidental. The news clipping and tweets are real, however.
Photo credits: SOCIALisBETTER on flickr and Mashable Asia.