No matter if it's that awkward first date or if you're celebrating 5 years together, there's nothing more foolproof than dinner and a movie on Valentine's Day. Though you've already splurged on that fantastic 3 course meal; everyone knows that the way to a girl's heart is not through the stomach, but with tear jerking chick flicks. So dinner, no matter how posh, is best washed down with a good cry along the lines of "I'll never let go Jack," or something more recent.
So how much more is your exchequer going to be damaged in order to pay for two movie tickets?
Let's compare all major cinema operators in Malaysia.
1. Golden Screen Cinemas (GSC)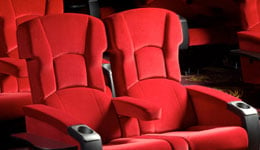 GSC has taken lengthy strides to provide an excellent cinematic experience with its Gold Class, Signature and IMAX cinema halls. Some halls are equipped with "twin seats", ideal for couples, priced at RM12 per seat (this varies from cinema to cinema), or up to RM20 for 3D. If you are willing to go the distance to impress your date, you might want to upgrade your seats to Gold Class at RM60 a seat. If you are a GSC-Hong Leong credit card member, enjoy the privilege of big discounts on tickets and at GSC F&B outlets.
They are also currently running a Valentine's Day Promotion. Limited to selected movies, all you have to do is submit a photo of your ticket stubs, screenshot of self-print tickets or mobile app purchase to GSC together with details to receive a free e-voucher.
2. TGV Cinemas
TGV Cinemas is also one of the more impressive cinema chains in Malaysia. Pricing matches that of GSC with normal seats priced at RM10 (twin seats are RM12), but will cost you RM20 for a seat to watch the same movie in 3D. For a more exclusive touch, at only RM18, the TGV Luxe has a tiered seating especially for viewers who like to be pampered during their movie moment.
That's not all – for an even comfier and intimate experience, the Beanie halls would just be the thing if you're in the mood for cuddles. Found in select TGV Cinemas, these halls trade in seats for beanbags for ultimate leisure priced at RM46 a beanbag. There is also a Valentine's Day offering by TGV, where a surprise awaits you (we don't know what it is either!) when you buy tickets for 2 selected movies on the 14th of February.
Also have you heard of their Popcorn Royale sets? For the uninitiated, its Milo infused caramel popcorn, which is truly a Malaysian touch to what is usually seen as a western import.
3. MBO Cinemas
MBO is a relative newcomer to the cinema scene, but it already boasts to being the 2nd largest cinema operator in Malaysia. Seats are slightly higher priced at RM14 and RM30 for a pair of couple seats for a regular 2D movie experience.
If you own an RHB EVO credit card, you will redeem a complimentary movie ticket and 20% cash back for purchasing a single ticket at MBO. The only downside is that these promotions are only available on weekends – It might not be ideal, but consider splitting up your date into two days? It might draw a curious look on your date's face, but it's all in the name of saving money!
Unfortunately, MBO doesn't seem to have any Valentine's Day promotions this year.
4. Cathay Cinemas
There are currently only two Cathay Cinema outlets in Malaysia, located in eCurve Damansara and JB City Square. Normal and couple seats are priced at RM14 per seat, not the cheapest rate in town. Premium seats at RM40 may sound costly, but get this; you will get to enjoy their exclusive lounge and bar areas, complete with fine suede seats – making you wonder if you're the actual star of the movie.
Cathay Cinemas also deliver on the promotions front – They will be handing out Playboy perfume packs for any purchase of 2 movie tickets, starting on the 14th of February. On the food and beverage end, you will be getting a free "Love Ball", a heart shaped plush toy, for every purchase of their Valentine's combo pack.
Summary
| | | | | | |
| --- | --- | --- | --- | --- | --- |
| Cinema | Standard seat | Standard seat (3D) | Couple seats | Premium Hall | Student Price |
| GSC | RM10 | RM20 | RM12 / seat | RM16 | RM6 |
| TGV | RM10 | RM20 | RM12 / seat | RM18 | n/a |
| MBO | RM14 | n/a | RM15 / seat | n/a | n/a |
| Cathay | RM14 | RM17 | RM14 / seat | RM40 | RM7 |
Disclaimer: Prices are representative average within Klang Valley. Prices may vary, depending outlet, movie, and show time.
But really, it all comes down to the overall chemistry between two people – will your date be a smash hit, or another blockbuster letdown?