Part of what determines whether the flight you take on holiday was awesome or not is the in-flight meal. Believe it or not, there are competitions and awards for the best in-flight meals available, and airlines pay lots of attention to crafting delicious and mouth watering creations that will stay fresh in the air, as well as represent their country of origin.
Here are some delectable examples of in-flight food from around the world:
American Airlines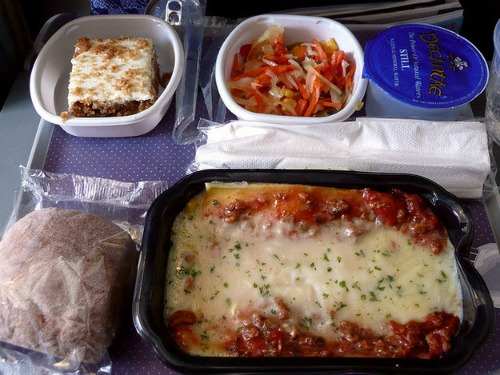 This lunch was served en route from London to Dallas, in economy class. You can just smell that yummy cheese on their lasagna, served with a side of salad and bread roll to mop up any leftover sauce. For dessert, its carrot cake with a topping of crushed nuts .
All Nippon Airways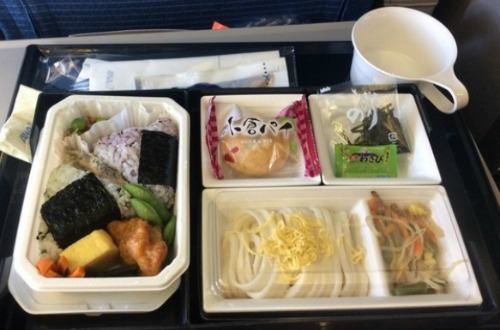 Bento boxes are a favourite Japanese lunchtime offering, and this bento box from ANA, Japan features soba noodles with vegetables and a side of onigiri ( rice ball),karaage chicken, edamame , tamagoyaki (omelette roll) and more fresh veggies. A truly healthy and refreshing Japanese meal.
Air France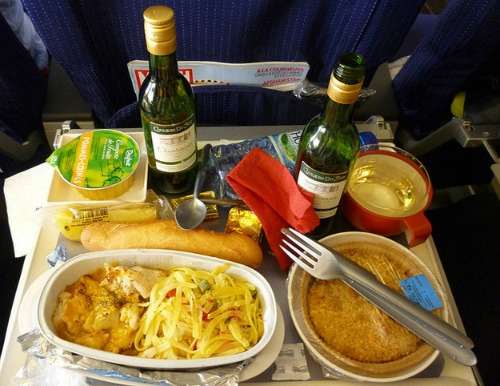 The main dish served in this Air France economy class meal is a chicken with gravy and pasta. A dinner roll and sweet tart accompanies the meal, and in true French fashion, there's plenty of wine to wash this all down.
Singapore Airlines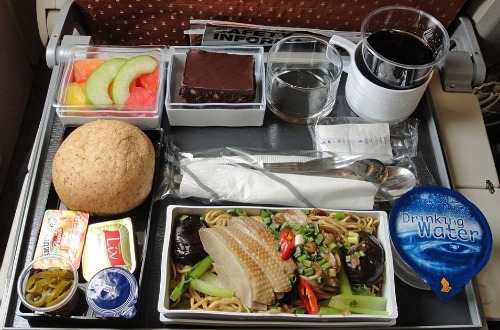 In a true reflection of their Asian roots, Singapore airlines serves roasted chicken on a bed on stir fried noodles, with an accompanying bun that you can eat with butter or jam; or both. The lovely colours of the fresh fruits and chocolate cake will surely whet anyone's appetite. Singapore Airlines have consistently won first place in in-flight cuisine competitions all over the world, so you'd be considered really lucky to try their food.
Korean Air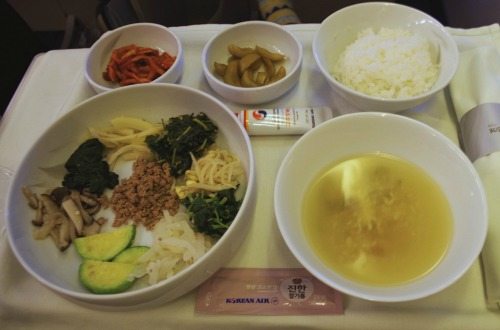 Korea Air's heritage shines through its in-flight meal options, where things like noodles, Bibimbap and kimchi are often served. Pictured above is a mixed rice dish known as Bibimbap, whereby you mix all the vegetables, minced meat and rice together with Gochujang sauce, provided here in a tube form.
Thai Airways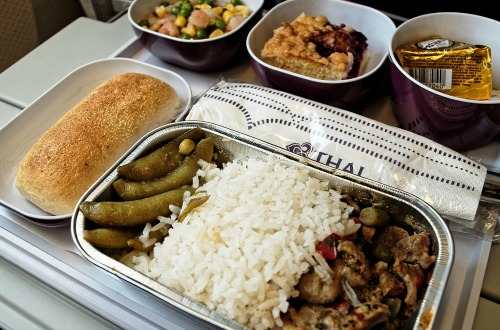 At Thai Airways, there's always a huge nod to traditional Thai cuisine, especially the way they try and incorporate spicy stir fries and curries into their meals. As you can see, rice is very commonly found as a main dish with a meat and vegetable side. It's accompanied by a bread roll alongside a block of butter. There's also a salad, as well as a delicious looking cake for dessert.
If all these delicious in-flight meals have got your salivary glands in a tizzy, you'll want to get the best flight deals out there in order to start travelling. Check out the types of credit cards tailored especially for frequent travelers to gain all sorts of benefits and rebates. Have anything to add to this article? Do share your thoughts with us in the comments section down below!