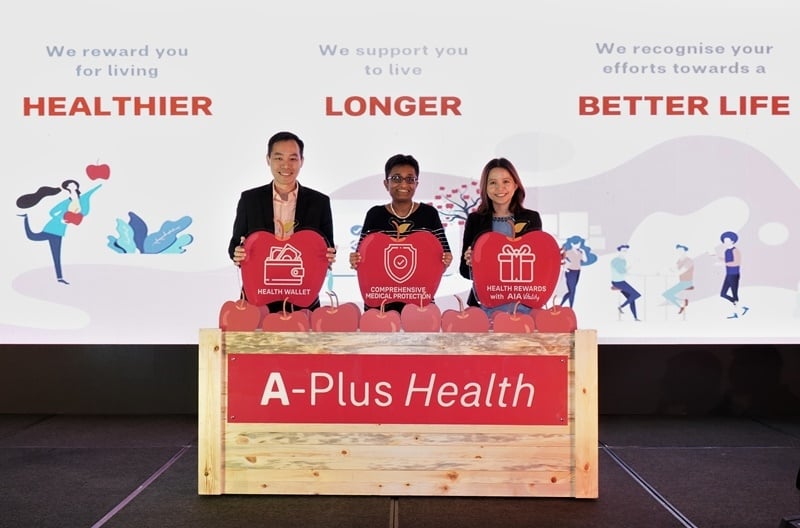 A recent AIA Healthy Living Index survey found that Malaysians have been showing increased satisfaction with their health and are increasingly likely to behave more healthily. With that in mind, AIA Malaysia has introduced AIA A-Plus Health, a new medical insurance rider that offers benefits during both the healthy and not-so-healthy moments in life.
A-Plus Health is an optional add-on rider, an additional benefit that you can attach to AIA's investment-linked insurance plans. It provides you with comprehensive medical coverage for in-patient care, out-patient care, and extra care such as optical support and maternity complications. It also offers medical protection ranging from RM500,000 up to RM2,000,000. There is no lifetime limit claim and you are covered up until the age of 100 or the expiry of your basic plan, whichever comes first. Anyone between the ages of 14 days and 70 years old is eligible for this rider.
One of the ways in which A-Plus Health rewards you for good health is through its Health Wallet feature. For every year that you do not make a claim, you get money credited to your Health Wallet. You can get credited up to ten times and the amount of credit added will depend on what plan you are on. You can then use the money in your Health Wallet for preventative care services and additional medical expenses that may not even be covered by most medical insurance policies.
The benefits you can spend your Health Wallet credits on are as below.
When you sign up for the A-Plus Health plan, you're also eligible to be part of the AIA Vitality programme, which is a rewards programme by AIA. The more AIA Vitality Points you earn, the higher your AIA Vitality status. You earn points by undergoing simple medical checks and achieving certain health and fitness objectives. For instance, if you complete the online AIA Vitality Health Review assessment, you get 1,000 points. When you shop for fruits and vegetables at selected supermarkets, you earn points and get an instant 10% discount too. Depending on your AIA Vitality status, you could unlock additional benefits such as a deductible waiver for hospital admission, hospital room and board upgrade, and a booster for your Health Wallet.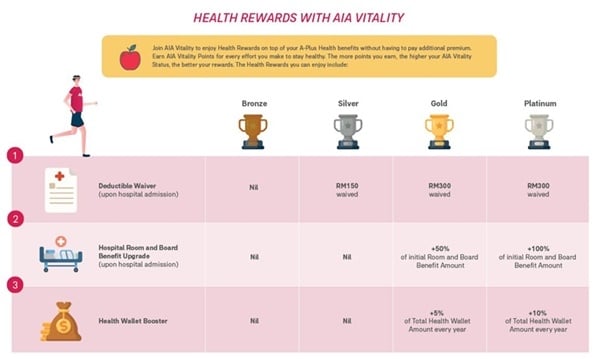 Find out more information about the AIA A-Plus Health plan on their website.