Apple is keeping mum about the latest iPhone announcement and release date, but the tech world is buzzing about the upcoming craze that is the Apple iPhone 6. There are plenty of rumours and so-called genuine photos of the next generation iPhone available online (you just have to search "iPhone 6" on Google to see them all), but which is real, and which isn't?
So, while we wait for Apple to issue a formal announcement date (and more info!), let's take a look at some of these rumours that's been gathering online about the iPhone 6 so far!
Apple iPhone 6 at a Glance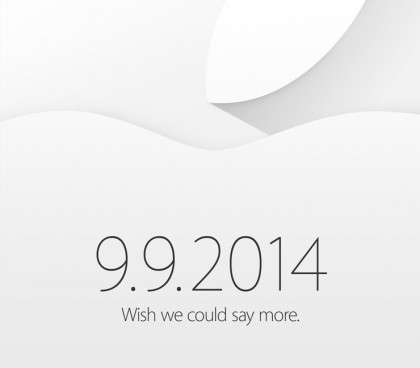 We don't know for sure what it will look like, but a slew of leaked photos, designer mock-ups, and analyst speculations paint a prospective picture. Let's uncover them one by one, shall we?
Release Date
Apple has set up a mystery event on the 9th of September, and the tech word believes this to be the unveiling of the mysterious Apple iPhone 6. If we were to dig up the past, the iPhone 5 and 5S were also revealed in the month of September 2012 and 2013 respectively, which further strengthens the theory. If Apple follows a similar pattern as the release of these two smartphones, then Malaysians can expect to get their hands on the latest model some time in December 2014.
But wait, there's more – there are rumours swirling around the net that Apple might also unveil their first ever wearable device, which the industry is currently calling the 'iWatch', during this mysterious event.
Size and Appearance
Compared to the once trendy flip-phones (Moto Razr!), the "huge" 3.5 inch display on the first ever iPhone model was revolutionary. But it wasn't long before phablets like the Galaxy Note 2 entered the market, making the iPhone screen display seem puny in comparison. You could almost feel that apple felt the same way; when the iPhone 5 was released in 2012, the screen grew by 0.5 of an inch.
Perhaps the biggest rumour about Apple's next iPhone is the screen size, which is expected to increase significantly. Last year, there were two Apple iPhone models and many predicted that Apple would repeat the pattern for their latest gadget. If this is true, fanboys and girls will be looking at a larger 5.5 inch model (the biggest iPhone so far) along with a 4.7 inch model.
Size comparison taken from macrumors.com
An image of the alleged Apple iPhone 6 (right), as posted in macrumors.com
With these expectations, tech enthusiasts can't help but wonder about how a larger iPhone 6 would size up against notable smartphones like Samsung Galaxy 5 and Google Nexus 5.
Apple iPhone 6 Specifications
TouchID and Sapphire Crystal Display
A safe bet is the appearance of TouchID, a fingerprint sensor similar to the one planted on the iPhone 5S. Another much talked about aspect is the sapphire crystal display – which is supposed to make the screen almost scratch proof for at least one of the models as well as the iWatch. Sapphire crystal is used in high-end watches and camera lenses already. To give you an idea of just how durable the sapphire screen actually is, Maques Brownlee puts; what he claims to be an actual iPhone 6 screen from the assembly line; to the ultimate test.
iOS8
One thing that we do know is that the new iPhone will definitely run on iOS 8.
iOS 8 will be compatible with most Apple devices except 2010's iPhone 4; also compatible with the iPad 2, iPad with retina display, iPad Air, iPad Mini and even the iPod touch 5th Generation.
No more pesky pass code. All sorts of apps will be able to use the biometric scanning home button. So far, this is only available for the Apple iPhone 5S, but TouchID is likely the next step for iPhone 6, iPad Air 2, and iPad Mini 3 that will be released later this year.
iOS 8 enables you to scan credit cards via an iPhone or iPad camera and automatically fill in the details to make online shopping easier.
iOS 7's slow motion video recording for the iPhone 5s was a pretty nifty trick. This time around, Apple have thrown in a time-lapse camera mode to iOS 8 which can capture extended moments that that can be automatically sped up in a video at a higher frame rate. But then again, there are plenty of time lapse apps available on the iTunes store even now.
iOS 8 SMS and incoming calls will finally appear on your iPad and Mac computer!
iOS 8 group messaging method will finally catch up with WhatsApp and other similar messaging apps– you'll be able to add and drop people from conversations and silence non-stop incoming group messages. You could also send voice or video message via iMessage.
For the times when you do actually respond to texts and calendar reminders on your phone instead of a Mac computer, iOS 8 adds convenient interactive notifications.
There will be a quick type keyboard and extensions.
There will also be a Health App that can track calories burned, sleep, nutrition and more.
Then there's HomeKit which sort of acts like a universal remote control for your home.
Siri is going to be a better listener (finally!)
Metal Chassis
Based on Forbes' predictions, both of the potential iPhone 6 models are expected to sport a unibody metal chassis – most likely aluminium. If the sapphire display rumours are true, the new iPhones could be some of the toughest smartphones ever made; a factor that could turn even the most hardcore Android user into an Apple fanboy.
Improved Camera Tech + Megapixels
With the rumours of a bigger screen and size, Apple lovers are hoping for a higher megapixel on the camera – and they might get it, plus more, since iOS 8 gives a lot more control over camera elements like shutter speed and focus.
Price
With all of the significant changes above, how much would we have to pay in Malaysian Ringgit for this sought after Apple machine? For now, the price for the iPhone 6 remains unclear, but it should be at a similar range with iPhone 5S, from RM2,399 to RM3,149.00. Fingers crossed!
Where can I get one now?
Hold on there, eager beavers! There will be plenty of online sellers claiming that they have the genuine iPhone 6 for sale, but considering that we don't even know what it looks like, it's best to wait for the official release. Telcos in Malaysia will surely have a bundle plan ready for the Apple iPhone 6, so stay tuned while we churn out more information for you!