For those of you who go crazy over the king of fruits, you'll be glad to hear that our national fruit is currently having a remarkably good season. The durian fruiting season is longer than usual this year, and the yield is bountiful. Better yet, in some areas multiple factors have led to a drop in durian prices – not only are the aromatic fruit high in supply at the moment, it's friendlier on your wallet too.
A durian stall along Macalister Road, Penang was seen selling durian packed in airtight containers for only RM10 each. Its owner, Lim Beng Choo, attributed the low price to the decline in sales during the fasting month in May. "Now, there is abundant supply, so we have retained the price," she said. "The price is likely to drop a bit more since supply is increasing and many traders are also selling it."

(Image: The Star)
Orchard owners in Segamat, Johor are also reporting an extraordinary season for the durian fruit. Harvesters are having to tie tree branches and put up nettings to deal with the heavy fruiting of the durian trees.
"Among the types of durians that are fruiting heavily this season are durian kampung, D24, D13, Musang King, Tembaga, Duri Hitam, and Udang Merah," said Arman Ishak, an orchard owner in Batu 8 Jementah, Segamat.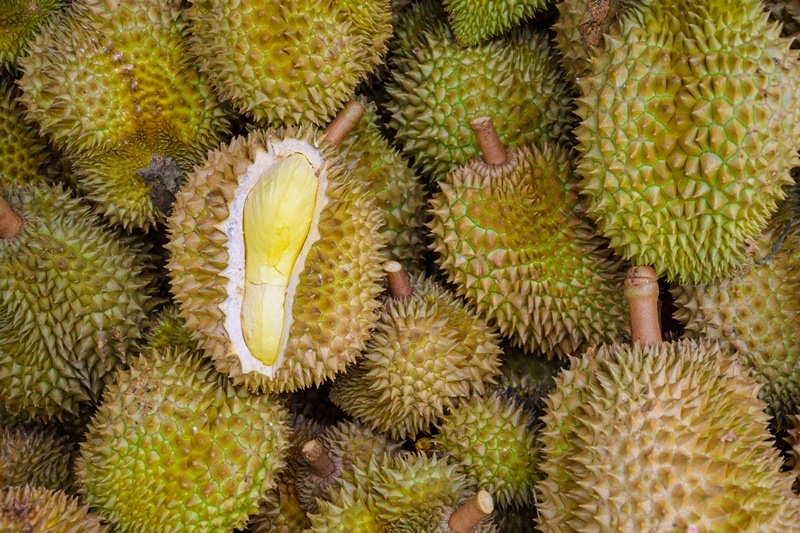 However, Segamat durian trader Yow Qian Hat said that the good durian season may not guarantee lower prices. This was because the Segamat durian has its own loyal buyers from other states as well as neighbouring countries of Singapore and Thailand.
The duration of the annual durian season varies from year to year, but July is considered the peak month for durian feasting in Malaysia. Following the poor durian harvest over the last couple of years, Malaysians will definitely welcome the improved crop of durians this year.
Where are your favourite durian haunts? Share with us your go-to spots and we'll let you in on the cheapest places to get your durian fix!
(Sources: The Star, News Straits Times)