One of our RinggitPlus team members made a quick stop at the nearest Petrol station last week. Swiped his card, picked up the hose, and started pumping fuel. But then he noticed an unusual price figure on the fuel dispenser display, other than the usual RM2.30 controlled price. "Harga Pasaran" i.e. the market price of RON95 has fallen as low as RM2.43, bringing the subsidy to only RM0.13 per litre?!
Today, a report by the Star online shed some light on the situation. It turns out that the subsidy for RON95 and Diesel will be REMOVED starting on the 1st of December onwards. Instead, fuel prices will be subjected to the floating price system.
The first reaction to the news can understandably be, "OMG no more subsidy means petrol prices going up again?", but actually the truth of the matter is that global fuel prices (and thus the market price for RON95) has been steadily dropping since July 2014. Here in lies the real story: If the price of RON95 was still at RM2.30 come 1st December, while market prices continue to plummet worldwide, say for argument's sake we expect the "Harga Pasaran" to come in somewhere between RM2.20-RM2.25 in December 2014, we'd hypothetically be paying a 'petrol tax' of RM0.05 to RM0.10  - do you see where we're getting at here? How would you feel if you knew that you were effectively paying a petrol tax while prices worldwide were low?
So to avoid a bit of egg on faces, just remove the subsidy and you avoid the topic completely, and you might even be able to announce a nice little price decrease (to that RM2.25 / l). Here's a quick graph depicting what would have happened if this announcement was not made today: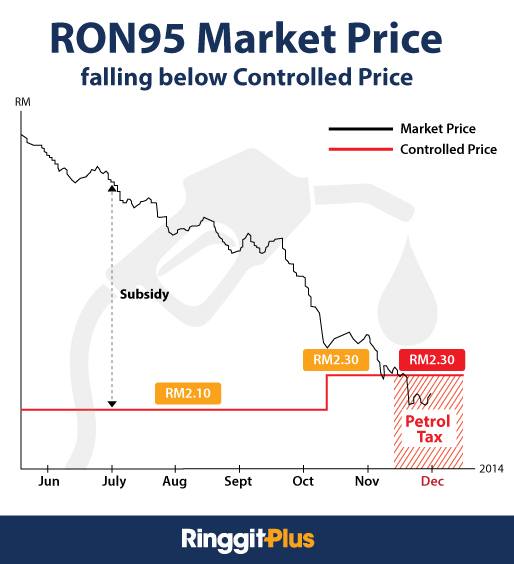 The table below shows descending fuel prices and subsidies starting from June to December 2014.
| Period | Market Fuel Price on RON95 (RM) | Subsidy(RM) | Control Price(RM) |
| --- | --- | --- | --- |
| June | 2.81 | 0.71 | 2.10 |
| July | 2.85 | 0.75 | 2.10 |
| August | 2.78 | 0.68 | 2.10 |
| September | 2.57 | 0.47 | 2.10 |
| October | 2.58 | 0.28 | 2.30 |
| November | 2.43 | 0.13 | 2.30 |
| December if no subsidy removal | 2.25 | -0.05 (tax!) | 2.30 |
| December with subsidy removal | 2.25 | *N/A | 2.25 |
Obviously now that the announcement has been made that the subsidy has been removed from 1st December onwards, there is no risk of "Subsidi oleh Kerajaan" heading into negative territory and making our Govt look rather silly, but wouldn't it have just been easier to cut prices by 20 sen (after all, it was quite easy to raise them by 20 sen each time in the past 2 years)?
Tell us what you think on the comments below and remember to stay tuned for more updates.