Everytime the MATTA Fair rolls around, people get caught up in a frenzy: cashing out insurance policies and depleting savings they rush in the droves to the already jam-packed KL area to scout for what is believed to be the best in travel deals. Newspapers today are already filled with advertisers enticing you to visit their booths and articles telling what awaits you in the hallowed halls of PWTC. But we're going to do the opposite.
Yes, you read right. We're going to give you five good reasons why you should NOT go to the MATTA Fair this time around and stay home in your pyjamas instead.
1. Transportation will hinder you every step of the way
If you're driving to the Fair, taking a taxi, bus or Uber; be ready to be stuck in gridlock traffic as you hit major highways leading into the Chow Kit PWTC area. Actually, scrap that. It may start the minute you get out of your housing area as all of your neighbours had the same idea to go on the weekend.
When you do eventually arrive at PWTC, be ready to be lovingly greeted by placards at all PWTC parking entrances saying 'parking full' (unless you left your home at 5 am and arrived at 7 am; in which case you just may avoid traffic problems too). You will then try every carpark in the vicinity from the Sunway Putra Hotel to the lorong belakang of Chow Kit. When you finally give up and decide to double park by the side of the road 5km away; it'll be high noon and the 'stroll' to the venue will make you crankier than the royal flowergirl.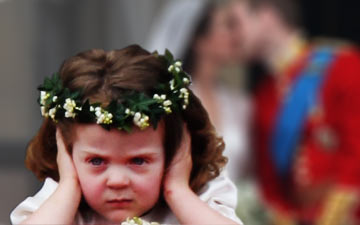 Then you think; maybe you should opt for the KTM or Star LRT. Public transport is cheap and there are two trains arriving at the same area. Also, no parking woes. It's a brilliant idea; until you remember how 'comfortable' a packed train can be. There're also delays, cancellations, blackouts and the ever terrible 'aromas' from the quiet farter and BO. But perhaps we're being a wee bit too negative. Enough on the horrors of transport, maybe you'll get there A-okay. But then all these people in traffic and the trains will be there too… Reason no 2!
2. People, People Everywhere
It's the weekend so you bet that most people will be taking this time to head to the Fair. Only real die-hard travel junkies will take the day off to go on Friday. So that means you're looking at a LOT of people cramming into PWTC. If you don't like crowds or long lines at the cashier; this will literally be your worst nightmare. Food is also limited inside PWTC itself so be ready to line-up for your lunch too.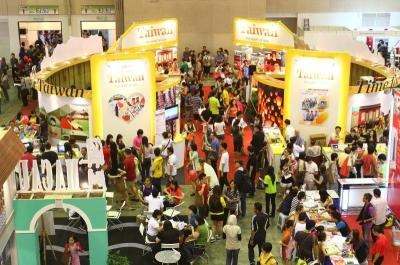 But if you're the friendly sort, then this shouldn't bother you so much. There might even be a cute salesgirl or two who's phone number (and some better deals) you could score. You're going to need some inside help to deal with number 3…
If there was one thing we discovered the hard way; it was that hidden costs abound at the Fair. Don't be fooled by the 'super low' advertised price. It's a gimmick sometimes. Always read the fine print. Imagine this: you see a super low price for a flight to Paris. RM1,600? That's too good to be true. It likely is, darl.
As we lined up to buy our deal of a ticket, we were told the price advertised didn't include tax and fuel surcharge which shot the price up to RM2,800. On top of the sneaky price ploy; there were diabolical terms too. The woman informed us that there were 'blackout dates' and thus this 'super deal price' of RM2,800 was only available on selected dates. What we had to do was tell her exactly when we wanted to travel and then she would tell us if the rate applied to those days.
If we were lucky enough to choose the right dates; we'd have to buy immediately with no opportunity to cancel or change dates. If you're unlucky; be ready to stand there for quite awhile shooting dates whilst the attendant manually flips through a database to find out if the deal price applies on the chosen dates. It's like a guessing game you're sure to lose.
That's a true story. Here were some other pet peeves that hit us at MATTA.
Tour packages didn't always include hotels and flights but you'll need a magnifying glass to find the small print term that tells you this on brochures.
"Prices subject to change". Every brochure and flier will have this term. Take note – they're not kidding.
Extreme comparison necessary. There literally thousands of booths selling the same things and very different price points. You really would have to walk for days and compare hundreds of prices to find the best one (if you really want the 'best' deal).
Almost every deal had 'blackout dates' which weren't explicitly displayed or stated. There could literally be only 5 days in the 'promo period' at the deal price and you wouldn't know it even after 2 hours of standing at a booth trying to negotiate.
If that wasn't enough to put you off; let's get to number 4.
4. The prices really aren't that cheap!
GASP! What a blasphemous statement! We figured you may not believe us so we did some comparisons. Ok, so half the office wants to go to Paris to gatecrash the home of our Parisian lead developer. The cheapest flights to Paris seemed to come from Etihad Airways. According to the advertisement; you'd pay RM2,197 for an economy flight to Paris at MATTA Fair Deal Price.
Now, if we were to just sit on our butts enjoying a lazy Saturday in front of the computer and happened to trawl Expedia for, say, buying a flight to Paris; we'd pay RM2,145. We're not sure how that could be either, but take a look at these two pictures.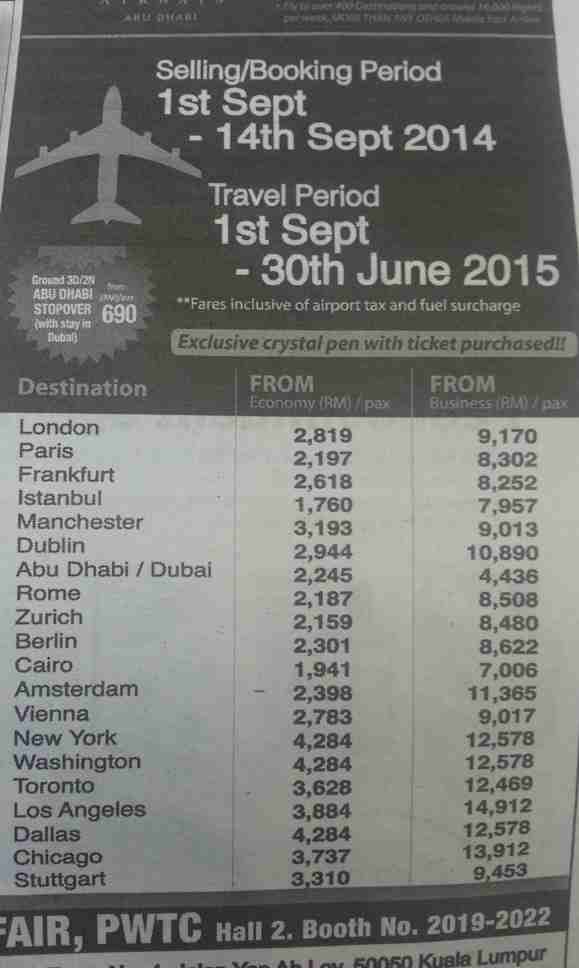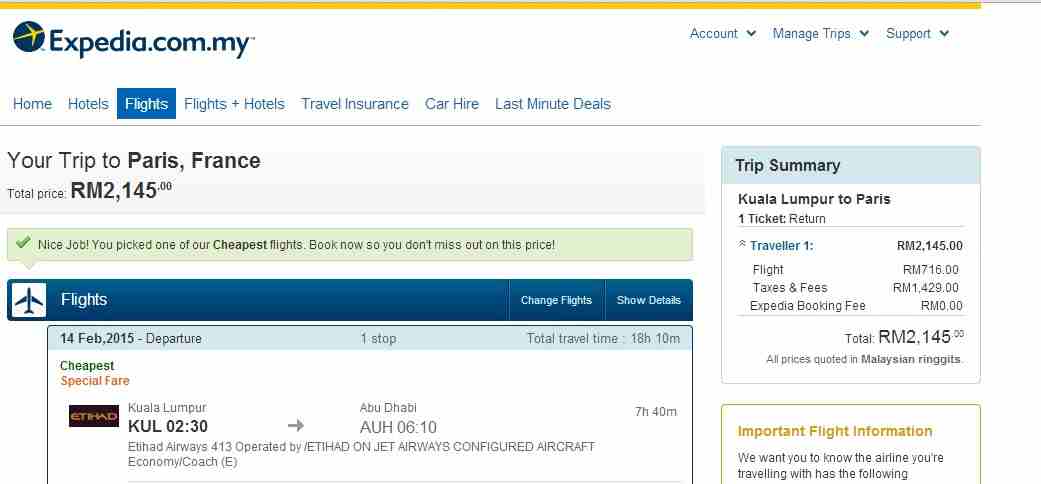 The comparison is on the same airline and we chose dates on Expedia which fell within the promotion travel period. But we don't know what MATTA blackout dates will apply to this flight deal so essentially – you could be making that trip to PWTC for nothing but a hard time.
People go to the MATTA Fair for deals. If you're not getting deals then you're just going through a hard time for nothing. Isn't it?
5. If you don't go; there's more room for those who really want to
Wait what? You're probably rereading that statement wondering if we're trolling. Let's make something clear – all the above is 100% true. We didn't make any of it up. You will face everything from point 1 – 4. But here's the deal. There are some benefits to going to the MATTA Fair. If you're into tour group packages and buying guided tours – the fair offers some of the widest range of packages and tour companies in the business in one place. Although, you won't be saving thousands – if you have nothing else to do on a weekend, don't mind a bit of a crowd and want to save a couple of ringgit (between RM50 – RM500) on guided tours; this is probably the best place to be.
If you want cheap flights and all-inclusive holidays; you may not find the cheapest option here so you should probably give it a miss.
In the end, the decision to go rests with you. After hearing some of the not-so-great parts about the fair; if you're still curious to see if you can find a deal on tours or even just to score some random freebies (like pens and recyclable bags! Hehe) and you don't mind crowds – then by all means.
Psst! If you have decided to go, MATTA Fairs are made much nicer if you have a MATTA –  Hong Leong credit card. You get free admission to the fair and a bunch of other gifts (when you spend RM1,500 and above on the card that day) at the MATTA – Hong Leong booth (at Hall 2 and 3). Free things are always nice. If you don't have one yet; you can apply for a MATTA – Hong Leong credit card with us and we'll give you a free gift upon approval (RM300 AirAsia voucher sound good to you?); you know, just to make up for missing out on Hong Leong's freebies this time around!