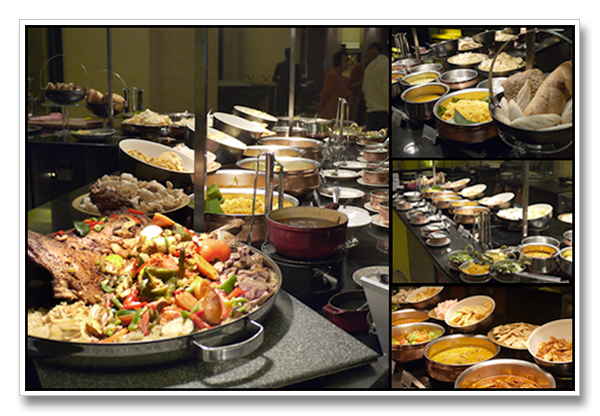 With less than two weeks left on the clock to enjoy some
special Ramadhan credit card promotions; we selected a few that are worth
cramming into your schedule before they run out!
Scrumptious food deals
Silka Maytower
Hotel & Serviced Residences: Exclusive for Public Bank Credit Cardmembers, get 50% off on buffet dinner for
the last week of Ramadhan (that's next week!). There is no prior reservation is
required but with a deal like this you may want to call up to make sure you get
a spot! Valid until 6 August 2013 at La Maison Restaurant, Silka Maytower Hotel
& Serviced Residences, 7, Jalan Munshi Abdullah, 50100 Kuala Lumpur (Tel
No. 603 2692 9298).

Palm
Terrace Coffee House, Holiday Villa Subang & Coffee House, Sunway Putra
Hotel KL: A deal for all Standard
Chartered cardmembers; score a 50% discount on the Ramadhan buffet offering
at the Palm Terrace Coffee House, Holiday Villa Subang from 5-7 August and a
25% discount on the Ramadhan buffet at the Coffee House, Sunway Putra Hotel, KL
(children get a 50% discount). The deal is also available to Standard Chartered
debit cardmembers.

Flavors
Restaurant, Swiss-Garden Hotel & Residences Kuala Lumpur: HSBC credit
cardmembers get rewarded if they choose to buka puasa at Flavors in groups of 4 diners. Pay for 3 and the
third person eats free at the International Ramadhan Bazaar Buffet Dinner. You
will be required to book for this one so call in advance at 03-21413333 ext
1190. Promotion is only valid with 3 full paying adult diners until 7 August
2013. Children below 5 eat free.

Various
hotel buffets: CIMB Bank cardmembers will be spoilt for choice with a 20%
discount on Ramadhan buffets in more than 10 participating hotels. Hotels
include, The Westin, Hilton, The DoubleTree, The Dorsett Regency and Sheraton. 

Hadramawt
Restaurants, KL: If you are a Bank
Islam cardmember, simply print out the RM20
voucher flyer to redeem at any Hadramawt restaurant with a minimum spend of
RM150 in a single receipt. Deal is valid until 31 August 2013.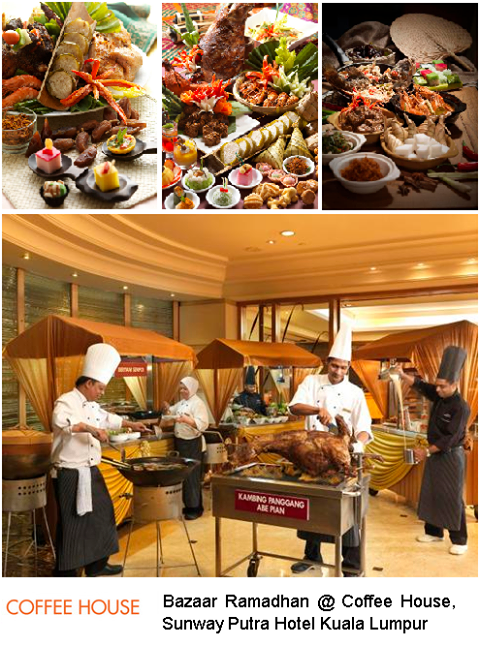 Shopping deals for last minute bargain-hunting
The Visa
Raya Celebration at Suria KLCC: ALL Visa cardholders can participate in
this shopping event at Suria KLCC until 11 August 2013. Get rewarded before and
after you shop. The promotion works in 3 ways: 1) get RM10 and RM50 vouchers
redeemable at participating stores before you shop at the Visa Gift Box
counter. Just flash your card at the counter to get your voucher (on a first
come first served basis – vouchers are capped at Visa's discretion per day); 2)
get a bonus gift when you use your reward vouchers at selected merchants
(capped at 30 gifts per day – randomly distributed); and 3) Spend a minimum of
RM500 on your Visa card with maximum 2 receipts to redeem gifts such as iPod
shuffle, TGV movie tickets, exclusive kitchenware and more. Weekend giveaways
include Samsung smartphone, Samsung tablet, iPad 16GB, and Harrods hampers.

Aeon
Shopping Centres: Having a credit card linked to a major retailer is sure
to give you deals. Aeon credit cardmembers are treated this Raya to 3 exclusive
promotions: 1) Get free duit raya packets with every purchase of RM120 in a
maximum of 2 receipts; 2) Cash vouchers worth RM10, RM20 and RM50 in randomly
mixed amounts will be given out to 30 lucky shoppers per day during the
promotion period who spend above RM400 in a single receipt; 3) Earn a 5% rebate
on cumulative spends exceeding RM500 during the campaign period (capped at RM50
per cardmember). However, there are other
terms, so do have a read before spending. 

GNC and
Melvita stores: Public Bank credit
cardmembers can also take the opportunity to stock up on their required
health and beauty needs during the Ramadhan period as GNC and Melvita stores
are offering discounts at this time. Get 20% GNC branded non-sport items and 5%
off all Melvita regular priced merchandise. 

Courts
Malaysia: If you're looking for a little home improvement and you are an AmBank credit cardmember; courts is
offering deals for you up until 6 September. Get instant savings of up to RM200
on bedding, electronics, dining and living essentials just by purchasing items
on a 0% easy payment plans (EPP) with your card. You can also redeem AmBonus
points on the spot for household items and electronics at lower point
redemption rates during the promotion season. EPPs can be taken for 12 or 24
months only with AmBank and AmIslamic credit cards. Check out the full
details online before heading to your nearest Courts outlet.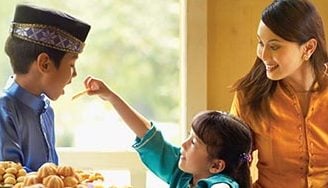 The deals above are merely the
tip of the iceberg. Credit card companies are offering deals enough to fill the
yellow pages a few times over so just check with your bank for their full flier
of Ramadhan promotions.