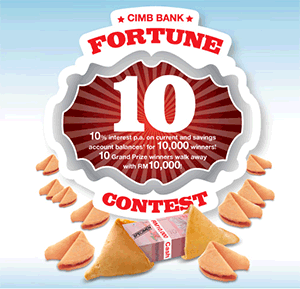 We all keep telling ourselves that we should be saving more
of my money so it's great when banks like CIMB throw out incentives such as the
'Fortune 10 Contest'.
From 1 June until 30 September 2013 CIMB current and saving
account holders stand a chance to receive a bonus of 10% interest increment to
their balance when they make an average incremental deposit of RM500 to their
account.
The incremental average balance (IAB) is calculated by
comparing an account holder's monthly average balance (MAB) against their
baseline balance (AKA the starting amount they had in their account before the
promotion started). The contest is entry based with every RM500 IAB counting as
one (1) entry.
For example a let's say Ms X opens a new CIMB savings
account to benefit from this contest. Because her account was started after 1
June 2013 her baseline amount is zero. Her deposits for the entire promotion
period look like this:
Month
Monthly Average Balance (RM)
Incremental Average Balance (RM)
No. of Qualifying Entries
1 June
0
N/A
N/A
30 June
0
1000
(1000/500) = 2
31 July
1000
1500
(1500/500) = 3
31 August
2500
5000
(5000/500) = 10
30 Sept
7500
2500
(2500/500) = 5
Total Number of Qualifying Entries
25
CIMB customers with existing current or saving accounts will
also receive bonus entries called Loyalty Multipliers with rates that gradually
increase every month. Below is an example of how the bonus multipliers work:
Month
Monthly Average Balance (RM)
Incremental Average Balance (RM)
Loyalty Multiplier
No. of Qualifying Multipliers
31 May
10000
N/A
N/A
N/A
30 June
18000
8000
1
(8,000/500)x1 = 16
31 July
12000
2000
2
(2,000/500)x2 = 8
31 August
10000
0
3
Not eligible
30 Sept
15500
5500
4
(5,500/500)x4 = 44
Total Number of Qualifying Entries
68
Prizes
A total of 2500 shortlisted candidates will be eligible to
win the 10% increment bonus monthly prize throughout the promotion period.
Participants will be shortlisted via an automated selection system 2 to 3 weeks
after the end of each monthly tracking period. Shortlisted candidates will be
contacted by CIMB representatives and required to answer 2 questions correctly
to qualify for the monthly prize.
At the end of the promotion period, 10 participants will be
randomly shortlisted for the RM10,000 cash grand prize. The selection process
is similar to the monthly prizes, participants who answer the questions in the
fastest time will qualify for the grand prize.
Each participant is only eligible to win one (1) monthly
prize and one (1) grand prize throughout the promotion period.
For further details on this promotion please refer to the Terms
& Conditions page.