It was a momentous occasion for us – the peeps behind RinggitPlus- on the 26th September 2017. In collaboration with our partners at RHB, we have succeeded in creating a chatbot to facilitate personal loan applications online, making us the first in Malaysia to offer this service.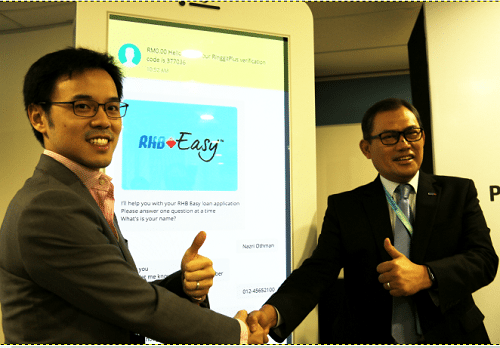 (Left) RHB Banking Group acting head Nazri Othman and RinggitPlus.com CEO Liew Ooi Hann officiating the launch of RHB's Chatbot
Gone are the days of taking the pains to drive to your nearest bank to submit the multitudes of loan application forms and paperwork. Now, you can just head to ​RinggitPlus
and apply for RHB Easy personal loan online!
How Did the Chatbot Idea Came About?
At RinggitPlus, we are always passionate about helping Malaysians get better access to quality financial knowledge, products, and solutions.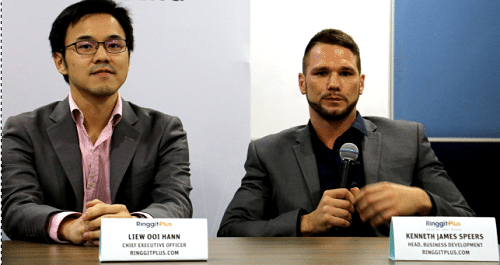 (Left) RinggitPlus.com CEO Liew Ooi Hann and RinggitPlus.com Business Development head Kenneth James Speers answering questions from the press regarding our Chatbot
As we continue to help our readers make better financial decisions in their lives, we also constantly search for innovative ways to help simplify and speed up loan, credit card, insurance, and other application process. While working with our long-time partner, RHB Bank, we found that we can collaborate on helping Malaysians apply for a personal loan with zero hassle and almost instant approval. The rest, as they say, is history.
How does our Chatbot AI work?
As a real-time messenger-style personal loan application platform, RinggitPlus x RHB Chatbot gives you the flexibility of applying for a personal loan at any time of the day, minus the manual completion and submission of application forms.
It gives you the freedom to apply for a personal loan without the need to adhere to standard banking hours, waiting in queues, or even wait a long time for loan approvals! All you really need to do is just visit our website
, go to RHB Easy Pinjaman Express webpage, and you can start your loan application process any time of the day!
Can't finish your personal loan application because you have other matters that require your immediate attention? That's alright. Through our chatbot technology, you can choose to pause your application process and resume whenever you feel is convenient for you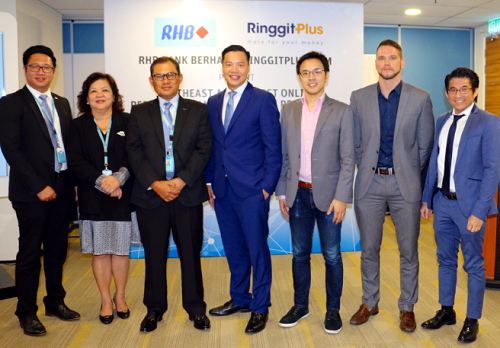 (From left) RHB Group Cards & Unsecured Business head Sien Vee Loc; RHB Group Retail Distribution acting head Bernadette Sun Fui Ling; Group Retail Banking, RHB Banking Group acting head Nazri Othman; RHB Sales Management & Mass Segment head Leong Moon Fei; RinggitPlus.com CEO Liew Ooi Hann; RinggitPlus.com Business Development head Kenneth James Speers; and RHB Innovation and Strategic Alliance head Lee Wee Heng
What Documents do I Need to Prepare for My RHB Easy Personal Loan application?
Here are the things that you will need to prepare and provide for your loan application if you are a depending on your income source:
Salaried Employee
Copy of MyKad (front and back)
Last one month's payment slip, bank statements or six month's EPF statement
Self-Employed
Copy of MyKad (front and back)
Business Registration Certificate (company must be at least two years old).
Latest six month's bank statements
Most recent Form B from the Inland Revenue Board
How Do I Find Out About My Personal Loan Status with Chatbot?
Upon submission, eligible individuals who fulfill the basic requirements will receive a "conditional approval" offer by RHB, which will be sent to your registered mobile number via SMS. Once approved, you can visit any one of the 35 RHB Sales Centres or 23 Sales Hubs that are pre-selected during the application with your NRIC to complete the process and collect your personal loan.
What Are the Languages That Chatbot Supports?
Currently, it's only available in English, but it won't be long before we expand to more languages, so keep an eye out for our next update on RinggitPlus x RHB's Chatbot! Do you think chatbot is useful in other financial product application as well? Share your thoughts and ideas in the comment section below!