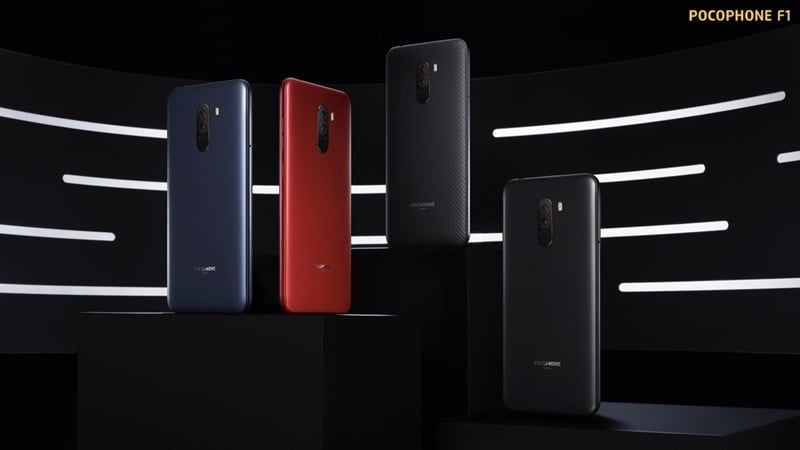 Earlier this week, a new smartphone brand launched its first smartphone. Pocophone, a new sub-brand from Chinese smartphone giants Xiaomi, announced the Pocophone F1, a flagship smartphone that's unlike any other in the market today. The launch of this phone is incredibly important, as not only should you seriously consider buying it for its extreme value for money, it also promises to be a game-changer in the smartphone industry.
Taking value for money to another level
Xiaomi's pricing model for its devices was always to sell them as close as possible to the cost price. In fact, its co-founder even pledged that the company will never charge above 5% profit for its smartphones.
Similarly, many would be familiar with OnePlus, a brand that grew famous for producing premium smartphones at a fraction of the price one would normally pay for. It has been around for several years now, offering high-quality smartphones with great hardware at prices that usually go over RM1,000 below that of a Samsung Galaxy or iPhone. That's the reason why OnePlus marketed itself as a "flagship killer", a tag that is now commonly used in the industry.
Pocophone looks to work on the same vein, but turning it up by a few notches. This new company, it appears, is aiming to be the "OnePlus killer", as it is operating on the same business model – but selling its devices below OnePlus prices. This is unprecedented, as the Pocophone F1 doesn't skimp on hardware. In fact, the Poco F1 is even more affordable than Xiaomi's own current flagship, the Mi 8. Here's how the Pocophone compares to the OnePlus 6 and Mi 8 smartphones.
Pocophone F1
Xiaomi Mi 8
OnePlus 6
Processor
Snapdragon 845
Snapdragon 845
Snapdragon 845
RAM
6/8 GB
6 GB
6/8 GB
Storage
64/128/256 GB, microSD
64/128/256 GB
64/128/256 GB
Display
6.18" 2246 x 1080, 18.7:9
6.21" 2246 x 1080, 18.7:9
6.38" 2280 x 1080, 19:9
Battery
4000mAh
3400mAh
3300mAh
Camera (rear)
12MP + 5MP, dual pixel
12MP + 12MP
dual pixel, OIS, AI enhancements
16MP + 20MP, OIS
Camera (front)
20MP
20MP
16MP
USB port
USB-C
USB-C
USB-C
Dust & water resistance
None
None
Splash-resistant
Dimensions
155.5 x 75.3 x 8.8 mm
154.9 x 74.8 x 7.6 mm
155.7 x 75.4 x 7.8 mm
Price
6GB/64GB: RM1,237 (*RM1,299)
6GB/128GB: RM1,428 (*RM1,499)

*prices after 10 Sept 2018

64GB: RM1,599
128GB: 1,899
6GB/64GB: RM2,399
8GB/128GB: RM2,799
8GB/256GB: RM3,099
(References: Amanz.my, Lowyat.NET)
The Pocophone F1 packs an industry-leading Snapdragon 845 chipset, paired with the fastest mobile memory module in the market in generous amounts (6GB or 8GB). It also uses the fastest flash-based storage standard available for smartphones, which is only previously reserved for the highest-end devices.
Other hardware choices are solid as well. The 4000mAh battery is massive, which should offer more than a day of battery life for the average user. The display is also sharp, and the fingerprint sensor is conveniently located at the back. However, the notch on top of the display also houses an IR camera, which allows the phone to detect your face even in the dark (much like the Face Unlock feature on the iPhone X, which is more than 3x more expensive).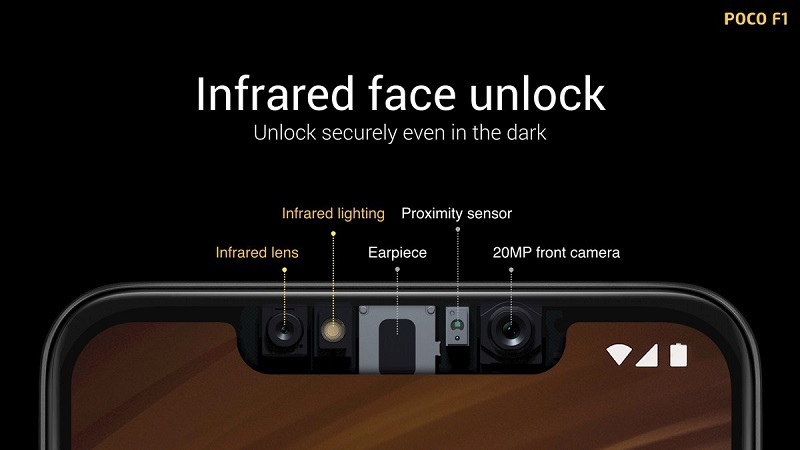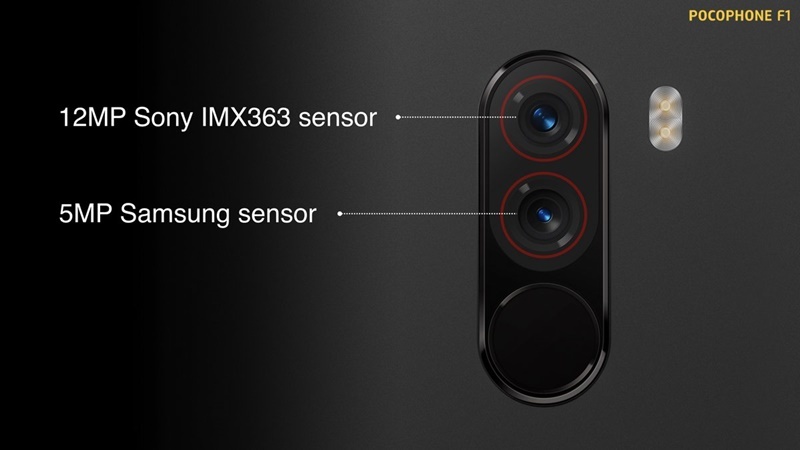 The camera is usually the differentiator between the good smartphones and the great. On the Pocophone F1, you get a dual camera setup comprising a 12MP main sensor and a 5MP secondary unit. What's interesting to note here is that the Pocophone F1 camera has a dual-pixel autofocus system, which first appeared on Canon DSLR cameras before debuting on the Samsung Galaxy S7 and S7 edge smartphone. This system achieves autofocus lock almost instantaneously the moment you hold your camera still, and focuses more accurately than regular sensors. On the front, the Pocophone F1 packs a 20MP selfie camera with some beautification features baked in.
In addition, Pocophone retains some of the more practical hardware choices, such as the inclusion of a 3.5mm headphone jack. At its price range, it makes no sense to omit this feature. In addition, the device also supports Quick Charge 3.0, and has a quick charger in the box; it sounds trivial, but all of the 2017 iPhones (iPhone 8, 8 Plus, X) support fast charging and yet none of them have a fast charger included in the box. The hybrid SIM slot also supports microSD cards, so you can easily expand storage when necessary.
That said, there are some missing hardware features on the Pocophone F1. The device does not have dust or water resistance, for example, which is becoming a staple among flagship phones. On top of that, there's no NFC so there's no support for things like Android Pay (though with the rise of QR-based e-wallets, this is less of a necessity). But considering the price, that's a compromise many will be comfortable with.
Mind-boggling retail prices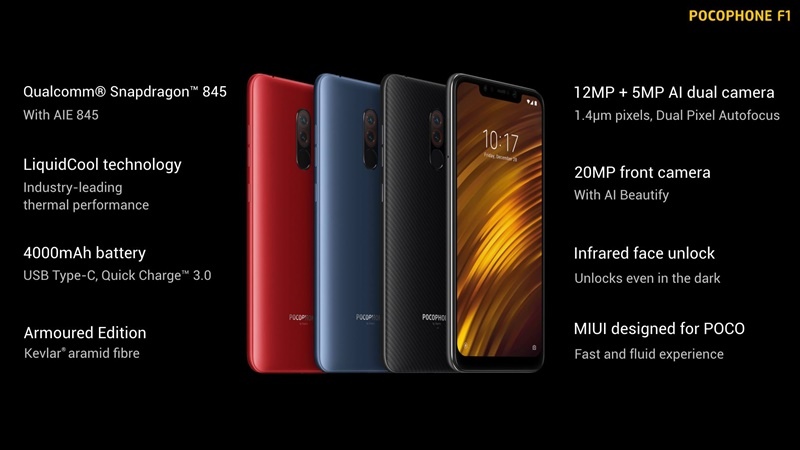 Many already consider the OnePlus 6's retail prices to be great, even if in recent years its prices have slowly gone up. Regardless, with prices starting from RM2,399, it is still significantly lower than mainstream flagship smartphones. The Mi 8 has an even lower starting price at RM1,599 – but the Pocophone F1 beats both quite comfortably in price.
The Pocophone F1 will come in 3 variants: 6GB RAM + 64GB storage, 6GB RAM + 128GB storage, and the highest-end configuration at 8GB RAM + 256GB storage. There's also an Armoured Edition variant, which is the 8GB + 256GB version but with a unique back that's covered in Kevlar (yup, the same material used in bullet-proof vests).
For the Malaysian market, the Pocophone F1 will only be available in two variants: 6GB RAM + 64GB storage and 6GB RAM + 128GB storage, and will retail for RM1,237 and RM1,428 (RM1,299 and RM1,499 from 10 September) respectively. Two colour options will be available for both models: Graphite Black and Steel Blue.
Frankly, even after the SST price increase, the Pocophone F1 packs so much punch for its asking price. Flagship-level performance below RM1,500 was impossible previously, where this price range usually only provides the level of performance of flagships from 2 or 3 years back. With the F1, Pocophone is again challenging the notion of how much should we pay for a flagship smartphone.
Shaking up the industry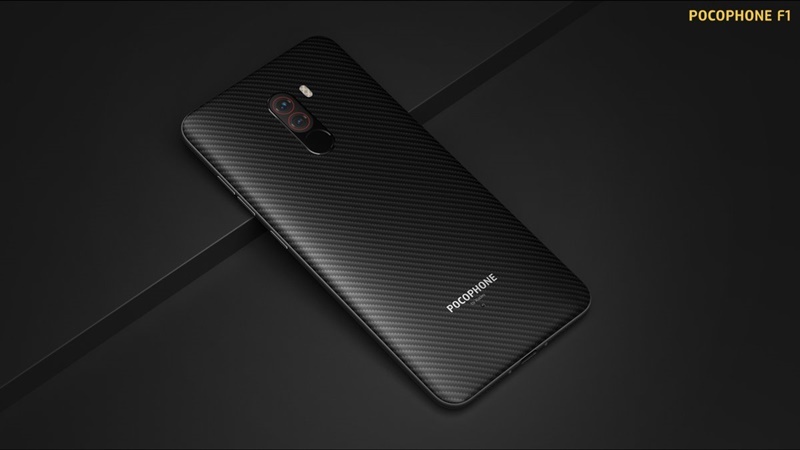 It remains to be seen just how big an impact Pocophone will have on the smartphone industry. Samsung, Apple, and Huawei dominate this scene with the sheer volume of devices sold per year, but even these companies would feel the ramifications of this tiny outfit. If a small startup can offer a premium phone for almost a quarter the price of an iPhone X, why should we continue doing that?
To be fair, that's something that the likes of Xiaomi and OnePlus have been getting at in recent years, to relative success. Huawei, backed by billions of dollars it earns in profit as a network infrastructure provider across the globe, also undercuts the competition with their flagship smartphones – the Huawei P20 Pro, for example, doesn't hurt the wallet as much and yet is regarded as having one of the best smartphone cameras in the market.
Pocophone's aggressive pricing model is likely not sustainable in the long run, but it leaves a strong message when it comes to showing the world the profit margins that we've been happily paying smartphone companies. As a startup, it is likely that the F1's incredibly low price acts as a compelling marketing tool to gain a high amount of traction (and of course, sales) but like OnePlus, it may slowly increase its profit margins to keep the business going.
What's more important is the question Pocophone poses to consumers: how much should you pay for a premium smartphone?