Earlier this year, Bank Negara Malaysia increased the Overnight Policy Rate (OPR) by 25 points to 3.25% from 3.00%.
Almost immediately, news articles on how this would affect the rates for banks' products and services, such as mortgage loan and fixed deposit are published.
But how does the OPR hike affect the man on the street, or you for that matter, personally?
First things first, let's talk about what the OPR actually is.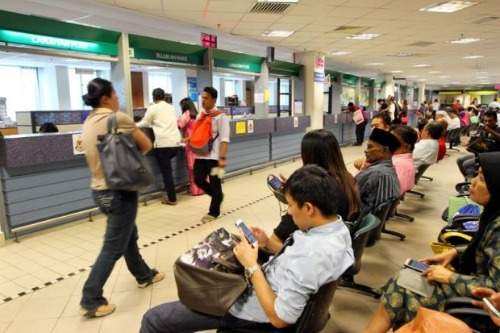 What is the OPR or Overnight Policy Rate?
The OPR is the rate a bank has to pay another bank when it borrows money from it. Banks need to do this sometimes because in a typical business day, cash flows from one bank to another due to the bank fulfilling account holder requests like wire transfers, disbursing loans, and other transactions. This can leave some banks with shortages of cash and some other banks with a surplus of cash.
In order to keep the banking system running, banks with extra cash would often lend it out to banks that don't have enough. The rate they charge each other is called the OPR.
As a borrower, when the OPR (set by Bank Negara Malaysia) is higher, the interest rate goes up. This means you will have to pay more for your mortgage or hire purchase loans. But as a depositor, you get to enjoy better interest rates on your savings such as fixed deposit account.
So How Do I Take Advantage of This?
One clear and easy way to exploit this advantageous situation is to deposit your money in a place where it can maximise its earning potential, yet is risk-free. Thankfully, lenders like Alliance Bank have taken this opportunity to provide its customers with the best interest rates when it comes to bank accounts.
The Alliance SavePlus Account caters to your needs in savings as it lets you enjoy high-interest rates of up to 3.5% per annum, higher than the previous 3% before the OPR increase, alongside easy access to your cash whenever you need it. This means you are free to withdraw your cash anytime, anywhere without forfeiting the interest earned.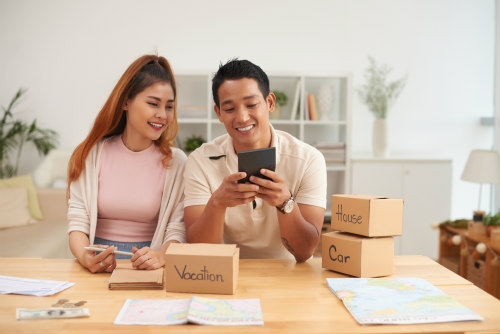 This is in large contrast to a regular savings account (which gives you lower interest rates) or fixed deposit (which locks your money for long periods). Plus, your high returns from Alliance SavePlus Account are calculated on a daily basis and credited monthly. You can withdraw your money on the 20th of the month and still earn interest on the first 19 days.
For an idea of how the Alliance SavePlus works, please refer to the table below: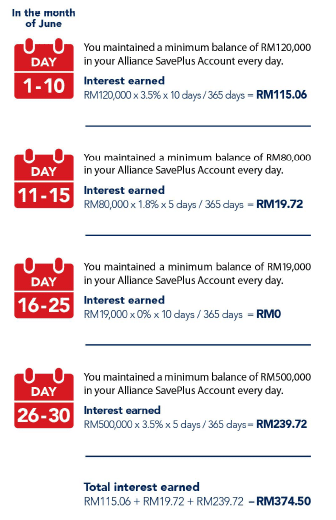 Additionally, the Alliance SavePlus Account gives you a waiver on transaction fees such as debit card annual fee, ATM withdrawals and online transfers such as Interbank GIRO (IBG) and Instant Transfer (IBFT). All you have to do is maintain a monthly average balance of RM10,000 in the account to be eligible for these perks.
Did you know that historically, the Alliance SavePlus-i Account* pays a higher rate at 3.55% per annum, compared to the conventional product? Open your Alliance SavePlus-i Account today!
For more information on how to apply for an Alliance SavePlus Account, please visit www.alliancebank.com.my . Alternately, you can drop in on any of their nearest branches or get in touch with their Contact Centre at 03-5516 9988.
*Terms & Conditions apply.
** The historical rate shall not be construed as an indicative rate, subject to terms and conditions at the Bank's discretion.