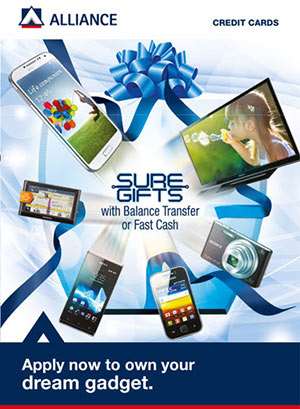 Having trouble staying managing credit card debt? If your
statements are hovering above the RM5000 mark maybe a low-interest balance
transfer might help you get on top of your finances. Alliance Bank is holding a
promotion for new and existing credit cardholders offering balance
transfers as low as 8.99% p.a. for up to 36 months.
And as part of the promotion Alliance Bank is giving away
electronic gifts such as the Samsung Galaxy S4 and a Sony 32" inch flat screen
tv, which are also up for grabs if you apply for a Fast Cash personal loan. This
is not your usual 'spend n win' type of promotion as all successful applicants
will be guaranteed a gift. The type of gift is determined by the amount
transferred or loaned.
This offer starts on 17 Jun and ends on 30 Sept 2013.
For full details, interest rates and a list of available
prizes up for grabs please refer to the Balance Transfer and Fast
Cash Terms & Conditions page.
Don't waste time skimming through pages and pages looking
for the perfect credit card. RinggitPlus
can help you find the right one based on your spending habits.