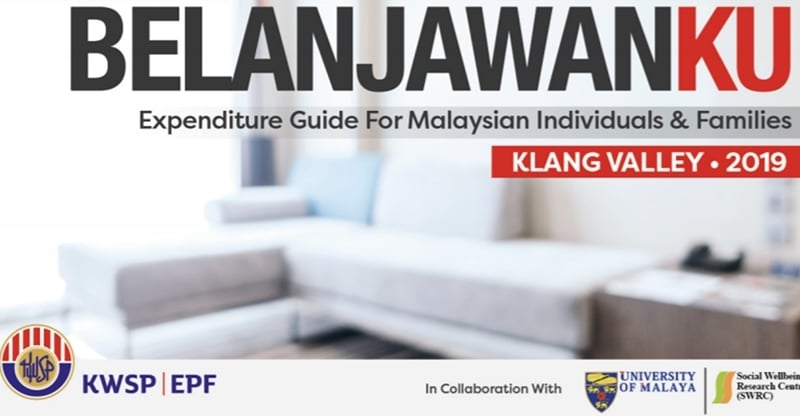 The Employees Provident Fund (EPF), in collaboration with the University of Malaya and the Social Wellbeing Research Centre (SWRC), has launched Belanjawanku, a comprehensive expenditure guide for different Malaysian households. It is one of the Government's efforts to improve the people's knowledge in financial literacy, allowing them to make informed and effective financial decisions.
Commenting on the launch, Finance Minister Lim Guan Eng said that a low financial literacy rate is one of the reasons why a lot of Malaysians end up in bankruptcy. This claim is based on research by S&P Global Literacy Financial (2014) which estimated that Malaysia's financial literacy rate stands at 36% compared to 59% in developed countries.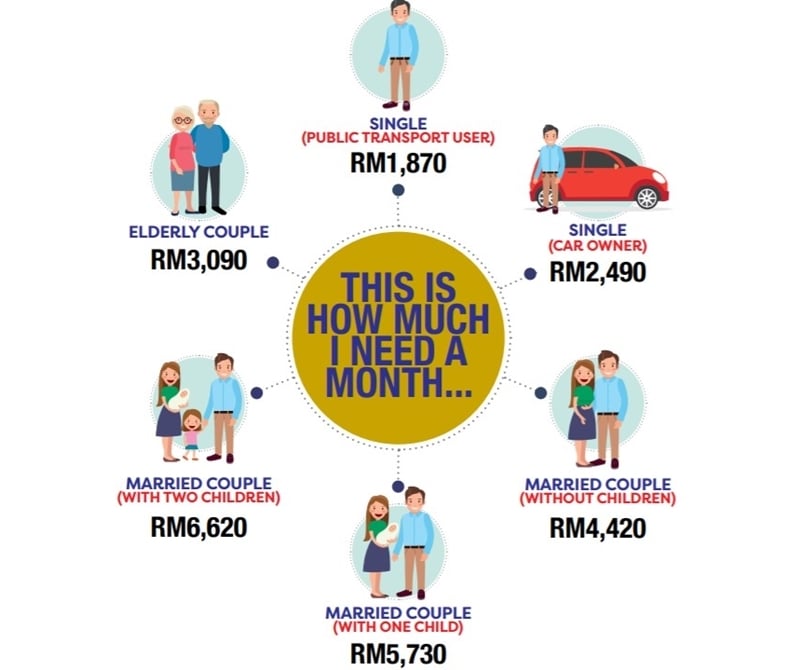 Belanjawanku is an expenditure guide for Malaysian households on how much they should spend a month to have an acceptable living standard. It was created based on actual spending patterns by urban households in Klang Valley. An acceptable standard of living is defined as having enough for your basic needs while being actively involved in activities with your family and community. Basically, it is the amount of money needed each month to allow people a happy and meaningful life.
Basic Assumptions of Belanjawanku Households
The Belanjawanku spending guide is created based on several basic assumptions, including that the people are generally healthy, are fully using the public healthcare services provided by the government, and their average travel distance to work is 30KM.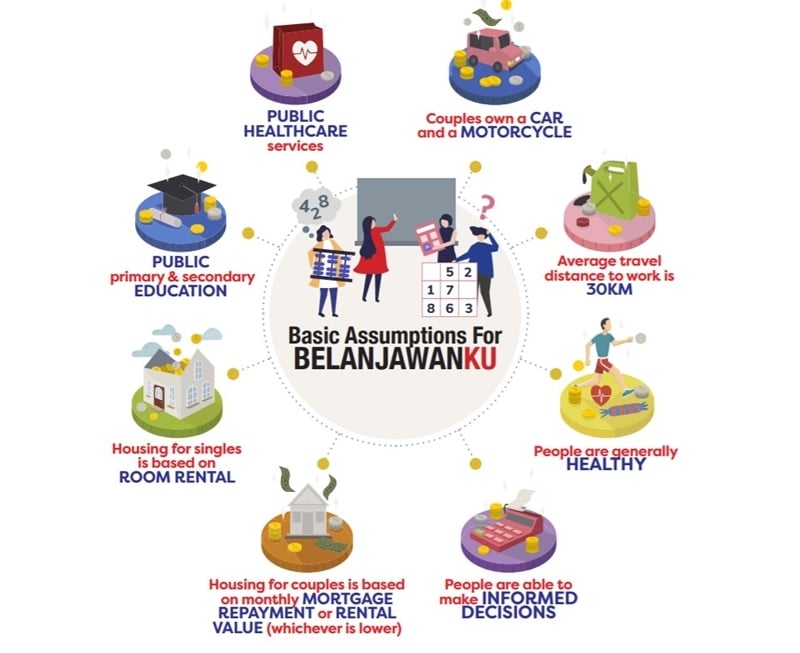 Belanjawanku Monthly Estimated Budget
Single (Public Transport User)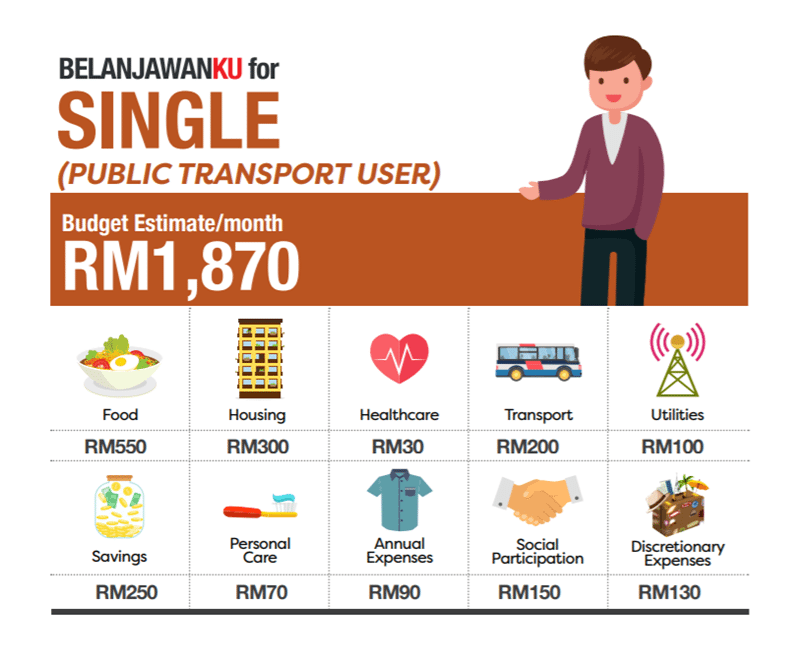 The guide estimates that you need a minimum of RM1,870 if you are single, using public transportation, and renting a room. A good chunk of the budget estimate covers food and housing – a similar pattern across the different household types in this guide. Unlike car owners that need to allocate more on Transportation and Annual Expenses (vehicle maintenance, road tax, and insurance) in their budget, a single public transport user (who is using LRT, monorail, KTM, or bus) can save quite a lot in that area.
Single (Car Owner)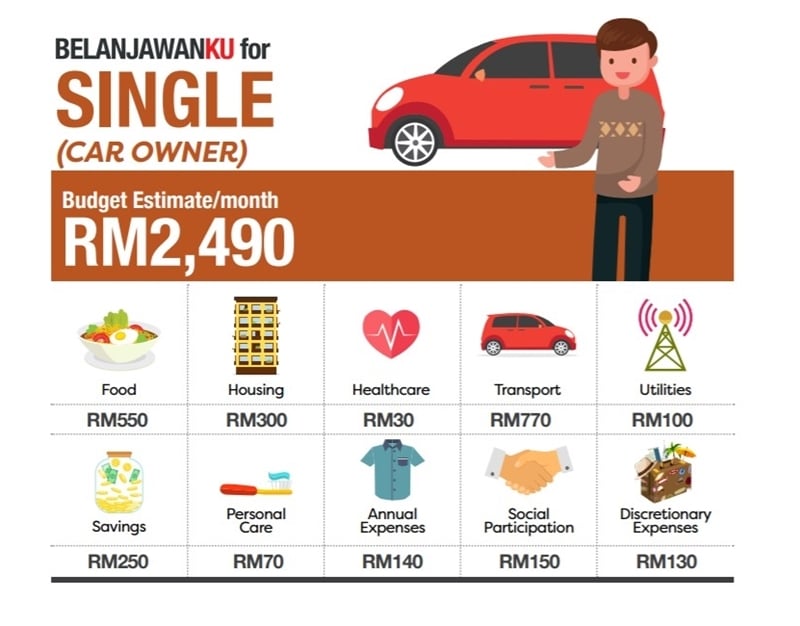 If you are a single car owner, your estimated monthly budget jumps by a good RM620 to RM2,490 due to owning a car. Most of the other categories remain the same but the budget estimate that covers Annual Expenses will increase from RM50 to RM140 as a car owner.
Married Couple (Without Children)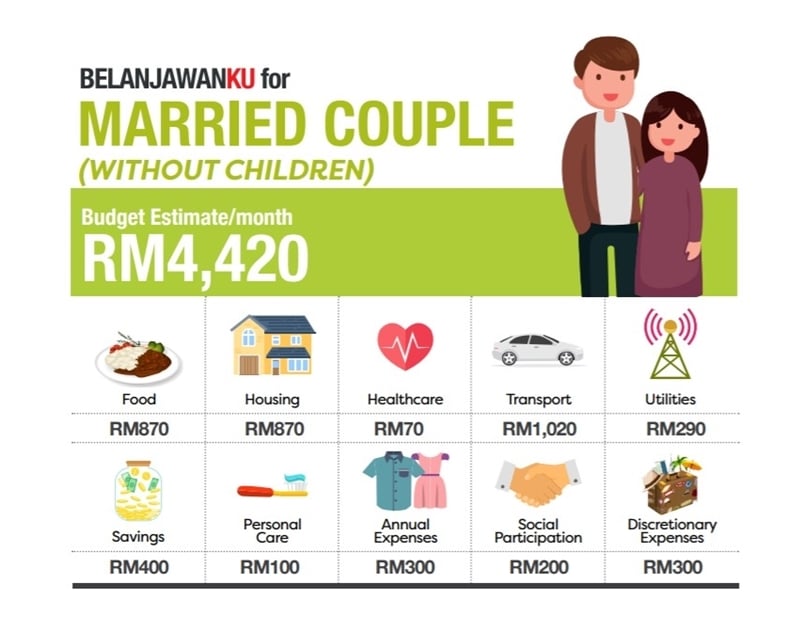 For married couples without children, the monthly recommended budget is RM4,420 which translates to RM2,210 per person. Thanks to the assumed shared responsibilities, this budget sees a RM280 decrease from that of a single car owner. The decrease also comes assumptions like married couples would prefer cooking to eating out.
That said, their transportation and housing costs is quite high based on this guide, which translates to an overall higher budget per month.
Married Couple (With One Child)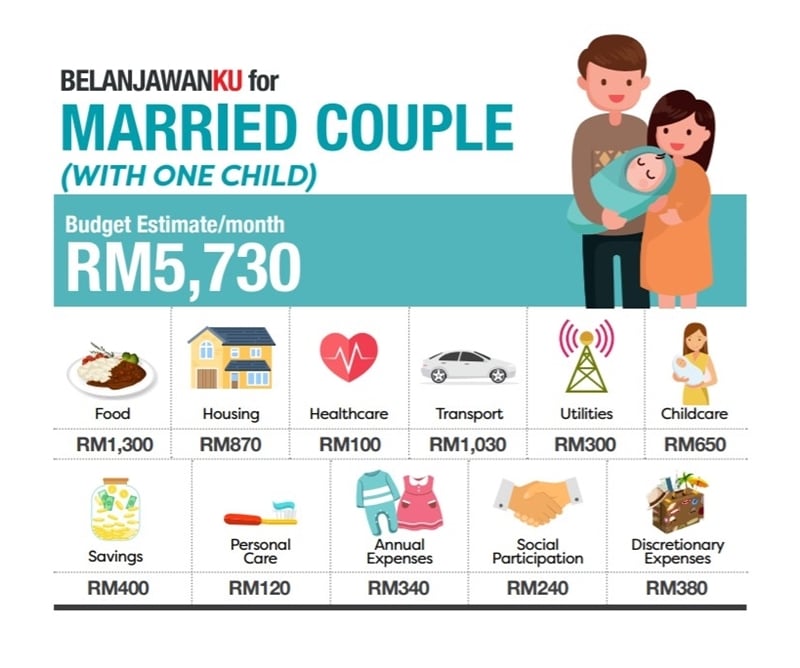 For married couples with one child, the total household expenses goes up by RM1,310 compared to married couples without children. Most of the increase comes from additional expenses on childcare and food, with smaller additions from other categories.
Married Couple (With Two Children)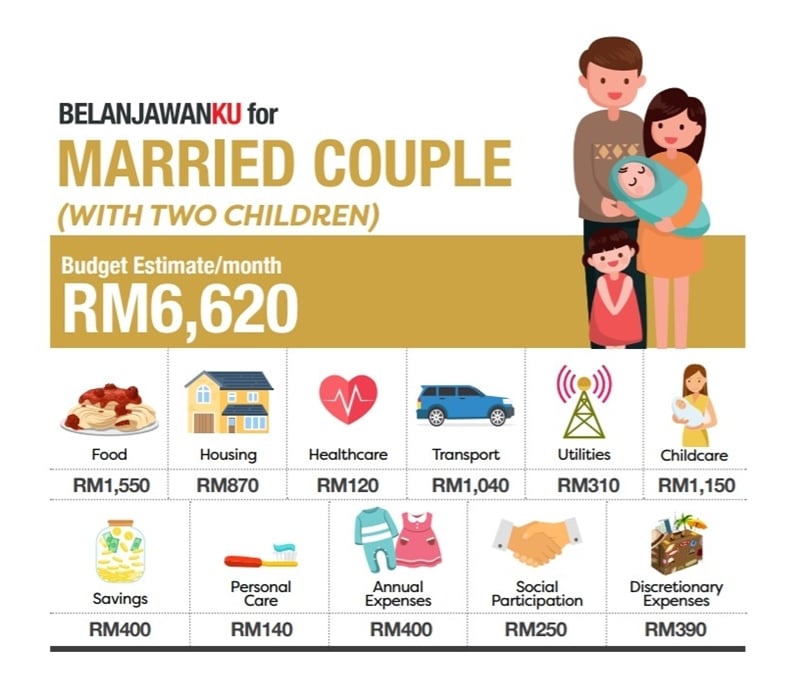 Having a second child will cost another RM890 a month, increasing the budget to RM6,620. Similar to the previous household, the biggest chunk of the increase comes from childcare spending.
Elderly Couple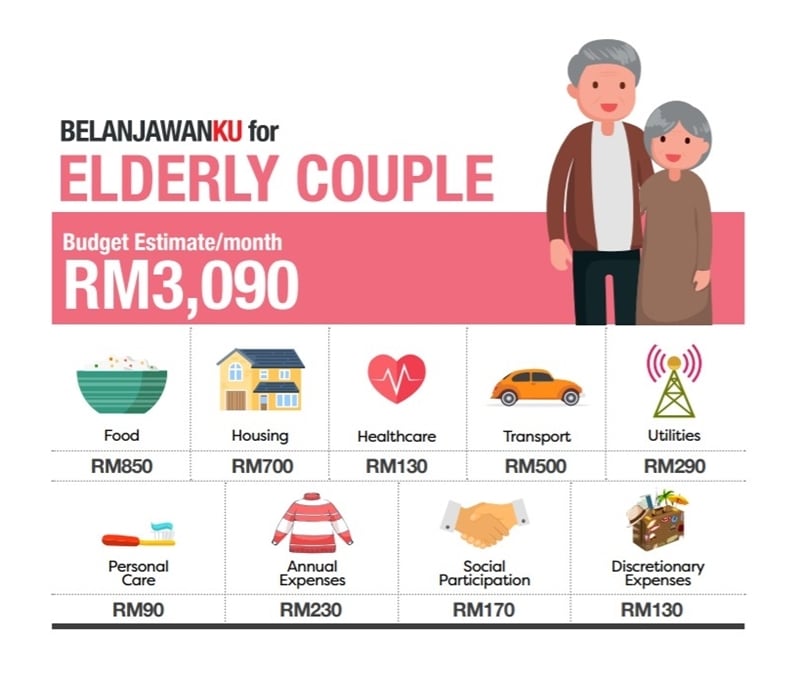 Meanwhile, the minimum monthly budget estimate for elderly couple is RM3,090, which means each person needs RM1,545. This amount is higher than the RM1,000 per month savings that EPF suggested for basic savings requirement for every retiree. This huge difference signals a pressing need to put more attention into retirement planning – the EPF itself has stated that more than half of Malaysians near withdrawal age do not even get to save RM1,000 per month to use in their retirement.
Discussions And Future Plans
The EPF and University of Malaya said this spending guide will act as a reference to measure the effectiveness of policy changes and assess the impact of outside events on Malaysian living standards. Meanwhile, the general public can use it as a budgeting or planning guide, and companies can use it as a salary benchmark.
However, the figures shared in Belanjawan wasn't well received from all parties, with some claiming that the budgets are not indicative of actual expenditures – especially in housing and transport. Datuk Abdul Halim Mansor, Malaysian Trade Unions Congress (MTUC) president disputes the figures and said that Bank Negara Malaysia's living wage estimation (RM2,700) is more representative of the people's needs compared to what Belanjawanku states (RM1,870). He added that the EPF did not take many things into consideration such as cash allowance for parents and Grab and taxi expenditure.
Meanwhile, other economists said that the RM1,870 budget for singles with no car falls short from the correct figure, suggesting instead the figure to be at least RM2,300 a month. However, RM1,870 per month should be enough for a person living outside Klang Valley.
Moving forward, the EPF and University of Malaya will periodically publish revised estimates of this spending guide. The full guide in PDF can be downloaded here.
(Source: EPF)