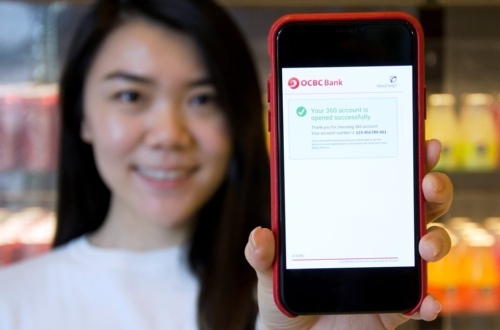 OCBC Bank has become the first bank in Singapore to unveil an instant online bank account opening service for all Singaporeans and permanent residents, including those without an existing relationship with the bank. This online service leverages on the Singapore National Data Repository (MyInfo) and OCBC's digitised Know-Your-Customer process (e-KYC) to enable customers to open an OCBC 360 account in just five minutes.
All customers need to do is to log into their MyInfo accounts with Singpass and allow OCBC Bank to use their MyInfo profile to set up a new account. An OCBC 360 Account application form is then pre-filled with their personal information, thus removing the need to key in the details or provide documents. As a result, customers just need to review their details and upload a picture of their signature to complete the process.
While Singaporeans can now open a bank account effortlessly, no bank in Malaysia currently offers a similar service. The main reason for this is the fact that the country's national data repository is not accessible online, which necessitates the need to visit a bank branch for verification purposes. That said, the banks that do offer instant account opening services require the customers to have an existing relationship with the bank. In other words, the customers must have a banking product (like a savings account) from the bank in order to open an account instantly.
Two examples of this service are the M2U Savers Account and the CIMB AirAsia Savers Account. Existing customers can open and close the accounts online, as well as do all banking transactions via the banks' respective online banking sites.
OCBC Bank Singapore's instant account opening service is another example of how banks leverage technology to improve their services. By utilising the national data repository and OCBC's e-KYC process, OCBC Bank Singapore offers convenience and speed to all its customers regardless whether they have an existing relationship or not.
(Image: OCBC)