Imagine this: you scramble groggily out of bed and drag yourself to the bathroom. Opening the medicine cabinet, you reach for your toothbrush and toothpaste only to find the toothpaste tube curled in a sad little twisty shape after being twisted again and again to get every last bit of paste out. there isn't a drop left and you certainly can't go to work with breath that reeks of stale yeast.
Luckily, there's a mart just 2 minutes from your home. A mad dash in your pyjamas may get you a few askance glances but it's better than a day avoiding anyone with any semblance of a sense of smell. The point is your nearby mart saved you today and probably did on many other occasions before.
When you needed a Panadol for a pounding headache; some refreshment for a sudden surge or house guests or even a pack of condoms for those nights when your wife's headaches are finally gone.
Convenience stores are here to the rescue. Like a big supermarket, rest assured that you'll get yourself covered ranging from food items to toiletries. But unlike the big supermarkets; marts have to charge a wee bit more in order to stay afloat because they don't sell in vast quantities.
We all know it can be just a wee bit more expensive to get our stuff from the marts but we bite the bullet because of the convenience factor.
Even so marts are not all made the same. Some charge more, some less so we sought to find out just how much you'll be forking out for some essentials depending on which mart you have closest to home!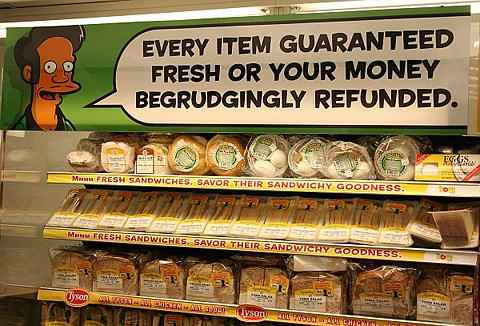 Neighbourhood Mart Price Wars
We conducted a little survey. Every stores carries different brands and weights, we narrowed down our selections and picked out 11 essential items and compared prices across 4 convenience stores.
Food Items
Kedai Rakyat 1 Malaysia
(KR1M)

99 Speed Mart
7-11          

KK Mart

Maggi Hot cup
RM1.69
RM1.69
RM2.40
RM1.80
Coke 1.5litre
RM3.40
RM3.20
RM4.80
RM3.50
Boh Tea 25's
RM3.95
RM4.20
RM4.60
RM4.90
Dettol Body Wash
(250ml)
RM5.90
RM6.49
RM6.90
RM8.90
Eggs 10's
RM3.89
RM3.95
RM5.20
RM4.90
Maggi Tomato Sauce
RM2.35
RM2.50
RM3.80
RM2.70
Mister Potato Chips
(75gm)
RM2.60
RM2.30
RM3.70
RM2.30
Chipsmore
(180gm)
RM3.90
RM3.85
RM5.20
RM4.20
Lactogen 1
(350gm)
RM10.25
RM10.30
RM10.30
RM10.90
Ayam Brand Tuna
(185gm)
RM5.60
RM5.49
RM5.60
RM5.50
Total Price
RM43.53
RM43.97
RM52.50
RM49.60
*Prices correct at time of research. Discrepancies may arise due to changing promotions.
Which is the cheapest mart?
It was a close battle between KR1M and 99 Speed Mart for the cheapest prices but of course the government initiative sundry mart won: even if it is by a hairline 44 sen.
7 Eleven came out as the most expensive but it is unlikely to be a shocking discovery for many who frequent the 24 hour convenience store. But those of you who have no other mart to turn to but a 7- Eleven, don't sweat it!
Before rushing off to a cheaper mart further away from home, remember the golden rules to mart shopping.
Mart shopping is for sudden, one-off necessary items; not for everything on your sundry list. If you have a tonne of stuff to pick up, skip the mart and head to your nearest hypermarket. Your wallet will definitely thank you.
Mart shopping is about convenience. If you have to drive 10km to find a cheaper mart and burn precious fuel in the process – you're defeating the purpose of bargain hunting in the first place! The mart run is about convenience and if you're only buying an item or two; the cost will work out to be cheaper than you driving further to save a couple of ringgit!
Mart shopping is for items you need. It's tempting to pick up a pack of crisps and maybe a 6-pack drink bundle, just cause you're there but remember why you went out in the first place and stick to the items you need. This is a rule for most any shopping trip but it carries a little more weight when you know you're paying more needlessly for a product you can do without!
Neighbourhood marts are super convenient and a life-saver during out-of-a-household-item emergency but if you're not careful – you could be spending a lot more than you needed to!