In the last week, Malaysians have begun receiving text messages from their banks informing them of a new banking service called DuitNow. If you haven't heard about it before, this SMS would certainly be concerning. Is DuitNow a scam? Who is PayNet, the company behind DuitNow? Why did I get a pre-registration SMS when I didn't sign up for anything?
Worry not, as DuitNow is an initiative to simplify bank transfers by using easy-to-remember details such as your mobile or IC number. Here's everything you need to know about this new service that's kicking off on 1 December.
What is DuitNow, and who is PayNet?
DuitNow is a new instant funds transfer service that will be available within a participating bank's online transfer facility, allowing users to instantly transfer money using just their mobile or IC number.

DuitNow is developed by PayNet, an entity that counts Bank Negara Malaysia as a major shareholder and 11 of the major banks in Malaysia as shareholders. PayNet designs, builds, and operates world-class payment systems for the benefit of individuals, businesses, and financial institutions in the country. You may not have heard of PayNet before, but it is the body that developed services and frameworks such as JomPAY, MyDebit, FPX, and GIRO, systems that handle virtually all digital banking and payments Malaysians use today.
So no, DuitNow is not a scam, even if the wave of pre-registration text messages caused quite a bit of worry among Malaysians.
How does DuitNow work?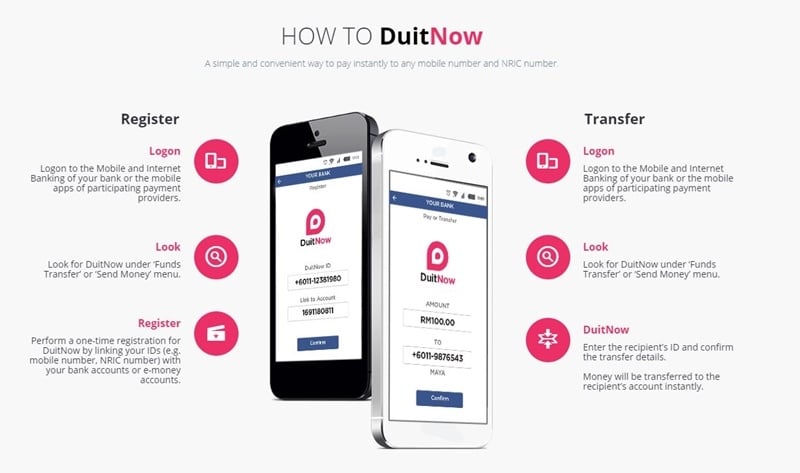 The idea behind DuitNow is to simplify the process of online bank transfers. Currently, to transfer money between individuals, we need the recipient's bank account number as well as the bank name. It's safe to say that not everyone would have their bank account number memorised (they can go up to 14 digits), so using a mobile or IC number does make sense.
When DuitNow is launched, it will appear under the "Funds Transfer" or "Send Money" menu of the banks' online banking website or app. The process is very simple:
Enter the recipient's mobile phone number, IC number, or business registration number.
Enter the amount to transfer.
Confirm the recipient's full name (or company name).
The transfer goes through instantly.
Since this is a PayNet initiative, there is an extensive list of partners which includes 44 banks that support DuitNow at launch. What that basically means is that you'll be able to use DuitNow from 8 December 2018 and send money to virtually any bank account in Malaysia.
There is no fee for using DuitNow to send and receive money up to RM5,000, and for transfers above this amount, a 50 sen fee may apply. The maximum transaction limit that can be made using DuitNow is RM100,000 for consumers and RM100,000,000 for businesses – though individual banks may set their own limits.
DuitNow also supports future-dated and recurring payments, as well as favourite recipients to make future payment processes faster. On top of that, the government and businesses can disburse funds to you using your IC number as an identifier.
What happens if I have multiple bank accounts?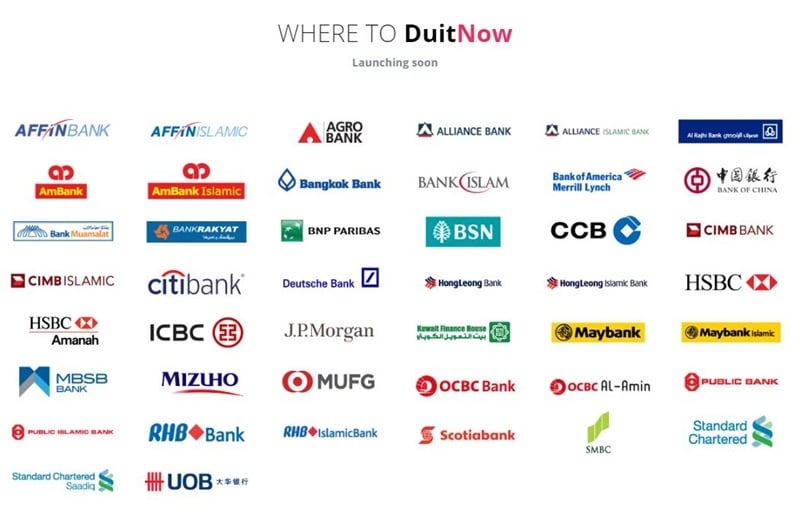 When you register for DuitNow, each unique identifier (IC number, mobile phone number, business registration number, or passport number for foreigners) can be used as a "DuitNow ID" that is tied to your bank account. When you have more than one bank account, you can use a different identifier as that account's DuitNow ID.
For example, you can use your mobile phones number as the DuitNow ID for your Maybank account, and your IC number as your CIMB bank account. You can also use other forms of identification, as long as they are verified by the bank.There is no limit as to how many DuitNow IDs an individual may have.
Is DuitNow Secure?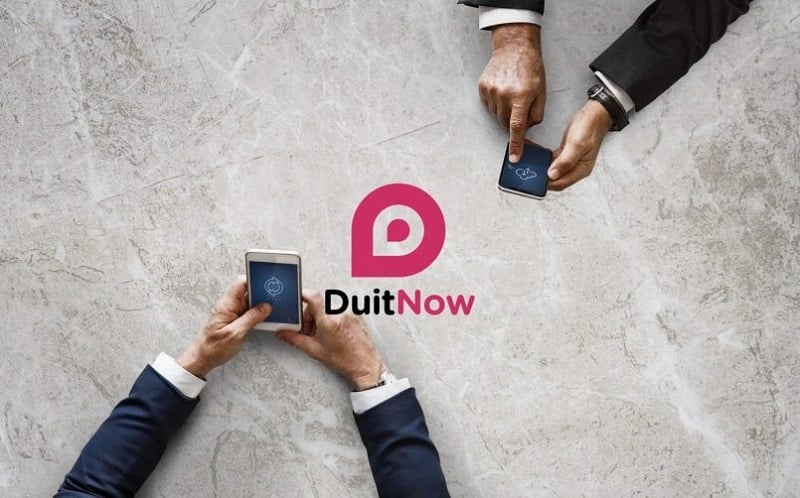 Since DuitNow uses an individual's phone number and/or IC number as identifiers that are tied to their bank accounts, there are some legitimate privacy concerns. How secure is DuitNow?
For the most part, the company's website addresses most of the issue. DuitNow's features can only be accessed within the banks' internet banking and mobile app, and therefore lies within the safety and security of the banks.
In addition, DuitNow also states that if any party knows your DuitNow ID, they can only use it to direct payments to your account – they cannot access your account itself.
At a media briefing held after the publishing of this post, PayNet addressed the concern about conmen potentially using the service to farm for names and numbers. DuitNow has a protection feature in place where if a user logs in more than three phone numbers consecutively without making a fund transfer to any of those numbers, they will be blocked from making any further queries for the next 24 hours. PayNet also revealed that the individual banks have the ability to tweak this feature to be more strict, if they prefer.

It doesn't help either that a lot of banks turned DuitNow into an "opt out" service, which means consumers are automatically enrolled to the programme. That's why there was a large amount of text messages being sent out by banks over the last week.
Why did I get a pre-registration SMS for DuitNow?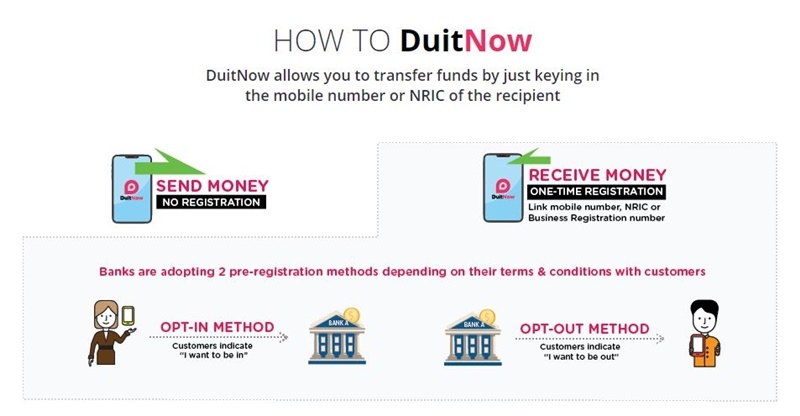 According to DuitNow's FAQ, banks are given two options for pre-registering their customers into DuitNow: an "opt in" and an "opt out" method.
Given that there are many Malaysians who own more than one bank account, it wasn't surprising that most banks adopted the "opt out" method and raced to pre-register their customers and tie their mobile phone numbers to the banks' accounts.
And since the public has absolutely no idea that DuitNow even exists, it was only natural that there was an uproar from some Malaysians. The banks acted before PayNet even announced what DuitNow is, leaving plenty of Malaysians with multiple text messages from different banks informing them of the same pre-registration process that they themselves have no idea about.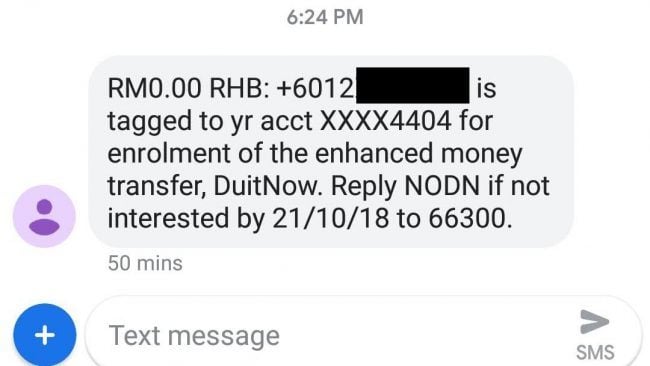 (Image: Amanz)
But why would the banks jump the gun? The answer is simple.
Mobile phone numbers are the most-memorised ID of the DuitNow IDs, and DuitNow's rule of only one bank account tied to one DuitNow ID means whichever account tied to the user's phone number would be the most-used account for paying and – more importantly – receiving funds. Banks invest the money that we deposit in our savings accounts to generate money, so the more money we deposit into our accounts, the more funds the banks have to make more money. From a business perspective, and with the conditions set by PayNet, it's not a surprise that this whole mess happened.
In any case, while a few banks went for the "opt in" method and spared themselves from the mess, there have been rumours that Bank Negara Malaysia stepped in to instruct all banks to stop the pre-registration process. PayNet is scheduled to hold a press conference to the media about DuitNow on 22 October, so it's likely we'll hear more about this during the event.
What's next?
All Malaysians can use DuitNow. If you choose not to use DuitNow, you have 30 days to opt out of using DuitNow from the day you receive the automatic registration SMS, email, or notification from the bank. If you have not received a pre-registration SMS, it does not mean you cannot use DuitNow – you'll just need to register for it from 1 December onwards.
In fact, here's a list of scenarios that all Malaysians with bank accounts would face, and the next steps they can take.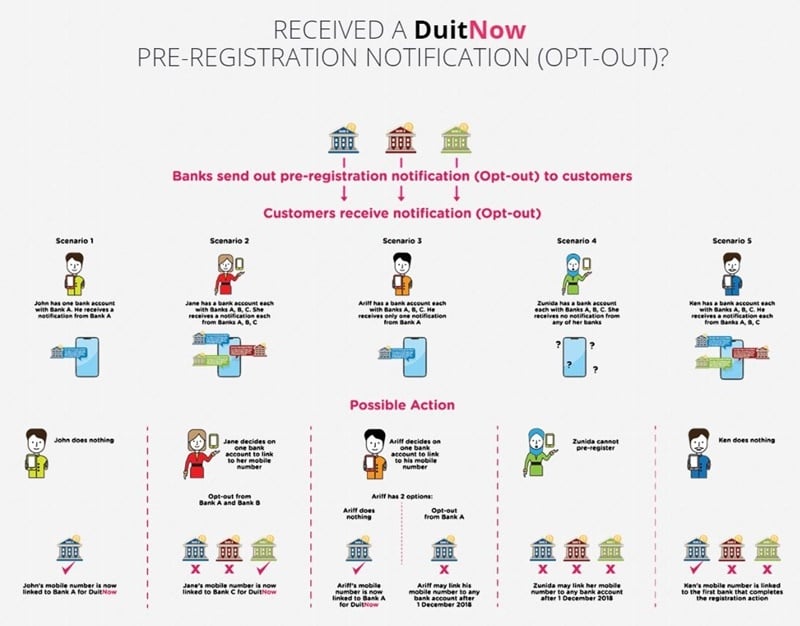 The concept of sending money to a bank account using a phone number as an identifier isn't new. The UK has Paym, Singapore has PayNow, while Australia launched PayID early this year. DuitNow runs similar to these services, and offers inherent benefits for users even if Bank Negara Malaysia also recently made instant interbank transfers free of charge.
DuitNow looks to be a service that is convenient, quick, and secure – but given Malaysians' scepticism over conducting financial transactions digitally, it may take some time for Malaysians to warm up to DuitNow.