With one of the final public holidays of the year approaching in less than 3 days, it is indeed that time of the year for festive joy and cheer – especially when malls and eating establishments everywhere are blasting nothing but Christmas classics all day long.
Perhaps you may have been busy with hostess duties or shopping for gifts which is perfectly fine and all but the point at issue here is, have you had your Xmas outfit sorted out yet? If your answer is no and you are still looking for places that you can score an awesome outfit for a fraction of the usual price of an exclusive party dress, then read on!
Rent A Dress
Apart from sizing issues and the fact that you won't be able to own the dress, renting a dress would make more sense from an economic standpoint. Imagine if you have splurged on a classy RM100++ dress, in which chances are, you would only wear that dress for that one Christmas brunch/luncheon or dinner and that's it.
So, rather than having a dress would stay in your closet forever, opt for dress rental services like Rent A Dress and Belles & Tuxes. Just make sure to return the dress in its original condition or else you can kiss goodbye your rental deposit.
Bundle/Pre-Loved Stores
Feel that bundle and pre-loved stores are dens of less than desirable, unhygienic clothing? It's time to do away with that attitude and open your mind to all new possibilities. Bundle stores are a treasure trove for most fashion-forward individuals who do not want to stay confined to the usual mass-produced offerings found in a typical store and their advice in scoring a good deal?
Have patience and make frequent visits to different stores as not every store has the same selection of clothes in hand. Stores like Jalan-Jalan Japan and Bandoru are a great place to start!

Factory/Brand Outlet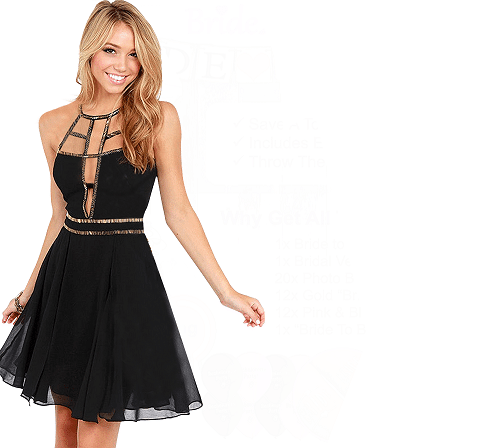 Wearing an off-season dress is not fashion suicide as opposed to picking a particular style that is definitely not flattering for your body type nor conducive to the humid Malaysian weather. If you don't mind doing a little bit of driving down south, you might be able to score some amazing bargains on branded party dresses without needing to pay for their full recommended retail price.
The only thing you will need to be concerned about is the throng of tourists who will be there to do their shopping too so outlets tend to be crowded, especially during weekends. Outlet stores like Mitsui Outlet Park or Freeport A'Famosa Outlet will carry a good mix of local and international brands for you to choose from.
Online Community Marketplace
No time to drop by a physical shop and worried that you won't have enough time to order something from an online store? No worries, you can always turn to an online community marketplace and arrange for a COD (cash on delivery) payment so that you won't need to worry about postage fees and that the item won't arrive on time. Places that you can keep an eye out for include Carousell and Instagram shops.
Still, always do your due diligence and ensure that the online seller is reputable and verified before making a deal. This can help reduce the likeliness of you getting scammed online by an unscrupulous seller.
Fast Fashion Shops
Brand names like H&M and Monki have a selection of cool dresses under the price of RM100 so if you are familiar with their one for one deal, you may even bring a friend along and split the cost of the items that both of you want (so long as the item is similarly priced or priced lower).
Otherwise, it doesn't hurt to head to Forever 21, Bershka (which is a sister brand of Zara by the way), Cotton On and Twenty3 where you'll find a myriad of dresses in different designs and styles. The only catch is since the dresses are priced so affordably that if you choose to delay your purchase, someone else might have already snapped up the dress that you have in mind especially when stocks are limited in size and design.
Anything Else That I Should Know?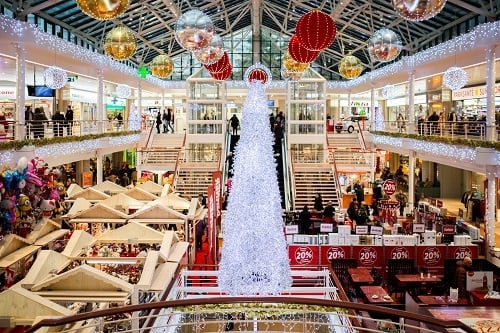 Having said that, it pays to be a price-conscious and smart shopper when you are hunting for the perfect dress for your Christmas celebration. Certain brands would tie in with selected credit cards, offering exclusive discounts which will further reduce the amount that you would need to pay, giving you more savings and value along the way.
Best of all, some of the discounts happen all year round so you don't need to wait for a festive occasion or a valid excuse to shop, anytime is a good time with the right credit card.
Don't have a credit card yet? That's fine, we have you all sorted out, all you need to do is to check out our comparison tool for the latest and best Malaysia credit cards available in the market. Happy hunting and Merry Christmas in advance!
Are there any other reasonably-priced places for Christmas outfits or party dresses that you would like to add on to our list? Tell us, we would love to hear from you, just drop us a comment in the comment section below.