This weekend we will all celebrate the first man in our lives and many will want to celebrate with a good gift and a nice meal to show appreciation for all he has done. That said, fathers can be notoriously uncomfortable with excessive displays of affection and are often too practical to enjoy a bouquet of flowers or ornamental gift. It makes the idea of gift-giving a little more difficult than during Mother's Day.
However, his practicality could make a financial type gift the best kind to give him. We run down some ideas suitable for every budget that will hopefully help him in his financial goals.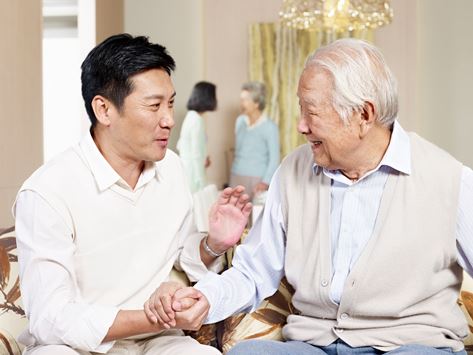 Big Budget: A Fixed Deposit Stash
If limited funds is not really a problem to you; a fixed deposit is a handy instant emergency stash to give dad that will reward him with continuous interest as long as he doesn't withdraw. There's little or no maintenance required and all he has to do is literally watch his fund grow larger.
Even if dad already has a good many stashes of his own or a comfortable retirement pot – one that came from a child is sure to be special. Fixed deposits in certain banks can be opened for as low as RM500 and up to any amount you choose. There are also special fixed deposit products for seniors that feature specific benefits for dad over and above the regular fixed deposit.
Recurring Budgets: Medical Insurance or a Supplementary Credit Card
Have you arrived in life where your stable, comfortable income makes you contemplate giving dad the gift that literally keeps on giving? If so, you could consider a medical insurance plan or a supplementary credit card.
Medical concerns are often a parent's greatest concern, so a good policy will afford them peace of mind. If they already have one – you could volunteer to add a top-up amount for more coverage or opt to undertake payment henceforth.
A supplementary credit card is another idea of a gift that can be used by your dad when he really needs it any time later on. When you were young, you were probably given one yourself; so for dads no longer in the workforce, this could work as a good emergency plan. Of course, how much you will have to foot depends on how much dad uses.
Medium Budgets: The Ang Pow
If you don't have enough for a fixed deposit account or to keep paying for an insurance policy – sometimes it doesn't hurt to just offer dad an ang pow of however much you can afford to either add to his coffers or buy himself something nice.
Many people lament the lack of sentimentality attached to giving the gift of money but it's usefulness in a time of rising inflation cannot be denied. It's definitely practical; suited to whatever you can afford; and it will give dad the opportunity to do with it just what he likes.
Modest Budgets: Financial Management Tools
For many young people starting to work, getting dad an expensive gift may be out of the question. But this doesn't mean there isn't anything useful you can do to help dad continue to build his financial empire.
Dads who are still active businessmen or working individuals will be looking for ways to further themselves in their business and financial literature could help. Whether it's just a tome on personal finance or more technical finance related topics; you're bound to find something useful and within your budget if you know dad's needs well enough.
If dad isn't a business person or simply has no need for such reading; there's also the option of purchasing a personal finance app for his Android or Apple device to make budgeting and managing money easier. There are an abundance of paid apps from as low as RM4.20 with a myriad of features to help dad keep abreast of his money matters.
Dads are the awesome, practical stalwarts in the family and though they may not like a huge fuss made in their honour, a good, useful gift is sure to make waves and remind him about how much he matters without the pomp. Again, it's not really about how much is spent but how useful it ended up being.
Happy Father's Day to our first heroes!