Admit it; you cried at some point during the Jack Nicholson and Morgan Freeman blub-fest that is The Bucket List! If you've yet to see it, you might want to do so first before carrying on with this article (because then, you will probably be equipped with your own list!). Although, the idea of a bucket list existed before; the movie propelled to cult-like popularity, appealing to the travel-hungry and innovative Gen-Ys.
The bucket list is quite simply a list of things you want to achieve before you die (or 'kick the bucket' so to speak). The to-do's can range from the simple, such as trying an exotic type of food to the completely far-out earning of millions. It's not for anyone to tell what your list should contain but some common threads have shown themselves in some of the lists made public by people on social media.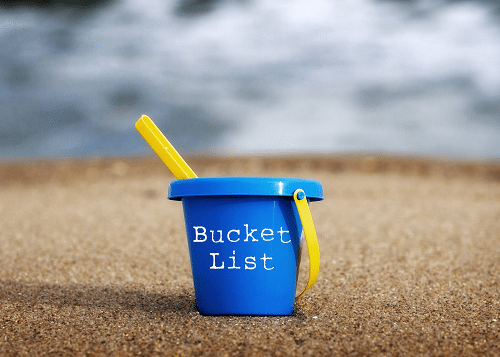 In fact, the popular online Bucket List social site (where you can list the top things in your list and share them with like-minded people), Bucketlist.org; compiled the most popular bucket list items people have listed in their featured segment. From it you'll realise that many people on the bucketlist bandwagon aren't exactly unique in their wants! These include:
See the Northern Lights
Attend a music festival
Learn a new skill
Visit New York/London/Paris
Swim with Dolphins
Sky-Dive or another extreme sport
The first thing that you might notice of course; is that all of these things will require some amount of 'capital'!
Pouring Cold Water on Your Bucket List Dreams?
Honestly, we're not trying to douse your dreams! Having a bucket list is not only fun; it gives you enjoyable things to look forward to in life. But more than we want you to have that list; we want you to actually achieve it! Money can often be a downer when you're plotting such amazing life experiences, so let us help you not only make an awesome bucket list but to help you create a plan that actually makes it all achievable.
The Bucket List Game Plan
In order to make your bucket list items a reality; you need to get realistic! And this means, having some idea about what is needed to achieve these goals. The easiest way to do this is to separate your list items into groups according to ease of execution:
1) Items achievable in the country with minimal cost and preparation (volunteering at a shelter, eating a new dish…);
2) Items requiring travel (seeing a famous beach, visiting a particular city…);
3) Items requiring travel and extensive planning (such as settling overseas, taking a traveling sabbatical).
Once you've done this, you can start breaking down the cost and estimated time-frame to get each item done. Nothing needs to be cast in stone. You'll definitely need to tweak it from time to time but at least you will have a starting point. There may be some items you may not be able to fit into the categories and may not have ringgit values per se; such as earning more money or maybe, writing a book. You can safely leave these out of your bucket list budgeting.
Once you've grouped your items, you can start adding estimate costs based on your current research. Once all the numbers are down on paper, you might find yourself suddenly discouraged. These numbers are too high! This is all impossible! Before you turn and run; stop and breathe. You've got estimates, now fold up that piece of paper or close that word document on your laptop because the first part is done.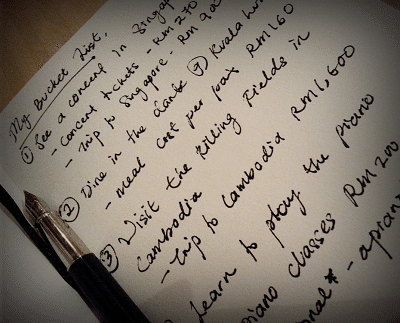 The Bucket List Funding System
Bucket lists are supposed to fun and life changing. Not dreary and tedious. You've now got an awesome list with realistic figures, but the time has come to put it aside momentarily. Now you need to build your bucket list fund. There will be items on your list with smaller price tags and those with bigger ones so we suggest two ways of building the fund:
The Bucket List Petty Cash. For smaller spend items, the petty cash box is perfect. Commit to putting in RM5 – RM10 per day (or whichever minimum amount you can afford) into a piggy bank or envelope in a safe place. Once you've reached a decent amount of say, RM100; you can always open a savings account.
The Bucket List FD. No, it's not a particular product. It means opening a fixed deposit especially for your bucket list big ticket items. Start with the minimum RM1,000 or however much the bank of your choice allows as a minimum. Best to select a 3/6 month FD so you don't lose out of interest if you wish to cash out within the year. Endevour to continue topping up amounts in higher amounts than the petty cash (maybe RM100 – 200 each bank in) whenever you are comfortable.
Whenever you notice either of your fund pots growing past a particular threshold (set by you!); you can whip out your trusty Bucket List complete with price points to see which one you can afford. Don't worry about depleting the fund – you can grow them again. They are there for this purpose anyway!
The added benefit of the Bucket List fund is that you now have another pot of money hidden away in case of emergencies.
We understand that with trying to save for emergencies, retirement and just for general savings is already taxing on your paycheque and adding another might be too much for some. But that's the best part about doing your own budgeting; you get to set the amounts you can afford.
At the end of the day; we'd all love to accomplish everything on our lists without having to worry about money but if such an option isn't available to us (ie. we're not minting money!) that doesn't mean we need to give up on our dreams.
Give it a shot – you may find yourself striking off more items on the list sooner than you ever thought possible!