Experiencing an unusual influx of wedding invitations as of late? No worries, you are not alone in your situation as it is indeed the wedding season, making it the topic du jour during lunch breaks and the random water cooler sessions.
Be it in the form of a physical or digital invitation, weddings will always be a subject of fascination for every Malaysian. Haven't you ever wondered how much weddings actually cost in Malaysia and if the costs differ according to race? To help shine some light on the matter, we've reached out to three Malaysians – each of them representing the three different races – who have graciously shared with us their wedding expenses and how they planned for their special day.
Now, let's see which of the three races's wedding cost the most, shall we?
#Malay Wedding
The Bride: Suzana, 31, Doctor
How Many Events Did You Have Before Your Actual Reception?
There are a few ways to go about with a Malay wedding but it is not uncommon to combine both nikah (solemnisation) and wedding reception on the same day. In my situation, my nikah and reception were two separate events.
What Are The Things That You Did Before Your Wedding ?
With less than four months to plan for my wedding, everything was a race against time as I am stationed in Manjung Hospital, Perak. In between my work breaks, I look up for inspiration on online blogs.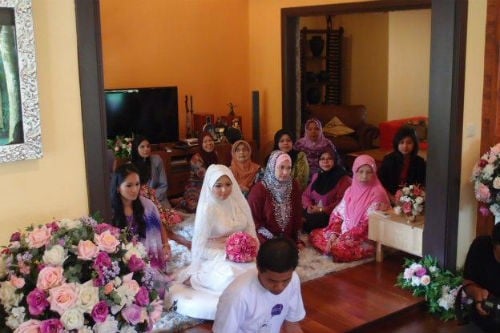 Photo courtesy of Suzana, during her solemnization event.
What Did You Spend On For Your Pre-Wedding Event?
My nikah was a closed-door affair and even so, I ended up planning an event for 150 people. Here's the breakdown of the things that we have spent on:
Nikah Outfit : RM1000
Wedding Decorations : RM775
A visit to SSF got me flowers, the gift trays (dulang), bunga manggar , and other necessary items for me to DIY the wedding decorations. Apart from that, we also rented a few items from a bridal house such as bantal nikah (the cushion that the bride and bridegroom sits on), a small table for us to sign our marriage papers and bunga pahar holder. RM300 was the package price for all 3 items and it was definitely a steal since the rental for a single bantal nikah can go up to RM100 each.
Wedding Favours and Signage : RM680
I engaged the services of a local chocolatier called Fidani who charged me RM400 for 200 pieces of custom made chocolate. My chocolate boxes, on the other hand, were from Romantika which costed RM200 for 200 paper boxes.
After receiving a RM200 quotation for 100 pieces of wedding tags (on cheap simile paper, how outrageous!) plus signage, I decided to DIY my tags. In the end, I only spent RM80 on art card, mounting board. and mounting spray.
Wedding Canopy : RM2000
Some caterers provide canopy services and while they may be cheaper, you don't get much choices as the options as the ones that they provide are mostly basic. Here's a breakdown of how much I was charged :
Canopy – Starts from RM350.00 each, prices vary depending on canopy's design. My RM2000 package came with :
1 special canopy for bride's family (fully decorated table and chairs for 10),
4 canopies for the guest (lights and ceiling fan included)
16 round tables (fully decorated)
160 chairs (fully decorated)
2 buffet tables + skirting
Catering : RM2,250
Ideally, I wanted my wedding to be done in a kampung where everyone gets together to merewang (helping out). But, of course, that didn't happen.
Nikah Overall Cost : RM6,705.
What Did You Spend on For Your Reception?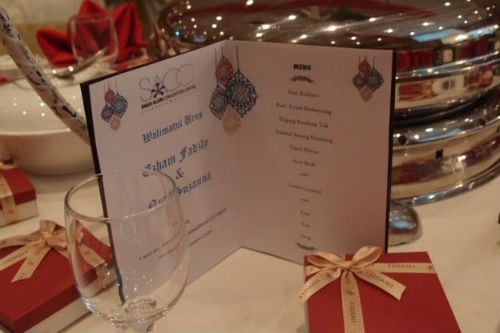 Photo courtesy of Suzana, a sample of her seat placement card
Venue and Catering : RM80,000
We chose Shah Alam Convention Center (SACC) out of convenience. It was RM80 per pax for 1000 guests. There are no venue charges as it was included in the catering package. It is cheaper if we had opted a buffet spread instead of makan hidang .
Wedding Dais and Backdrop : RM6000
SACC provided us with a selection of wedding dais but we enlisted the help of a wedding planner to provide us a dais that matches the fairytale theme that I had in mind.
Wedding Cards : RM1000
We opted for a package from a printing shop and they provided us with:
500 x wedding cards
6 x buntings
1 canvas banner
1 seat placement chart
4 x arrow signs
1 x guestbook
1000 x thank you tags
1000 x bride and bridegroom name stickers (to be placed on wedding favours)
A/V System : RM3000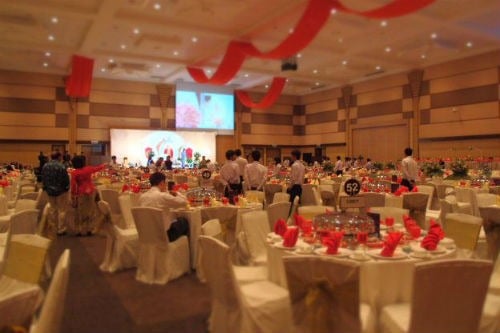 Photo courtesy of Suzana, her wedding venue and decorations
AV (audio-visual) package which includes:
DJ to handle the music booth
Video projection by 2 on-location AV handlers
2 x projectors
Photographer : RM1500
Wedding Favours/ Door Gift : RM2000
As this was a repeat order, we received a bigger discount this time around.
Makeup : RM600
Accessories : RM230
Wedding Gown Fabric : RM900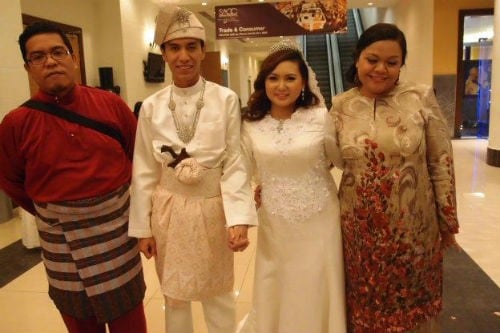 Photo courtesy of Suzana, of her and her husband in their wedding outfit
Reception Outfit : RM2500
Reception Shoes : RM600
Reception Cost : RM98,330
Total For Both Events : RM105, 035
What Are the Things That You Felt That You Can Do Without?
Things that can only be used once like sireh holder and accessories, these can be actually be rented so I could have saved a lot more if I chose to do so.
What Is Your Advice for Those Who Are Planning to Get Married Soon?
Start saving from now, even if you do not have a partner in mind yet! It doesn't matter if you don't use the money for your wedding, it can always be used for something else like a designer handbag, beach vacation or even a down-payment for your very own home. I was lucky that some of my wedding expenses are borne by my parents but at the same time, I can't help but wish that I had more time to save up for the things that I wanted.
Chinese Wedding
The Bride: Elaine, 28, Homemaker
How Many Events Did You Have Before Your Actual Reception?
We had 5 events prior to this:
Registration of Marriage (ROM)
As my husband was working overseas, the gap between the ROM and our actual wedding day was close to 9 months! Our ROM was in February and our actual day in November the same year.
Exchanging of betrothal gifts ("guo da li")
I was not particular about this but as it meant a lot to our parents, we proceeded with this before our actual day. This event had to be performed on an auspicious date selected by the fortuneteller.
Garden ceremony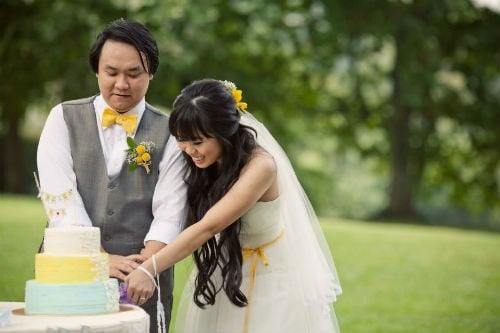 Photo courtesy of Elaine, of her and her husband cutting their wedding cake
We invited our immediate family members and friends to a simple garden ceremony, followed by some light refreshments and cake.
Pre-wedding buffet dinner
A buffet dinner at the bride and groom's homes respectively, a Chinese "bachelor party" so to speak!
Bride-pick up & traditional Chinese tea ceremony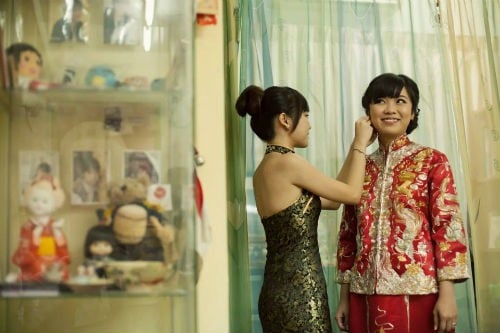 Photo courtesy of Elaine, of her in her traditional wedding outfit
Ah, the (in)famous bride-pick up event… This event lasted more than 6 hours, believe it or not! We were dead on our feet, honestly speaking.
What Are The Things That You Did Before Your Wedding ?
The wedding date was picked a year in advance and my work began the moment it was confirmed. I drew up an Excel sheet with a wedding timeline of things to do and prepare, complete with datelines and estimated budget. My list includeed:
Confirming the necessary bookings (photographer, videographer, makeup artist, ceremony venue, reception venue)
Design, order and assemble our "save the date" cards, wedding invitations, Thank-You cards, as well as wedding favours and ceremony programs
Order wedding dress and book kua (traditional Chinese wedding garment)
Buy items online (from Etsy) for the wedding (most were being shipped from the USA, so I ordered them as soon as I could to avoid any delay)
A visit to Malacca to purchase a traditional Chinese tea set and other wedding items
We had some simple engagement photos taken by a friend in Tokyo right after before going back to Malaysia. Also, as my husband was overseas, we had most of our wedding discussion over Skype, LINE, E-mail, and the occasional phone calls.
What Did You Spend On For Your Pre-Wedding Events?
I have forgotten many things (even with my jam-packed Excel sheet) but here are the major things we spent on (2013):
Ceremony venue : RM5,800
Cake & food for the ceremony : RM3,000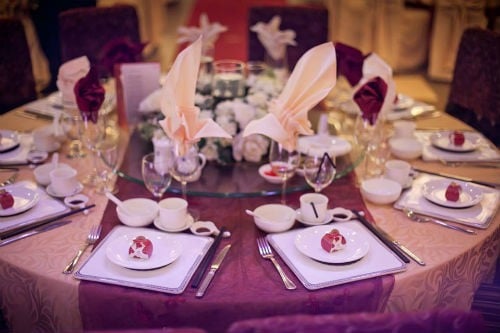 Photo courtesy of Elaine, a sample of her wedding reception's table
Wedding dress : RM2,200 (made to measure, by White And Lacy)
"Kua" rental : RM250
Photography & videography : RM12,000 (3 sessions of photography & 2 sessions of videography; no pre- wedding photography)
Flowers & decoration for garden ceremony : RM1,000
Make-up : RM2,700 (3 sessions)
Flowers for bride-pick up & wedding car : RM886
Stationery (invites, programs, photobook of engagement photos, etc.) : Approx. RM1,000
Shoes : RM150 (2 pairs)
Wedding favours (garden ceremony) : RM400
Total : RM29,386
What Did You Spend on For Your Reception?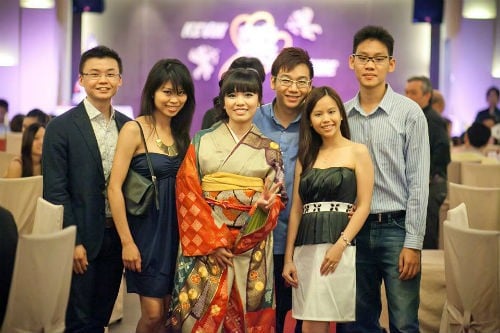 Photo courtesy of Elaine, of her in one of her wedding outfits
Reception : RM54, 500
It's hard to pinpoint how much we spent, as so much went unaccounted for, but the bulk of it was the dinner package: approximately RM900 per table (we had 55 tables!). Of course, in addition to the limited amount of alcohol provided by the restaurant, we spent an additional RM5,000. Decorations, invitations and favours were provided in the package!
Total for all events : RM83,886
What Are the Things That You Felt That You Can Do Without?
We did not feel that it was important to take the cliche pre-wedding photos at a bridal shop. Also, I did not see the need for a dai kam jie (bride's chaperone), but we ended up having one out of family obligations anyway.
What Is Your Advice For Those Who Are Planning to Get Married Soon?
Ensure you have a reasonable amount of savings before getting started. We bought/paid for things gradually, month by month. Have an organised timeline so you know which are the more urgent items that need immediate deposits/booking fees. Don't get peer-pressured into having a "perfect" wedding, just enjoy the process and remember that the wedding is the start line of your marriage, not the goal.
Indian Wedding
The Bride: Rangeeta, IT Specialist, 34
How Many Events Did You Have Before Your Actual Reception?
The thing about Indian movies is that they tend to portray all weddings to be grand, lavish affairs whereby everyone is dressed in their finest sarees and kurtas, decked in gold accessories from top to toe. Well, they are not entirely wrong, but there are just a lot of other important factors that sets Indian weddings apart from the rest.
What Are The Things That You Did Before Your Wedding?
For Indian weddings, it is important for the bride and bridegroom to check their compatibility before getting hitched. One of the things that we did was to consult an astrologer who will take our birth dates, our parent's birth dates and envisage our future based on it. Once we get the okay, it's time to start planning! In my situation, my husband and I were both based in Melbourne so I had to rely on my family members and a wedding planner to get everything sorted out.
What Did You Spend On For Your Pre-Wedding Events?
There are no pre-wedding events, save for a bachelorette party as we decided to focus our funds on our wedding reception instead.
What Did You Spend on For Your Reception?
Here's the breakdown of a temple wedding for approximately 1,000 guests:
Wedding Reception Outfit : RM600 (Rented)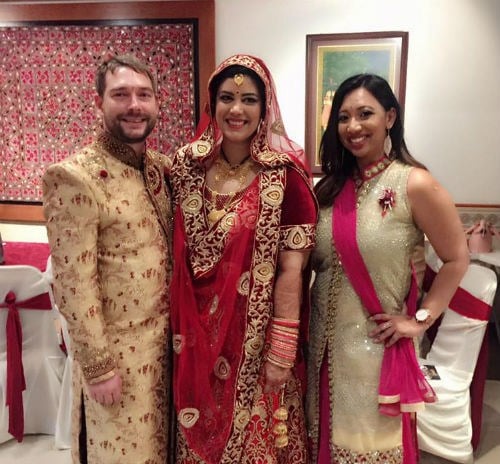 Photo courtesy of Rangeeta, of her and her husband in full Indian wedding outfit
Wedding Planner Fees : RM7,000
Honestly, we will be so lost without guidance as this was the first wedding in the family so when in doubt, it's best to seek for help.
Wedding Decorations : RM5000
The good thing about Brickfields is that if you are not happy with the price at the first store, you can always move on to the second one!
Wedding Favours : RM5000
Our custom candles costed RM5 each with 4 different scents to choose from – Lavender, Sandalwood, Vanilla, and Lemongrass
Catering : RM28,000
As our wedding is in the temple, we can only opt for vegetarian cuisine. It costed RM18 per pax.
Venue : RM20,000
Since we wanted a location that everyone has access to, we ended up having our wedding at a temple in Brickfields. Our venue provided us a free mandap (also known as a dais) as well so our costs on that were saved.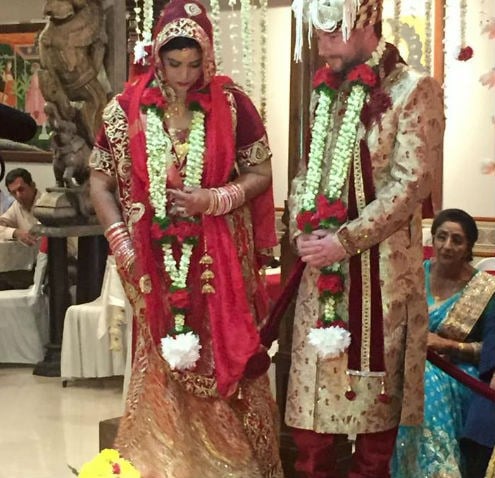 Photo courtesy of Rangeeta, of her and her husband during their wedding ceremony
Volunteers : RM180
We had RELA Volunteers to help out with traffic and parking.
Wedding Cards : RM800
We only printed 800 wedding cards as the rest are digital invites via social media.
A/V System : RM6,000
Apart from the sound system, we had 3 projectors rigged up to the main set as well.
Photographer/Videographer : RM3,800
Performers : RM3200
Accessories : RM702
Accessories for Bridesmaid : RM244.80
Makeup Artist : RM500
Reception Shoes : RM680
Total Reception Cost : RM81,706.80
What Are the Things That You Felt That You Can Do Without?
Some of the items were sourced from the factory outlets in Melbourne which turned out to be cheaper back at home. Moral of the story; always check for substitutes as you may never know if there's a replica of something that you like but for a lower price.
What Is Your Advice For Those Who Are Planning to Get Married Soon?
Take your time when it comes to planning your wedding, you don't need> to be rushed into planning especially if it's for your big day as it's easy to get caught up in the moment and desire to make everything as perfect as possible. Don't be afraid to voice out your concerns if some things are not what you had in mind and more importantly, enjoy your wedding as it's a one in a lifetime experience.
And the Cheapest Wedding Goes to…
While the Indian wedding's expenses are the lowest here, do note that the cost may vary and differ from one wedding to another depending on the type of wedding as well as other factors such as location, brands, budget, and more.
We hope that the experiences shared by our Malaysian friends can provide you an insight on how much wedding costs in general. Bear in mind that while weddings can be costly affairs, there are many ways to go about when it comes to saving costs and dealing with your expenses (personal loans being one of the ways you can finance your wedding the but again, you will need to decide if this is the best method for you ).
As for big-ticket items, do note you can always pay for some of the items with a credit card (and get discounts too!) as you work your way towards achieving your dream wedding. Can't wait to tie the knot but don't have a credit card? No worries as you can always check out our best credit cards and take full advantage of all the rewards with our comparison tool.
Let us know if you have any comments on this article as well as tips for wedding planning in the comments below!