If your grocery bills are getting to be just too much, it's time you put your shopping habits on a diet. Being a frugal buyer will help you see more of your money put towards other worthwhile expenses.
We've prepared a few easy-to-follow hints to spur the money saver in you every time you shop for groceries. These little changes can make big differences in reducing unnecessary spending. Why waste, when you can #GetMore?
Here are a collection of penny-wise tips to help you save, save, save!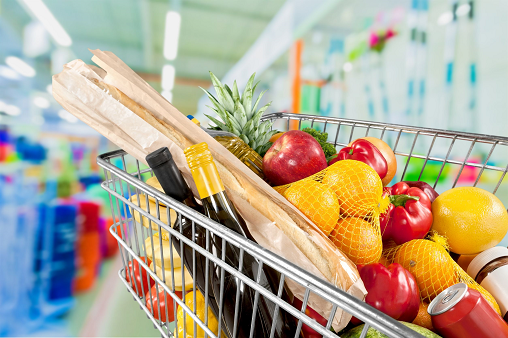 1. Craft a Budget
Without a budget in place, you are likely to go overboard and spend blindly, so this is a must! Malaysians on average spend anywhere from RM70 to RM350 per week on grocery shopping; do you know how much you are spending? If you haven't a clue, do track your weekly grocery bills and average them out.
From there, proceed to cut expenses slowly, starting with at least 5% and if your lowered budget is workable, gradually decrease it by a further 10% per month.
For additional support with your budgeting goals, use free apps like GoodBudget and YouNeedABudget to easily monitor and improve your ability to stick to one.
Tempted by big discounts and promotions at many different supermarkets? Make sure it's worth your while. Think about petrol, toll and parking costs – are you still enjoying a big enough discount to cover these and still come out on top by rushing all over town for a few deals?
Similarly, avoid regularly shopping at supermarkets located within malls because not only are their prices higher, they may not validate parking. On top of that, going to a mall might trigger a shopping impulse that could tempt you into buying stuff you weren't planning to buy.
Also, you might want to reconsider buying products that offer free gifts for additional purchases. Why? The costs of these freebies are worked into the retail price of bulk purchases. This isn't a bad thing for you unless you didn't plan to purchase so many but are doing so just for a free gift. Do you really need another mug with a brand logo? Skip it and go for direct discounts instead unless you really need to buy 35 rolls of that toilet paper on promotion.
3. Use Your Credit Cards
Some cards are a chock-full of significant savings and discounts, yet many cardholders are missing out by not taking advantage of them. Credit card promos typically give you cash back rebates and opportunities to earn higher reward points that can be converted into cash vouchers, etc.
When swiping for groceries do keep an eye on your budget and if able, try to pay off credit card bills within the grace period to avoid interest costs and to further maximise on savings.
If you are still without a credit card or looking to switch for better benefits, we're more than happy to lend a hand and find you the perfect card for shopping (and more).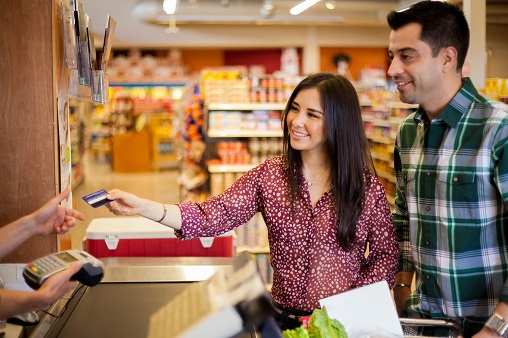 4. Tread Cautiously When Buying in Bulk
Some items are packed together to supposedly offer you better value, but this is only true if you can consume these items before they expire. A lot of the time, bundled food items appear super cheap because they are close to expiry. So do be careful when stocking up on such buys.
However, bulk purchases can be valuable if you are buying tinned produce that keep for two years and more or non-perishables.
Sometimes, bulk purchases aren't worth it simply because the price isn't offering much savings anyway. Whip out your calculator to find out! Is the supermarket selling one can of soup at RM2.50 and four cans at RM9.90? Saving 10 sen isn't really a deal especially if you're not sure you really can finish four cans of soup!
5. Know Your Prices
Promotional tactics can sometimes mislead buyers into assuming something is a good deal when it really isn't. Make it a point to remember the normal pricing of your usual groceries. This way, when it does go on discount, you'll know if the price reduction is real or a ruse.
If pricing has really been reduced, you can buy a little more than usual but do check on expiry dates. Also, remember to consider available refrigerator space if items are perishable or require cooling to keep fresh.
Just a Few More Things to Keep in Mind
If those tips weren't enough, here are few more quick helpers to bring you extra savings.
1) Always write a shopping list to ensure that you buy only what is necessary. Grocery apps are available for all smartphones to help you in this area if pen and paper seem a little cumbersome.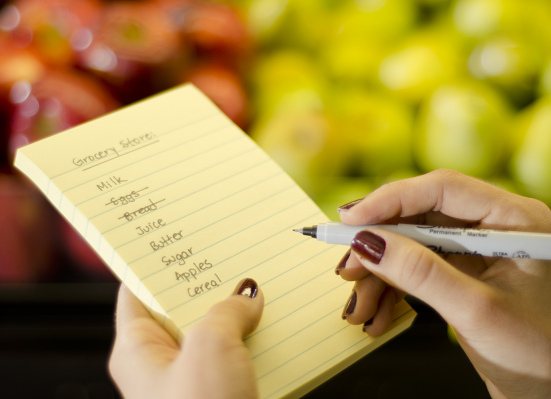 2) *Research grocery *and head for the cheapest store in your area; some do offer better value than others. Try the SmartShopper app to help you compare.
3) Don't shop on an empty stomach, you are more likely to buy larger portions, make unhealthy choices and spend extra on snack foods.
4) Use store-brand items as a cheaper alternative.
5) Do keep track of accumulated points that come with your supermarket loyalty programme (don't forget to sign up for at least the one that you frequent the most), and be sure to utilise its related coupons or cash voucher rewards before they expire.
Make the Effort and #GetMore
It's not always easy to go the extra mile and for what appears to be meagre savings at that, but the truth is, every little bit counts. In fact, 'little drops of water make the mighty ocean' – and so is the cumulative potential of every little bit you are scrimping on.
For instance, if you could cut your grocery expense by RM20 each week, think about how much 52 weeks (that's the number of weeks in a year) of savings can bring you. We did the math; it's actually RM1, 040.
Who couldn't do with an extra thousand? But it's not just money you are saving, in fact; better grocery shopping habits reduce food wastage and increase spending efficiency. So go ahead, make the effort to save and you'll reap its rewards in more ways than one.
Did you like learning how to #GetMore when grocery shopping in this article? Follow our #GetMore hashtag on your favourite social media channels as we bring you more tips on how you can get more for your money in everything from travel to shopping and dining until the close of 2015. Who wouldn't like to #GetMore for their money?