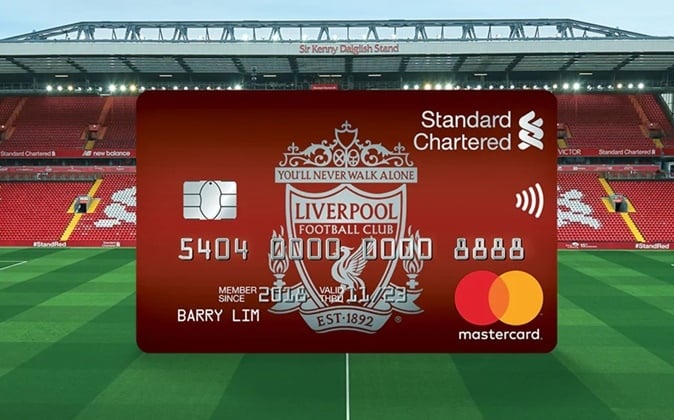 Diehard Liverpool Football Club fans will be interested to know that Standard Chartered has released a new credit card designed for fans. The Liverpool FC Cashback credit card, which was formerly known as the Standard Chartered Platinum Mastercard, comes with the same cashback privileges as before but now enhanced with some additional benefits for fans.
Up to RM50 cashback a month
The Liverpool FC Cashback credit card operates on a tiered cashback system. You are eligible for cashback as long as you spend a minimum of RM500 a month – and if you spend at least RM1,500 each month, you can get up to RM50 worth of cashback.

Cashback is eligible on all local and international retail purchases, with the exception of petrol and insurance transactions. However, these two types of expenses do count towards the minimum RM500 required to unlock the cashback benefits.
Interestingly, the cashback won't be credited directly to your account at the end of the billing cycle. You will get it within 60 days from the end of the month through Standard Chartered's 360 Rewards programme. Under this programme, you can use your cashback value to redeem gift items or transfer it back to your credit card account to offset your outstanding balance.
Sports and dining deals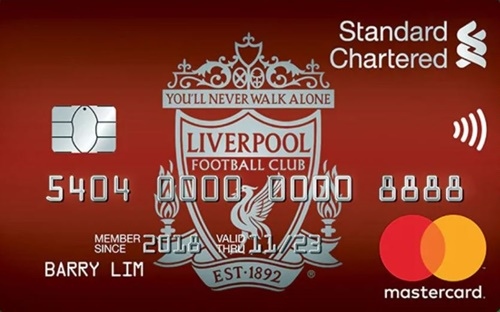 The discounts and perks offered by the new Liverpool FC Cashback credit card include 1-for-1 beers and 15% off dining at selected pubs and restaurants on weekends – perfect for matchday viewing with your football mates. You also get up to 15% off at selected sports outlets, as well as e-commerce purchase protection for your online purchases.
Also, from now till 28 February 2019, successful applicants stand to receive an official Liverpool FC Men's Home Shirt 18/19. This offer is only open to new Standard Chartered customers who spend at least RM1,000 on their new Liverpool FC Cashback credit card within 60 days from their card approval date. Meanwhile, existing Liverpool FC Cashback cardholders are still eligible to redeem an official Liverpool FC Home Shirt, but only upon payment of the annual fee for the credit card. Finally, cardholders also stand a chance to win trips to Anfield and the Champions League Final in Madrid when they use the card.
The minimum annual income requirement for the Liverpool FC Cashback is RM24,000 per annum. The credit card comes with an annual fee of RM175 for principal cardholders, which will be waived if you make retail purchases of at least RM20,000 per year on your credit card.
Head on over to the Standard Chartered website to find out more about the Liverpool FC Cashback credit card.