The bond between a parent and child is infinite. This Mother's Day, express your appreciation to your mom by pampering her in ways that she will never forget.
There is definitely a promotion for every budget. We feature some of our favourite promotions that only get cheaper with the swipe of a credit card. Here are our picks for good credit card rebates this Mother's Day.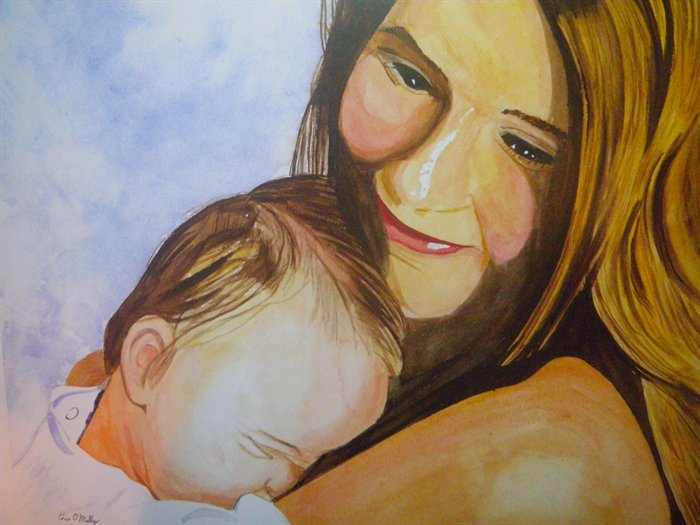 Snag an Oroton Accessory Discount with RHB Bank
For many a discerning lady, her Oroton handbag, wallet or costume jewellery is a must-have fashion accessory. But for your mum who has tirelessly spent her last ringgit on making sure you were taken care of; buying an RM700 handbag may have been the last thing on her mind.
Treat her to it with RHB credit card's swipe and receive a 10% discount. It may not seem like much but that's a saving of RM70 if the handbag is priced at RM700 – enough to pay for a round of afternoon tea for her as well!
If you're looking for gift ideas – the Oroton site has already compiled their fave mother's day gifts. The promotion is valid with any RHB credit card until 31 December 2015.
OCBC Reebonz Mother's Day Promotion
Satisfy your mother's shopping needs with your OCBC MasterCard and Reebonz promotion. Get RM100 off when you swipe a purchase of RM800 at Reebonz and redeem your discount with the discount code: MYMC100.
All you have to do to redeem is:
1) Visit Reebonz website;
2) Choose your products;
3) Enter the discount code and pay using the OCBC Mastercard/Credit Card!
The RM800 threshold may seem a bit much to some but considering the prices of items on Reebonz – you can move way past that number on just one pre-loved item!
Offer valid from 1 May – 15 May 2015. Discount code valid for 1 time only and is not applicable to selected events or merchandise. Not valid with other functions, promotions, coupons/vouchers and loyalty/privilege card unless stated.
Public Bank and Lazo Diamond Promotion
Sometimes, buying a bit of bling can be just the thing for both your parents this Mother's or Father's day. With this promotion, you can even earn a third gift if your gifts total over the minimum spending.
Swipe your Public Credit/Debit Card when you spend a minimum of RM1,000 in a single receipt and redeem a complimentary cultured pearl bracelet worth RM299. Charm your parents this Parent's Day with these precious beads exclusively by Lazo Diamond Jewelries.
Check out the terms and conditions for more information.
Maybank Movie and Massage For Mom
Maybank seems to have come up with quite the package for moms this year with a host of hot promotions. However, these two caught our fancy and are options for most budgets.
Movie with Mom
Fancy a movie with your mom? Use your Maybank Credit or Debit card at TGV or IMAX cinemas and enjoy a flat price of RM10 for standard tickets all year round!
Movie buffs can also enjoy one-for-one movie tickets every Thursday. Stay up-to-date with the latest movie releases while easing your pocket at the same time.
Receive 10% of savings at the Concession counters and 20% savings at Chill*X, Vie Café and INDULGE. Now your mom and you can de-stress at the movies with you all year round!
As they say, spending quality time with your mom is the most precious gift you can ever give to her.
A Mother's Day Massage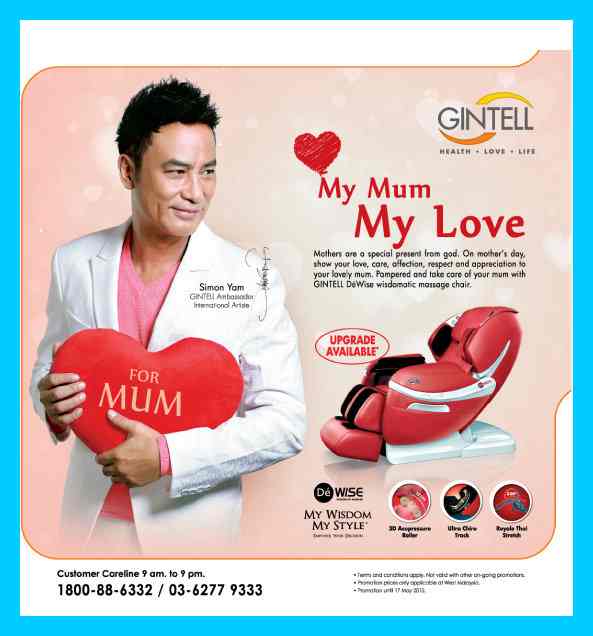 Give your mom a relaxing time this Mother's Day (and every day henceforth) by investing in the GINTELL De'Wise Wisdomatic Massage Chair. Get a rebate for up to RM4,000 exclusively when you use your Maybank Credit Card. This special offer is via invitation only, exclusively for Maybank credit card holders.
To enjoy this special rebate with your Credit Card, present your GINTELL invitation card and visit the exclusive GINTELL roadshows stated to get the complimentary GINTELL Eye Massager worth RM128.
For roadshow venues, terms and conditions, check out Maybank's Promo Page.
HSBC Sends Food to Your Door For Less
Sometimes, the best gift you can ever give your mom is your love and time. If your mom would just like to rest at home without having to do the cleaning or cooking – perhaps the answer is in a delicious meal sent over by FoodPanda!
Use your HSBC Credit Card and get RM10 off when you order your meals at Food Panda. Give your mom a break from the usual routine of cooking
this Mother's Day and spend that time talking to her instead.
Offer valid until 31st December 2015.
Too Steep For Your Wallet?
Some of the discounts here may be too steep for your wallet but that doesn't mean despair! You can treat mom to anything you can afford and we're sure she'll love it (as she does you!).
That said, do take a good look at your credit card promotions as there just may be something you could use. Every credit card under the sun offers dining rebates, shopping discounts and rewards points/cashback on your spending so there's bound to be a way you can treat mom to something good this Mother's Day.
Are you looking for a more rewarding credit card? Let our card comparator help you out.
Happy Bonding 😉