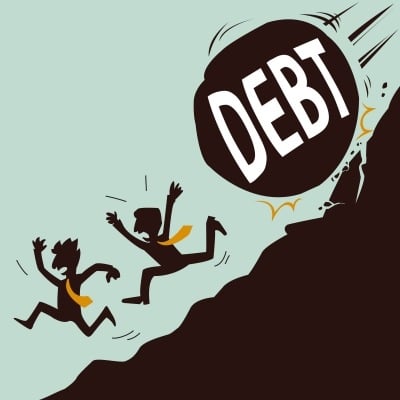 Help! I can't afford to pay off my debt
Interest rate charges can be deceptively sneaky,  they attach themselves stealthily on to money you owe the bank and before you know it…Boom! You're being chased down by a giant boulder of debt.
It doesn't matter how fast you run. If you are not making a concise effort to pay off money that you owe, then your debt will eventually catch up with and bury you under a mountain of shame and agony.
But don't fret, its not the end of the world right?
Wrong!
Besides the obvious shame of having the bank send debt collectors to harass and embarrass you, having a consistently large amount of debt weighing you down could in fact, negatively impact your credit report.
Wait…What's a Credit Report? Tell me now!
A credit report contains detailed information on your borrowing and payment history as well as your personal particulars. Think of a credit report as a file telling the bank everything they need to know about you. Bits of information such as when was your first bank account, how many times were you late on your credit card payments and how many times you were rejected for a loan are all reflected on your credit report. It doesn't matter how small or insignificant you think these pieces of information are, they will always be on your credit report.
Within your credit report contains a ranking system called a credit score. A credit score is essentially a "trustworthiness" rating used by the bank to determine how well they can trust you to repay your loans on time. This is why whenever you apply for a loan or credit card, the first thing the bank does is take a quick peak at your credit report. Banks have easy access to your credit report in part due to the fact that all banks within Malaysia are linked directly with the Central Bank (Bank Negara Malaysia) through the Central Credit Reference Information System (CCRIS). The CCRIS is always up to date, so even if you applied for a credit card yesterday and try to get a personal loan today , the bank will be able to track your activity.
I have a bad Credit Report….What's going to happen to me?
Having a bad credit report can make your life extremely difficult for a long period of time. If your credit score is sour then the banks simply will not trust you. This means that whenever you apply for a loan of any kind, the only response you will get is no, no, no, no and no. Why? Because banks are risk averse. Think about it, would you want to lend money to a friend who won't pay you back?
If you have a bad credit report, unfortunately there isn't anything you can do to change that overnight. However, you can take steps to improve your credit rating over time.
What can I do to improve my Credit Report?
1. Verify that everything on your Credit Report is accurate
The very first step that you should take on your quest to repair your broken credit score is to check your credit report for errors. A copy of your credit report can be easily obtained from Bank Negara at absolutely no cost. All you need to do is bring your NRIC to the Bank Negara headquarters, fill in an application form and you're all set. Alternatively, you could also download the application form online and mail it to BNMTELELINK.
Mistakes can happen sometimes and while it may not always be your fault, the consequences will be yours to bear. While most mistakes can sometimes be attributed to human error, it may also be possible that your shabby credit report might have been caused by identity theft. Believe it or not, identity theft occurs more frequently than you think and has lasting negative effects on your credit score.
The best way to protect yourself against pesky identity thieves is to frequently check and verify your credit score and report any discrepancies to the authorities as soon as you notice them. So if you notice a loan application on your credit report yet don't recall ever making one, you should report this immediately without delay!
2. Cut down your spending and start paying off your debt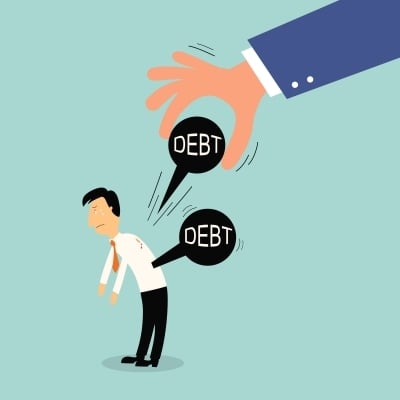 The next step towards paying off your debt lies with getting your spending under control. For starters, if you have more than one credit card, you should identify the total amount of debt and interest rate charged on each card and work towards paying off the card with the highest interest rate first, After you have paid off that card, you can move on to the card with the next highest interest charge and so on so forth.
Be disciplined with your spending, remember that your goal is to clear your debt not add to it. Clearing off your debt doesn't just starve off the interest rate bug, it also helps improve your credit score. When banks notice that you are taking an interest in paying off your debt quickly, their confidence in your will increase which will subsequently give your credit report a much needed boost.
3. Start paying your bills on time
Being chronically late on your bill payments can have a detrimental effect on your credit score. Banks are extremely concerned about your repayment history especially if you have developed a habit of late payments. When a bank sees that you are never on time with your payments, they have the automatic impression that you're going to be late on their payments as well.
So make an effort to list down on your calendar when your bills are due every month and work towards meeting those deadlines. While being early on your payments for 1 month won't triple jump your credit report from "bad" to "good" in an instant, keeping this habit will eventually improve your credit score in the long run.
4. Stop applying for more loans
Take a loan to repay a loan. Although this idea might sound like an attractive short term band-aid solution to your mounting debt woes, all you're going to is destroy your credit score. First things first, if your credit score is down the toilet, then applying for more loans will end up being a futile effort at the end of the day because it is highly likely that the bank will reject all your applications anyway. What you'll be left with is a big pile of debt and a whole list of loan rejections on your credit score.
Focus your attention on lowering your debt not plunging yourself into more of it. If all of these tips seem a bit overwhelming to you, what you can do is get yourself a personalised financial health report, complete with tailored recommendation that can point you in the right direction. Moreover, it's absolutely free – so try out our myRinggitHealth financial health checker today!