Marriage means accepting your new life partner as is: traits, habits, quirks, past baggage and at times; even debt. Whilst marriage doesn't make you automatically responsible for each other's money woes – having one spouse in debt will have an effect on your collective household finances whether you like it or not. If not managed well, the spousal debt train can derail causing irreparable damage to your marriage.
So how do you deal with the problem of debt in a marriage?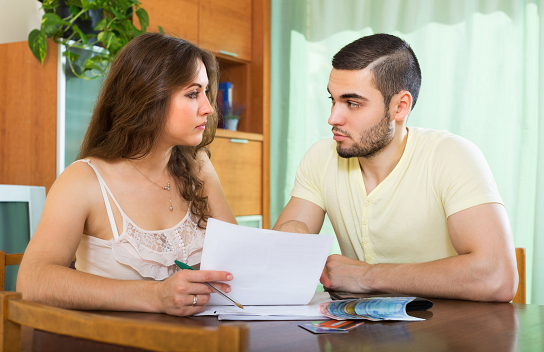 Dealing with Debt Discovery
So the honeymoon is barely over but you've discovered the stash of maxed out credit cards and overdue loan payments. Your spouse has been nursing a secret debt problem and it's threatening to severely limit your spending power as a couple in a newly-formed household. It's a difficult thing, to be sure, and you will experience many negative emotions including anger and possibly a sense of betrayal. The first steps to dealing with the debt discovery is to get the full facts. After all, problem solving is best done when everyone is fully informed. Here are some of the first steps to getting all the information you need:
Request full and frank disclosure from your debt ridden spouse. This information needs to be the full extent of the debt; the creditors concerned and how much time is required to settle all outstanding dues.
Avoid the blame game.
As difficult as it may seem, remaining supportive in the discussion is the best thing you can do at this time.
Once you've gotten the dreaded disclosure out of the way; a large part of the battle is won.
Debt-Busting Next Steps
Depending on the level of severity of the debt carried by your spouse; the recovery plan may require something as simple as some belt-tightening and monitoring to the more elaborate requirement of a third party financial planner or even the assistance of AKPK. Whichever end of the spectrum you fall; there are always options. Here are some of the options you have in dealing with the debt.
Option 1: For small sized debts, you can always opt to simply monitor your spouse's spending and repayment to ensure he/she pays the amounts off soon without accumulating anymore debt. If credit cards are the problem; you can always opt to hold their cards until the amounts are paid off. Check and balance is more important here than any other effort on the part of the supportive spouse.
Option 2: If the debt is a lot larger; you can always opt to get a financial planner in or seek the assistance of AKPK. The financial will be able to work strategies to help pay of the debt in the fastest time and how to survive on a whittled down household income until everything is paid off.
Option 3: If there is the availability of assets such as a house (for remortgaging purposes) or savings; you can opt to settle loans in full. You may feel it unfair that you are paying for your spouse's bad money decisions, but you can always work out ways in which he/she can repay you. Efforts such as contributing an extra sum monthly for the household expenses could be one way the debt-ridden spouse could repay the help given by the supportive spouse. The utility of such an arrangement is interest savings which could go to better use as the months go by.
Keeping Debt Free
When the debt has been wiped out; the concern would then be to ensure no such mistake is made again. Spouses can either opt to maintain full disclosure or agree that finances be completely separate with assigned payment duties. The latter arrangement works on the basis that if you mess up; it is your problem alone to deal with but your household payment duties need to be fulfilled all the same. Depending on the personality of the couple – either one could work.
There isn't one set way to approach money problems in a marriage of two individuals but hopefully these steps help you find the plan of action you need to deal with debt in your marriage.