It used to be that people without washing machines and enough money to send their clothing to the dobi, had to resort to handwashing. Nowadays, 'coin-operated' or self-service laundromats provide those without the handy appliance a chance to still enjoy a machine wash.
But which option is actually better for your money? We breakdown the resources expended with each laundry cleaning route.
Let's first look at the how much money one would spend to wash clothes with a home washing machine in comparison to a laundromat:
Money Spent
Own Washing Machine: The cost of buying a quality, fully automatic, washing machine can cost anywhere from RM600 to RM1,000 – where cheaper options can probably be found with minor brands and more expensive varieties available with higher specs.
Taking into account that a good washing machine can last 11 years on average – the monthly cost works out to be RM6 per month for an RM800 machine bought with cash.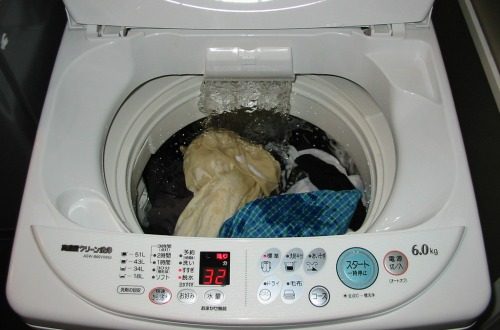 From the table below, you can see other cost considerations that include detergent, electricity and water plus the monthly cost of the washer come up to RM16.61 per month for a total 12 loads (3 loads per week). Note that these figure will differ with individual washing preferences and behaviour.
Cost to Own and Operate a Washing Machine:
| Item | Cost |
| --- | --- |
| Washing Machine 7kg | RM6.06 |
| Electricity | RM2.88 |
| Water | RM1.47 |
| Detergent | RM6.20 |
| Total | RM16.61* |
*Note: The washing machine in this table is estimated to cost RM800, where its monthly cost is prorated over an 11-year life expectancy. Electricity consumption is based on TNB estimates of average washing machine consumption of RM0.24 per half-hour cycle which we calculated as 6 hours or 12 cycles per month. Water consumption is estimated to be 1.44 cubic meters per wash at a cost based on SYABAS rates of RM1.03 per cubic meter for the average user. Detergent consumption is estimated to be 45ml (Dynamo at RM0.52 per 45ml) per wash where the figure quoted is for 12 washes per month.
Laundromat: Depending on where you live, laundromat charges may vary but you'll definitely get a better deal from new outlets or during promo periods where it can cost just RM1for a cold wash. On average, a 10kg hot wash costs RM 5 to RM7 and another RM5 for 30 minutes in the dryer with detergent usually provided free of charge. This works out to be RM10 to RM12 per 10kg in an average laundromat.
Now if you need to wash just 10kg per month (at the average price range), then it is cheaper for you to use the laundromat, but if you need to wash more clothes, then buying a washing machine is the cost effective option in the long run.
When compared in terms of cost – washing your own clothes with a washing machine is cheaper, especially for family households. However, paying for the initial cost of owning a washing machine may not be a possibility for some.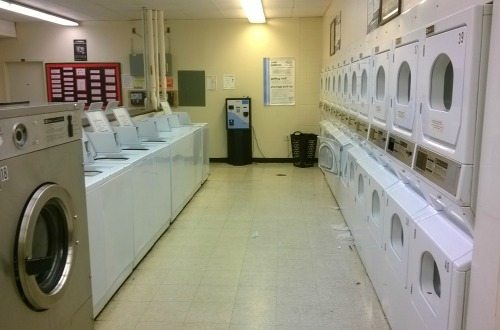 Now what about the amount of time and effort spent to get your clothes washed in a home machine as compared to your favourite laundromat?
Time Spent
Own Washing Machine: One load can take approximately 40 minutes to an hour depending on the weight of the load and if you have to soak your clothes. Of course, you don't have to spend the whole hour watching your clothes wash, but between separating, loading, drying and folding, you can expect to spend 20 minutes for each round of laundry.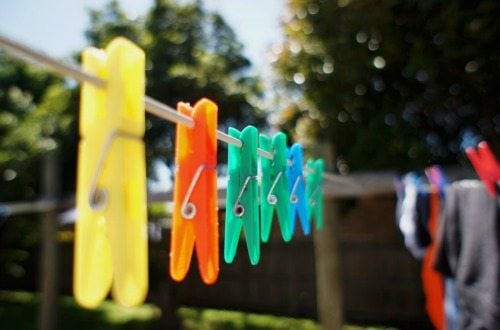 Malaysians tend to wash their clothes approximately two or more times per week, so this should equal at least 40 minutes spent washing clothes each week.
Laundry Service: Apart from going through the same steps as above, you also have to lug your laundry to the nearest laundromat and wait for the cycle to complete. You won't have the luxury of putting in a load and going about your business. So add the average 40 minutes of wash time, another 30 minutes for the dryer to work its magic plus how long it takes you to get back home and yes, you're definitely spending more time at the laundromat.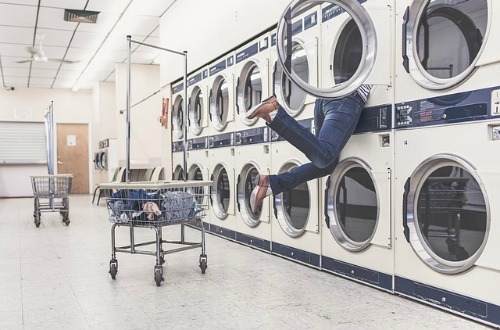 However, if you do your washing less often and load several machines at the same time, you could cut the time spent. Still, accumulating a ton of dirty clothes for a one-time wash might not be a practical option for everyone.
In terms of convenience, effort and time spent on laundry – the home washing machine is a better choice.
Which Should You Choose?
This decision depends on a few of factors, namely the number of people in your household, your budget, usage needs and convenience requirements. If you are single, you might find the need to buy a washing machine an unnecessarily large expense, but when it comes to doing laundry for a family household, a laundromat becomes a rather impractical option.
If you are looking to finance the purchase of a large home appliance like a washing machine but don't have the funds right now, you might want to consider charging the purchase to your credit card's Easy Payment Plan. Don't have a card? Find the best one for your needs with the help of our comparison page.