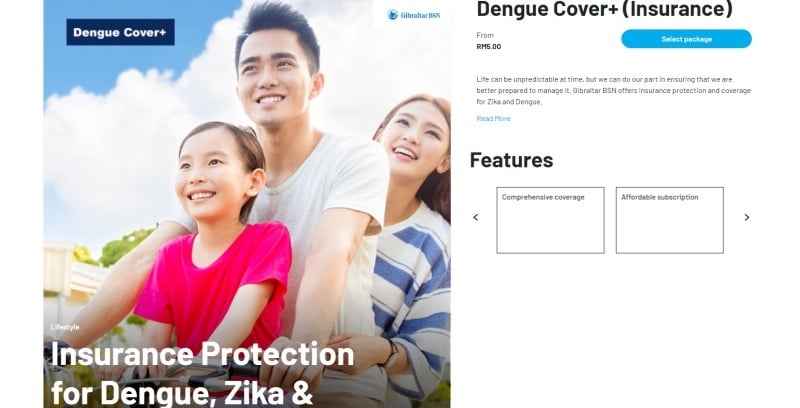 Digi has partnered with Gibraltar BSN Life Bhd to launch Dengue Cover+, a life insurance plan that covers both dengue and the Zika virus. Dengue Cover+ is offered exclusively to Digi postpaid and prepaid Malaysian customers within the age range 18 to 45.
Customers can sign up via Digi's EasyAdd service, a subscription marketplace by Digi. Start by picking a package online, filling up a policy form, and wait for the approval from the insurance underwriter. Interestingly, applicants do not need to undergo any medical examinations. Similar to other insurance policies, Dengue Cover+ offers different coverage at different price points based on these tiers: Platinum at RM20/month or RM220/year, Gold at RM10/month or RM110/year, and Silver RM5/month or RM55/year. Other separate plans can as low as RM0.15 a day.
The plans provide compensation for Total Permanent Disability (TPD), additional accidental death and TPD benefits, additional death benefit due to severe dengue or Zika virus infection, and up to 10 days of Hospital Cash Benefit for dengue fever or Zika virus infection. After signing up for the insurance package, subscribers can then manage their subscriptions via EasyAdd. Premiums will be directly debited to their Digi account.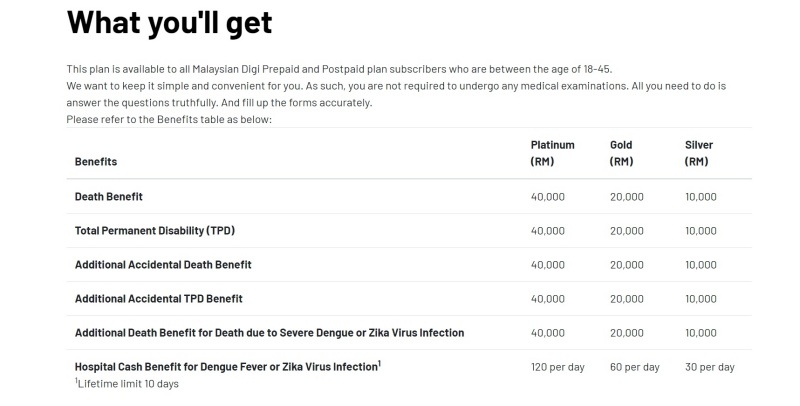 "Our partnership with Gibraltar BSN allows us to connect our customers who matter most, by offering hassle-free digital insurance solutions and keeping them protected with up-to-date health alerts," Digi Chief Marketing Officer Loh Keh Jiat said.
"By applying through their phones, Digi subscribers can easily supplement their existing life insurance coverage with Dengue Cover+ at affordable premium rates. We are pleased that our collaboration with Digi allows us to protect wider demographic groups and narrow the protection gap as we continue to launch simple, affordable, and relevant products to Digi users," Gibraltar BSN President and CEO Rangam Bir added.
(Source: The Star, Digital News Asia)