We're all familiar with this question as it relates to property: should you rent or buy? Each of them have their own benefits and disadvantages to pay attention to, and the answer to this largely depends on what you want to do with the property and what you can afford. However, wouldn't it be better if you didn't have to choose?
Renting A House Means…
One major advantage of renting is that it's more easily attainable than having to buy a whole property. You don't have to pay a 10% downpayment, and there are no stamp duties or processing fees attached to your rental.
Renting also means you get to enjoy greater mobility and flexibility. Should you need to move out for whatever reason, you can just terminate your contract and stop renting without having to continue paying every month.
…But Renting Also Means
You don't get to own the property even if you keep renewing the contract for years. Even if you have the chance to buy the home you've been renting, its value would have appreciated greatly. A RM500,000 house could increase to RM680,000 in 6 years.
Buying a House Means…
You get to own the property. You can do whatever you want with the house. Having a place to truly call your own is hugely gratifying and an important milestone in many people's lives.
Another advantage is that you can sell it later for profit. If the property increases in value, you can sell the place off and make a tidy profit.
…But Buying Also Means
It's going to cost you a lot more. As mentioned, you have processing fees, stamp duties, legal fees, not to mention the downpayment that is often the largest chunk of your upfront costs.
You're also going to be stuck in a long term commitment. Home loan tenures range from 5 to 35 years and often come with a lock-in period where even if you want to exit the term early, you'll have to incur penalties.
For the longest time, deciding between these two choices has always meant enjoying its benefits while enduring the disadvantages. But now there's a third option…
HouzKEY – The Best of Both Worlds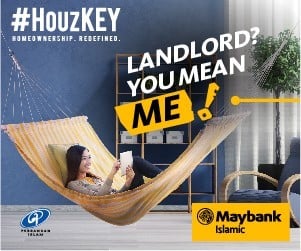 To address this dilemma, Maybank Islamic Bhd has rolled out HouzKEY. A new rent-to-own scheme for the general public, currently available for Klang Valley properties. It's an alternative solution for home ownership through a scheme which only requires three months rental deposit before customers can move into their dream home. For a RM500,000 home, you only need to come up with RM 8,000 as your initial cost instead of a hefty RM50,000.
Flexibility

Option 1: Buy the House at a Lower Price
After renting for at least a year, you are given the option to purchase the property at a pre-agreed price that's set when you first pay your rent. In addition, your monthly rental will progressively be used to offset the principal price. Not only does this mean you get to buy a property without having to put down 10% as downpayment, you also stand to buy it at a lower price should the property increase in value after your first year of paying rent.
Option 2: Don't Buy the House at All
After you sign the agreement, the property is locked in at a fixed rental price for 5 years and you can seamlessly convert to a Maybank home financing after a year of renting. You also have the option to continue renting if you want, with a 2% step up after the 5th year until your tenure is over or walk away with no further obligation.
Option 3: Sell the House
There is also an option to cash out. This option allows you to request Maybank to sell the property to a third party buyer at market value. The gains between the pre-agreed price at that point in time and the sale value will be 100% yours. For example, at Year 6, your locked-in price with HouzKEY is RM500,000 while the property's current market value is RM678,635 (based on assumption of 6.30% p.a.). That's a gain of RM107,026 just for you! This benefit allows you the freedom to sell off the property if you want and move to another home at any time after the 1-year rent period.
So not only does this offer you the flexibility of moving around if you so choose, it also offers you the choice to purchase the property if you want. HouzKEY's monthly payment is within the range of a typical loan repayment. BUT you get to enjoy a more flexible arrangement with all the options offered. You can rent the property until you're ready to make a purchase. No lock-in periods and no long term commitment necessary. Win-win.
You can browse through their online portal to check out a range of properties from established developers like EcoWorld Bhd, SP Setia, Mah Sing Properties, Sime Darby Property, Gamuda Land, and many others. Their web portal also lets you apply and submit supporting documents entirely through your web browser, with a quick approval time of within 24 working hours.

So it looks like you no longer have to choose between renting and buying. With Maybank Islamic's HouzKEY, you can rent until you're ready to buy. If you're interested, their official web portal is open for applications right now.