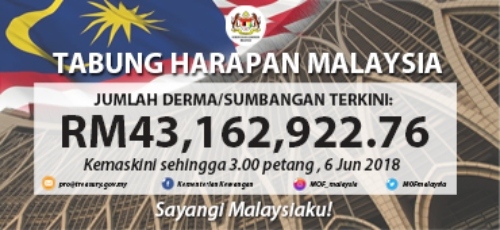 In just one week, donations from the public for the Tabung Harapan are showing no signs of slowing down. As of 3pm today (6 June 2018), the Ministry of Finance has announced that the government fund has collected a total of RM43,162,922.76.
Since its inception on May 30, the Tabung Harapan has garnered widespread attention from the Malaysian public. Within the first two days, citizens and companies have donated a total of over RM 18 million to the government fund, which was established in an effort to reduce the country's RM1 trillion debt. Today's updated figures mean the donated amount has almost doubled from the RM18 million figure in just four days.
While donating for any cause is certainly a noble gesture, most tax-paying citizens will also be aware that any contribution towards a government-approved organisation is tax deductible. In a recent press release by the Ministry of Finance, Finance Minister Lim Guan Eng advised all donors to keep their receipts of the transaction for tax deduction purposes as stated under Subsection 44 (6) of the Income Tax Act".
If you wish to contribute to the government fund, you can donate to the following account: Maybank account number 5660-1062-6452 under the name "Tabung Harapan Malaysia".
In the midst of the staggering debt accrued from the previous government, it is certainly refreshing to see Malaysians coming out to support the government fund. In turn, the Ministry of Finance's move to regularly update the amount in the spirit of transparency is a further reflection of a new Malaysia.
(Image: treasury.gov.my)