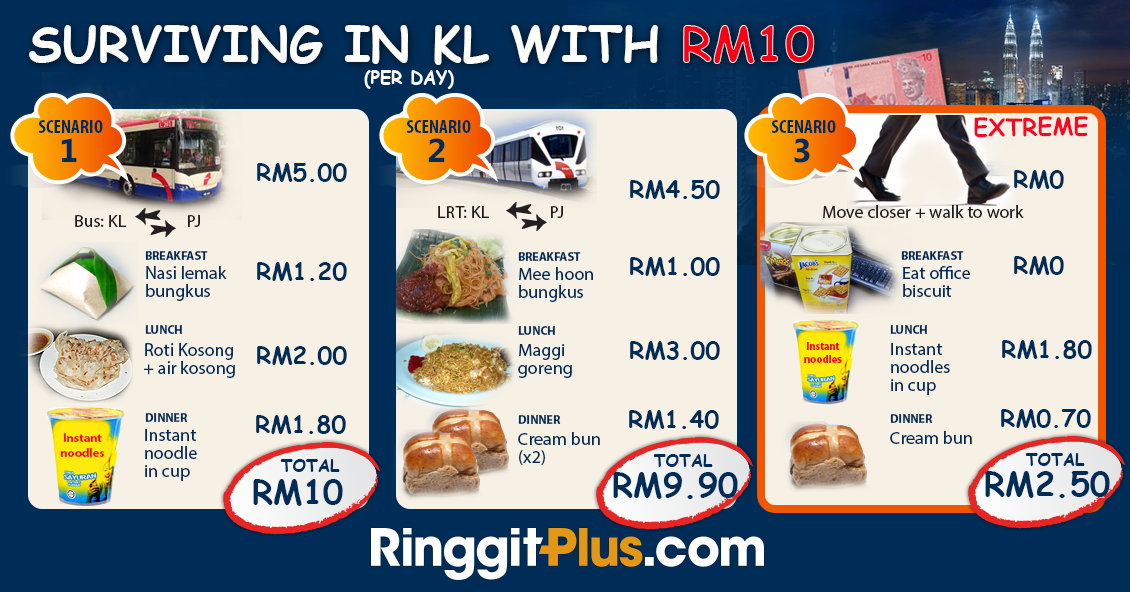 It gives a whole new meaning to the Bahasa Malaysia saying, 'makan angin'. We asked ourselves this question a week back and for an article on Yahoo, we attempted to survive in Kuala Lumpur with RM10. What we discovered was that it was beyond tough! The article has gotten the attention of many Malaysians: many saying it wasn't possible and some saying it was but you would really need to tighten your belt.
Could you live on such a budget?
The Challenge Basics
Our writer was given RM10 to survive a work day. His commute wasn't too far out of town (Kuala Lumpur to Petaling Jaya and back) and he only needed to survive the workday (no outings with friends!) where he was at an office that provided water and basic beverages such as coffee and tea. Admittedly, not everyone has such amenities in the office but we reckon if you truly had to survive on RM10 a day; you must cut corners.
The cheapest mode of transportation for his route was the bus service. A single journey from Kuala Lumpur to Petaling Jaya costs RM2.50. For two ways, it was RM5. That left our thrifty journo with only RM5 left to get through the day. He opted to skip breakfast for a good lunch at an economy rice stall which cost him RM4. With only RM1 left in his pocket, he was forced to go home and eat a pack of instant noodles for dinner.
As you can see, there isn't very much to go on. With RM10, he had just enough to eat a few meagre meals and get to work. What meal could one possibly get with RM1 left for dinner? There was no extra for a good coffee, a prepaid reload or really anything else!
Readers Respond!
The article on Yahoo! received some interesting suggestions. Armed with this we created a few possible scenarios in the infographic above on how one could survive in KL with RM10. The last one, we admit is a little extreme.
Some thought provoking responses include the following:
Simple, bring lunch to work. why must it be a rule that one needs to go out and have a meal? I bring sandwiches for lunch everyday that cost less than $1, drink coffee that is provided by the company ~ KelvinC

For all the the people that say that sandwiches and coffee are the solution, yes is good, but do it every day is not viable; the point of this article is for everybody to have a decent life, this include a variety and decent meals, entertainment, holidays, etc. and with rm10 a day is not possible at all… ~ Rud

Its all relative. There are people living in KL for RM1-2 per day. Is it a great life? No. Of course they are miserable. But others, spending RM1000 a day will also complain and whine and say they cant survive. Its not fair to ask if one can survive on any amount because yes they can survive on any amount. If just a matter of how they view the word surviving. ~ Whats Next

CANNOT SURVIVE…one lunch already minimum 5 to 6 RM…breakfast…RM3.80..just tehtarik roti kosong….habissssss…..bus..LRT..TRen….makan malam..kalau nak minum petang….minum air paip je….belum kira parking motor Rm1…kereta lagi lah..berbelas ringgit.. ~ Jaydee
Many readers also suggested home-cooked food. Next week, we'll try out the home-cooking method to see if this really does save money, especially for single person households where bulk buying of produce doesn't always equate savings.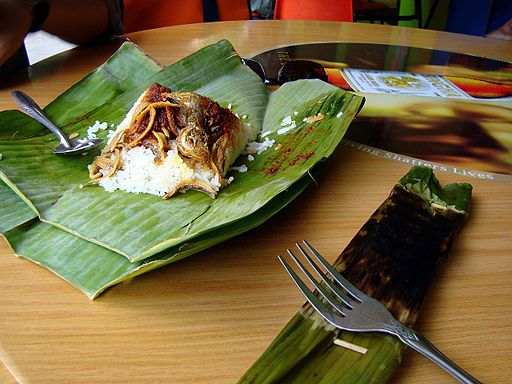 The Verdict
The challenge was all in good fun but the results provide a grim picture. If 'survive' is taken as the operative word that may be just what you will be doing on RM10 a day: barely surviving and not very well! Of course, there will always be variables. A person who lives really close to work could choose to walk or cycle and save on the commute costs. A person living really far away will need to spend more than RM10 on transport alone! And you won't be getting all the nutrition you need if you choose to live this way.
To break it down; you will be just surviving, not living. The sad reality is that if you do a little math, RM10 a day is not a small sum (it's RM300 – RM310 per month) to a minimum wage worker who earns RM900 – RM1200 a month.  Imagine living like this every day. You won't be getting the nutrition you need, will be exhausted from the public transport haul and you won't have enough for rent or utilities. Let's not even talk about recreation or any kind of social life.
The challenge, for us, definitely opened up more depressing realities than we thought it would. How did we get here? To the point where the minimum wage equates almost poverty? And even worse, whilst we have the
opportunity to debate whether or not RM10 is enough – there are those (those
earning minimum wage) who don't have a choice.
Now there's some food for thought.
https://ringgitplus.com/en/blog/Personal-Finance-News/The-RM10-Challenge-Surviving-on-Thin-Air-in-Kuala-Lumpur.html
https://ringgitplus.com/en/blog/Funny-Money/What-kind-of-Christmas-Tree-can-you-afford.html