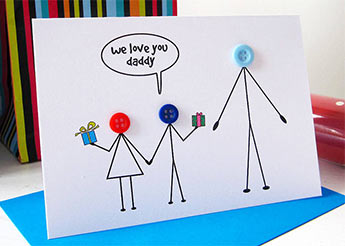 #5 – A nice meal
It's the most clichéd but hey, for many men the way to their
hearts is through their stomachs. Take dad for his favourite meal. It doesn't
have to be fancy as you probably won't get a booking so late for most high-end
restaurants; a simple restaurant or takeaway should suffice. Also check your credit card for dining deals that can help you
save more.
#4 – Get the family together
Some dads enjoy the company of the whole family as a treat.
Organise a lunch or dinner with his family. Get all your siblings together to
be with their dad. It doesn't matter that it doesn't involve reservations at a
five star restaurant; it's about togetherness. Get everyone to pitch in for a pot luck or an inexpensive takeaway.
#3 – A spot of fishing
For fathers who enjoy a spot of fishing; there are urban
fishing ponds in the Klang Valley where he can indulge in his favourite pastime
for less. Catch and release ponds are cheaper than ponds where you get to keep
the fish you catch because operators don't have to fork out cash to replenish.
If he's only in for the thrill of the game; this is the kind of pond for him.
The Tow Foo Pond in Kampung Baru Kundang, Rawang is a popular fishing haunt for
anglers who practice catch and release. It only costs RM20 per angler per rod
for up to 12 hours of fishing. The pond is open 24 hours, seven days a week.
Dad could spend all day fishing if he likes – but he won't be having his fish
for dinner!
#2 – A race to remember
Would dad like to be a part of his own race experience?
Perhaps he's seen the F1 races in Sepang and would like a go. Granted it's not
a chance to sit in an honest-to-goodness F1 vehicle; you could try asking dad
if he'd fancy a round of go-kart racing. The Karting circuit in Sepang offer
packages even for walk-ins but it's always better to give them a call beforehand. The
no-frills package starts at RM40 for a ten-minute race, 6-8 laps, in a 200cc 4
stroke engine, 6.5 horsepower kart. It's only ten minutes but it will be a truly memorable experience for dad. Treat him to his favourite hawker/mamak fare after the ride to talk about the experience!
#1 – Give him a timeout!
If all else fails; give him a timeout. If there is one thing
my dad always asks for on Father's Day; it's to be left to do the things he
likes without being disturbed. For him, it's trawling the Sunday car mart and
enjoying uninterrupted TV sessions. For your dad it could be as simple as
sleeping in; reading the Sunday paper or whatever it is he does to relax. Designate
Sunday as his 'timeout' day. Take your kids away, buy him a nice lunch and let
him have his day.
Happy Father's Day!