Let's say you have some cash in your savings piling up and you want to start putting that money to work.
You may be thinking, is there a way I can save up my money but still access it in case of emergencies? Or perhaps you want to be prepared for that one great investment opportunity, and have ready cash when it comes.
A bank account that gives you a high interest rate on your savings would be a good place to start.
Most banks usually make you choose between a high interest rate for your savings, or the flexibility of withdrawing your money anytime, i.e. no lock-in or maturity period.
The thing is, why restrain yourself to one or the other? The perfect solution is to find a bank account that can give you both a high interest rate and flexibility in managing your account, on top of the other benefits.
This is what Alliance SavePlus Account is offering.
The Alliance SavePlus Account caters to your needs in savings as it lets you enjoy high interest rates of up to 3% per annum, with easy access to your cash whenever you need it. As an added bonus, there are no transaction fees involved as long as you maintain a monthly average balance of RM10,000 in the account.
This is in large contrast to a regular savings account (which gives you lower interest rates) or fixed deposit (which locks your money for long periods).
Okay, remember the high returns that you get to enjoy with the Alliance SavePlus Account? The returns are credited into your account on a monthly basis! Accumulate or withdraw your savings according to your current financial needs.
Key features of the Alliance SavePlus Account
<a href="https://www.alliancebank.com.my/Alliance-SavePlus-Account?utm_source=RinggitPlus&utm_medium=&utm_content=Advertorial___&utm_campaign=SavePlus"target="_blank">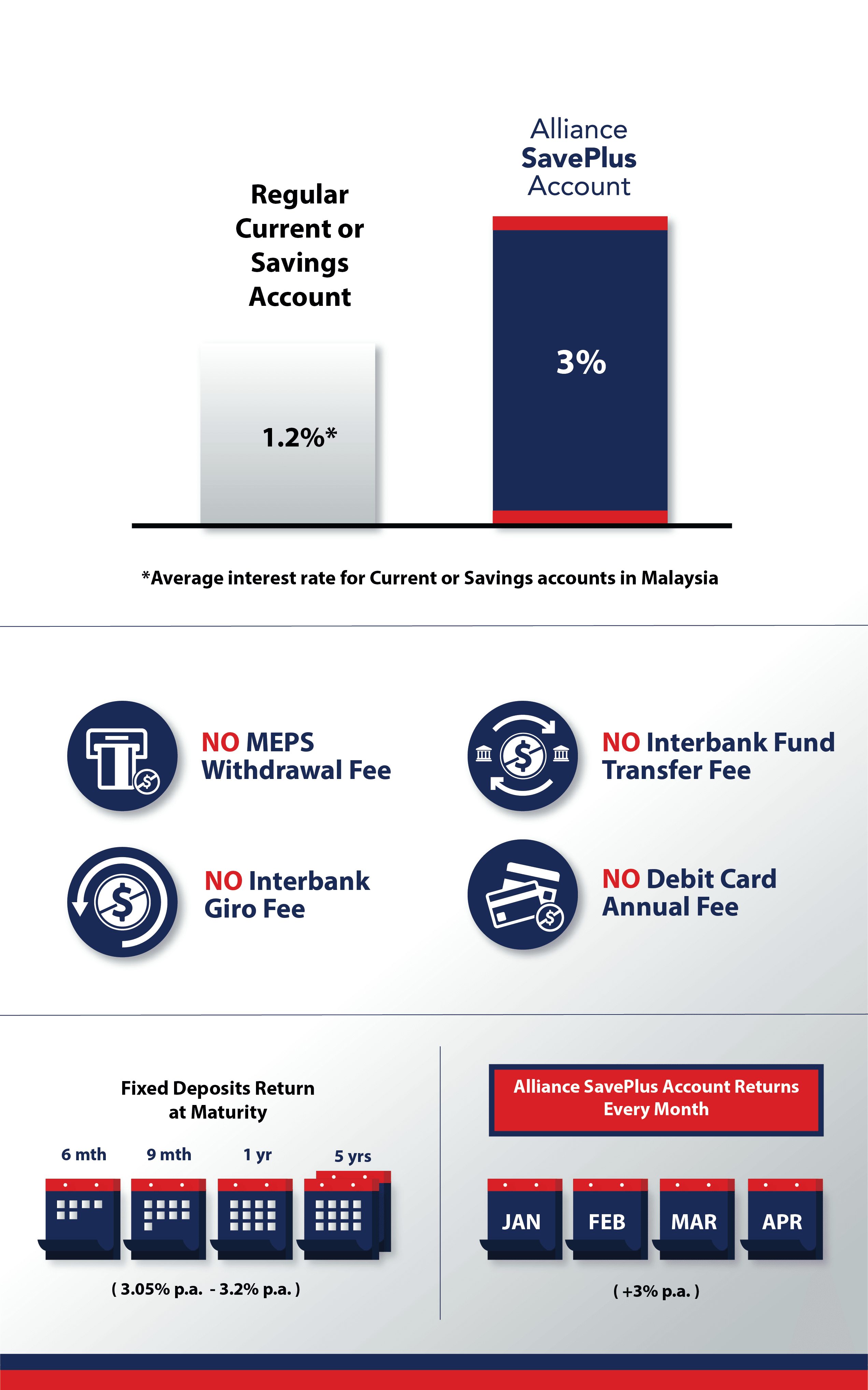 As you can see, with the Alliance SavePlus Account, all you have to do is sit back, relax, and watch your money grow. It is most ideal to have your money work for you, while still having access to it for everyday use without incurring any penalties.
As every cent counts, getting a waiver on transaction and withdrawal fees is super helpful too. Now you don't have to worry about paying RM0.50 for each instant transfer or RM1.00 for each ATM withdrawal. All you need to do is maintain a minimum balance in your account, and you will automatically be eligible for all these perks!
From now until 30 April 2018, customers who sign up for an Alliance SavePlus Account will receive a complimentary* RM40 petrol gift card. It's so easy! Just walk in to your nearest Alliance Bank branch to participate in this promotion!
In conjunction with the upcoming festive celebration, selected Alliance Bank branches will be open on 27 January 2018 (Saturday) from 9.30am to 2.30pm to cater to your banking needs. Visit us to open an Alliance SavePlus Account and enjoy light refreshments, as well as other exciting activities such as Ang Pow Packet Giveaway**.
But wait! Just for one day on 27 January 2018, new Alliance SavePlus Account customers also get to enjoy the maximum interest rate of 3% for the first month, with just a deposit of RM1,000!
For more information on how to apply for an Alliance SavePlus Account and list of branches with extended operating hours, please visit www.alliancebank.com.my
*Terms & Conditions apply.
**While stocks last