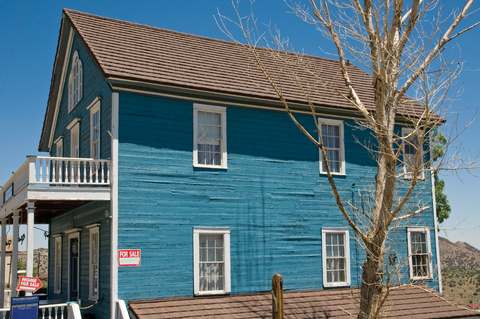 Like marriage, buying property can be a long and expensive commitment.  Once you have chanced upon a house you could see yourself living in, the very first question you should ask yourself is "Can I afford it?" It's important that you don't go into the property game with rose-tinted glasses.
Can you afford a new home?
Usually banks are willing to approve a loan on the condition that the monthly mortgage repayments are no more than one third of your gross monthly income. That's not because they are mean with their money, it's because the bank doesn't want your home loan payments to cripple you so much that you spend the days of your life eating nothing but maggi mee for breakfast, lunch, and dinner.
The common measure of eligibility is known as a Debt Service Ratio or DSR for short. This is the ration of your monthly installments to your monthly income.
DSR = monthly installments/monthly income
It's important to learn a few of these terms before you meet your bank loan officer, as you don't want to sound like you're fresh off the boat.
Most banks in Malaysia can offer borrowings for up to 90% of the purchase price of the property with the balance paid by the borrower as a one off deposit, also known as a down payment. When a bank looks through your home loan application, they're not only looking at your DSR, they also want to see what other financial commitments you are currently handling. The loan officer will look at debts on car loans, education and any other property to determine your credit worthiness.
And yes, they'll be using a credible (pun intended) agency such as CCRIS, to check that you have some kind of credit history, and that you have a good record of making monthly payments on your household bills and loans.
Before we look at the different types of mortgages, let's take a look into the working mechanisms of a home loan.
How does a home loan work?
Financial institutions will act as lenders and will earn a profit from the interest they charge on the borrowed sum. Borrowers will have to pay monthly installments consisting of a portion of the principal plus the interest.
Many banks use floating interest rates to calculate monthly repayments, which changes when the BLR fluctuates, resulting in higher or lower charges. The BLR is determined by Bank Negara from time to time after considering economic conditions.
To offset this scenario, most banks have evolved to allow for excess repayments deposited to a current account linked to the home loan, which lowers interest charges as it is calculated based on the difference between the amount in the current account and the home loan, and can potentially shorten your loan tenure. This method is called a reducing balance and home loans using this method are called flexi loans.
How excess repayment on a flexi loan can save you money
Say you would like to borrow RM200000 from a bank, which has an interest rate of 4.5% and a maximum tenure of 30 years. In the table below, with the help of some simple math, I will show you how much you can save with extra repayments on a fully flexible home loan.
What happens when you pay in excess of your monthly installments?
| | | | | |
| --- | --- | --- | --- | --- |
| Monthly Installments (RM) | Extra Payment (RM) | Total Paid (RM) | Interest Savings (RM) | Tenure (Years) |
| 1013.37 | 0 | 164,813.20 | 0 | 30 |
| 1013.37 | 500 | 76,698.35 | 88,114.85 | 16 |
| 1013.37 | 1000 | 50,679.14 | 114,134.06 | 11 |
| 1013.37 | 1500 | 37,974.79 | 126,838.41 | 8 |
| 1013.37 | 2000 | 30,416.12 | 134,397.08 | 7 |
Surprised by how much you can save with just RM500 extra? I am too! You don't have to do it every month, but only when you think you have enough money lying around and you can already shave off at least a year or two of your tenure.
There are a few exceptions where banks or lenders use fixed interest rates to calculate monthly installments (such as AIA home loans). There are also multi-tiered fixed rate home loans, where different periods of your tenure corresponds to different interest rates determined by the bank, removed from market rates. This can be beneficial for those that have a strict plan for their finances for the foreseeable future as you will be protected from market rate fluctuation. Is there a catch? You will be paying slightly higher interest, and though you are saved from paying more should the BLR rise, you also lose out on a lower rate when the BLR falls
The BLR has been a steady 6.6% as of late. Other banks such as Standard Chartered may use different rates such as KLIBOR, which is usually more risky.
Example of calculations based on BLR: Hong Leong is currently offering an interest rate of -2.2 BLR on their Mortgage Plus home loan which means 6.6 (BLR) – 2.2 = 4.4%.
But the lowest interest rate is not the only thing you should be looking at, because as the saying goes, the devil is in the details. Before singing on the dotted line, one should take a look at the fine print.
What to look out for
It would be to your advantage to also look up product disclosure sheets available on most bank websites, for more in-depth information regarding your potential home loan package before heading to the nearest bank to meet with a mortgage officer. Signing off on a document you have barely understood, or even read is bad news though sadly, very common.
A product disclosure sheet may contain significant information about a certain financial product including any risks and benefits, overall product costs, including but not limited to miscellaneous fees and charges, or whether they are able to finance your insurance. This information isn't usually advertised outright, but you'll be glad you thumbed through the bank website to find it.
Many things can overshadow the benefits of an attractive interest rate, especially accounts which requires regularly servicing such as excess cash withdrawal fees and monthly maintenance fees.
Alternative ways to pay down a home loan
You may be aware that it is possible to finance your mortgage using your EPF account, but how do you actually do it? Savings from your Account II, where 30% of your EPF funds are allocated, can be withdrawn to buy a property whether as an individual or a joint agreement with a partner of family member.
In order to qualify, it is important that you have a Sale and Purchase Agreements which is no more than 3 years from the date of application, and have been approved for a housing loan from a bank certified by the EPF/KWSP, among other things that are listed on their website.
Even if you've already started paying your monthly loan installment; you can use funds from Account II to reduce the sum borrowed or pay your monthly installments in advance.
But do you think it wise to do so? Your EPF is your retirement nest egg and already, it is widely known that most Malaysians won't earn enough EPF contributions to get by in old age. Can you skip reducing it more? Always weigh the opportunity cost of one investment against another and work it out from there.
What's in store in 2014?
There are a few things home buyers may need to pay attention to regarding the 2014 budget released by the government recently.
If you are planning to finance a home in the next couple of years, there is reason to be optimistic about house prices despite the exorbitant levels we currently experience, as an estimated 223000 units of affordable houses will be built jointly by the government and the private sector in the next year.
Under the 1Malaysia People's Housing Programme (PR1MA), another 80000 units will be built at strategic places around the country with a budget of RM1 million and priced 20% below market rates, in an effort to provide affordable homes for Malaysians.
The government has also given an incentive to private developers to build medium-cost houses with the introduction of the Private Affordable Ownership Housing Scheme (MyHome). This in essence, is a subsidy of RM30000 to the developers for each unit built.
Putting it all into perspective
Perhaps it is time to take a breather and put all that we've talked about and everything else in between in order:
Find a modest home
Negotiate a selling price with the developer/agent
Ring a lawyer to acquire a Sales & Purchase Agreement (SPA)
Apply for a home loan with your preferred bank
Place a deposit on your mortgage
Sign the contract (Facility agreement)
Get the keys to the house
Pay your dues until the end of your tenure
Live happily ever after?
As a parting advice, always be in it for the long run. If you are capable of paying off more of your principal during the early years, please do so.
People often forget that inflation and fluctuating interest rates will in the future change our spending habits and increase our cost of living. You'd want to be ready for such eventuality.
At the end of the day, there is no one-size-fits-all deal. The decision depends on your current and likely future financial position.