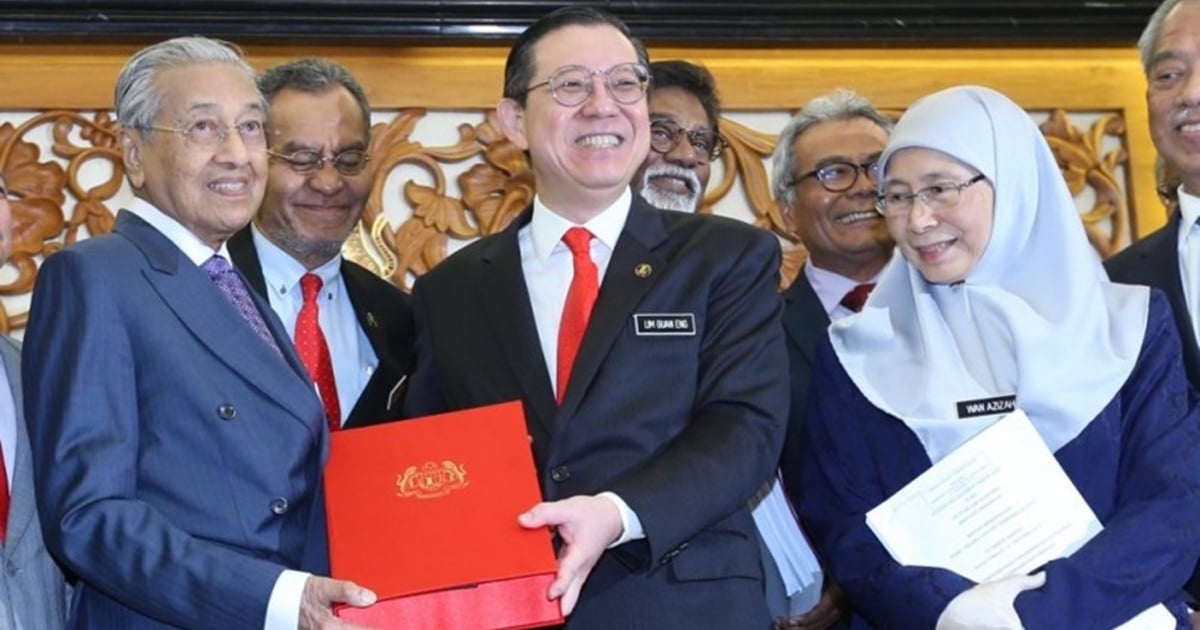 (Image: NSTP)
Last Friday, Finance Minister Lim Guan Eng tabled Budget 2020 in Parliament. It was the second Budget tabled by the Pakatan Harapan government, and expectations were rife to see what new measures the government would introduce, or which initiatives it would decide to extend.
We've rounded up the key highlights of Budget 2020 so that you can get up to speed on what has been announced.
1) Fuel Subsidy For Eligible B40 Vehicle Owners Too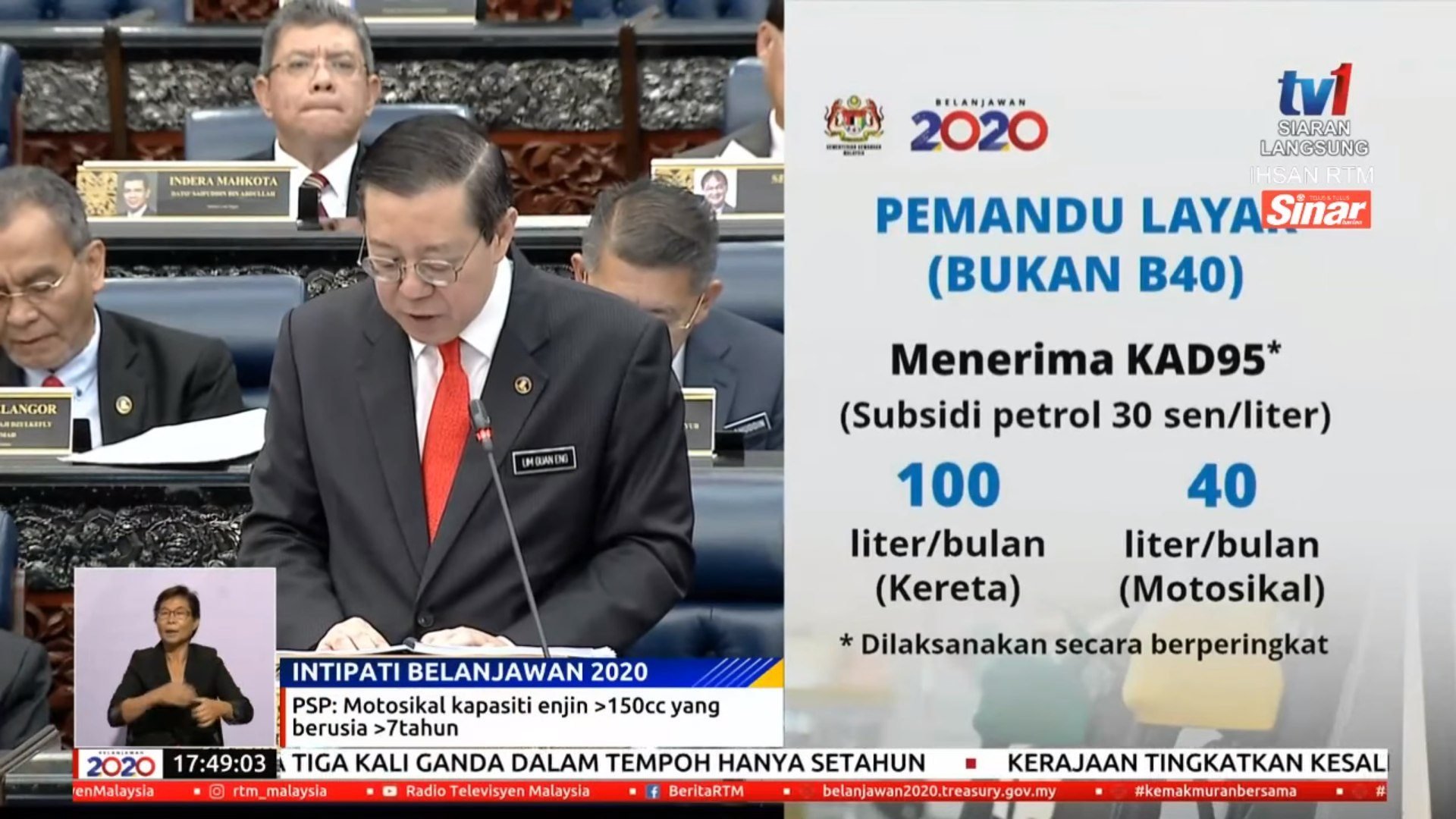 The week before Budget 2020 was announced, the Domestic Trade and Consumer Affairs Ministry announced a new fuel subsidy targeted at Bantuan Sara Hidup (BSH) recipients in the B40 group. However, Finance Minister Lim Guan Eng revealed during the tabling of Budget 2020 that non-B40 vehicle owners will also be eligible for a petrol subsidy.
The same vehicle ownership eligibility criteria apply to both B40 and non-B40 individuals:
cars with an engine capacity of 1,600cc and below
cars with an engine capacity over 1,600cc but 10 years and older
motorcycles with an engine capacity of 150cc and below
motorcycles with an engine capacity over 150cc but 7 years and older.
While the B40 group will receive their petrol subsidy in the form of a bank transfer once every 4 months, eligible non-B40 recipients will receive a petrol card called Kad95. This card will grant the same set of subsidies as given to the B40 group – 30 sen/litre limited to a monthly cap of 100 litres for cars (RM30 subsidy for cars per month) and 40 litres for motorcycles (RM12 subsidy for motorcycles per month).
Kad95 should be implemented in stages during the first quarter of 2020.
2) Maternity Leave Extension And Other Employment Changes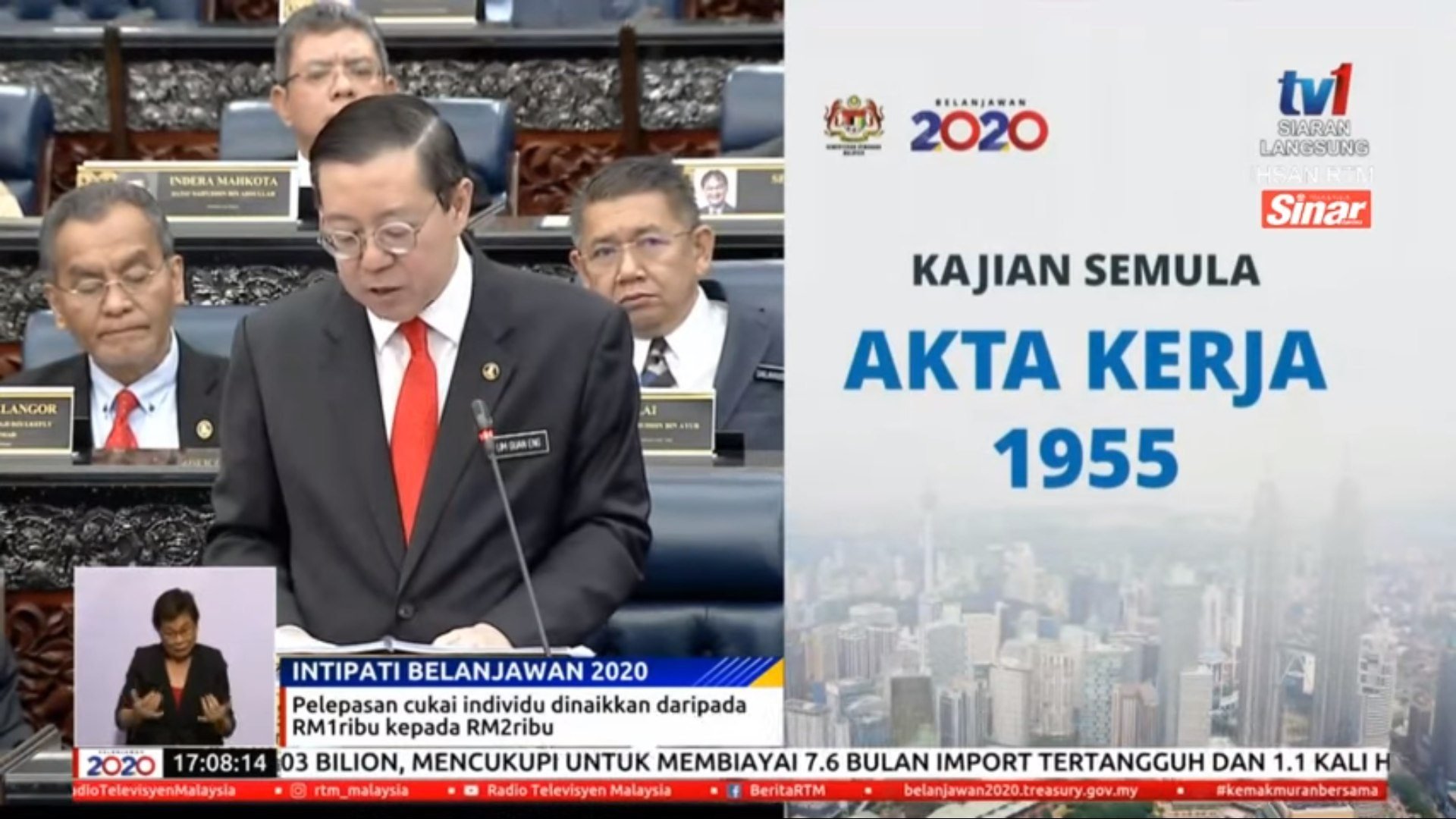 The government believes that the local labour market should be modernised and employment conditions of workers in the country enhanced. It proposes to review the Employment Act 1955 with a focus on the following points:
Increase maternity leave from 60 days to 90 days, effective 2021.
Extend the eligibility for overtime from those earning below RM2,000 to those earning less than RM4,000 per month.
Improve current protection measures and procedures for handling sexual harassment complaints.
Introduce new provisions to ban discrimination based on religion, ethnicity, and gender.
The government will also look into increasing the minimum wage in major cities to RM1,200 per month next year. In last year's Budget, the minimum wage was increased to RM1,100 nationwide.
3) Minor Income Tax Changes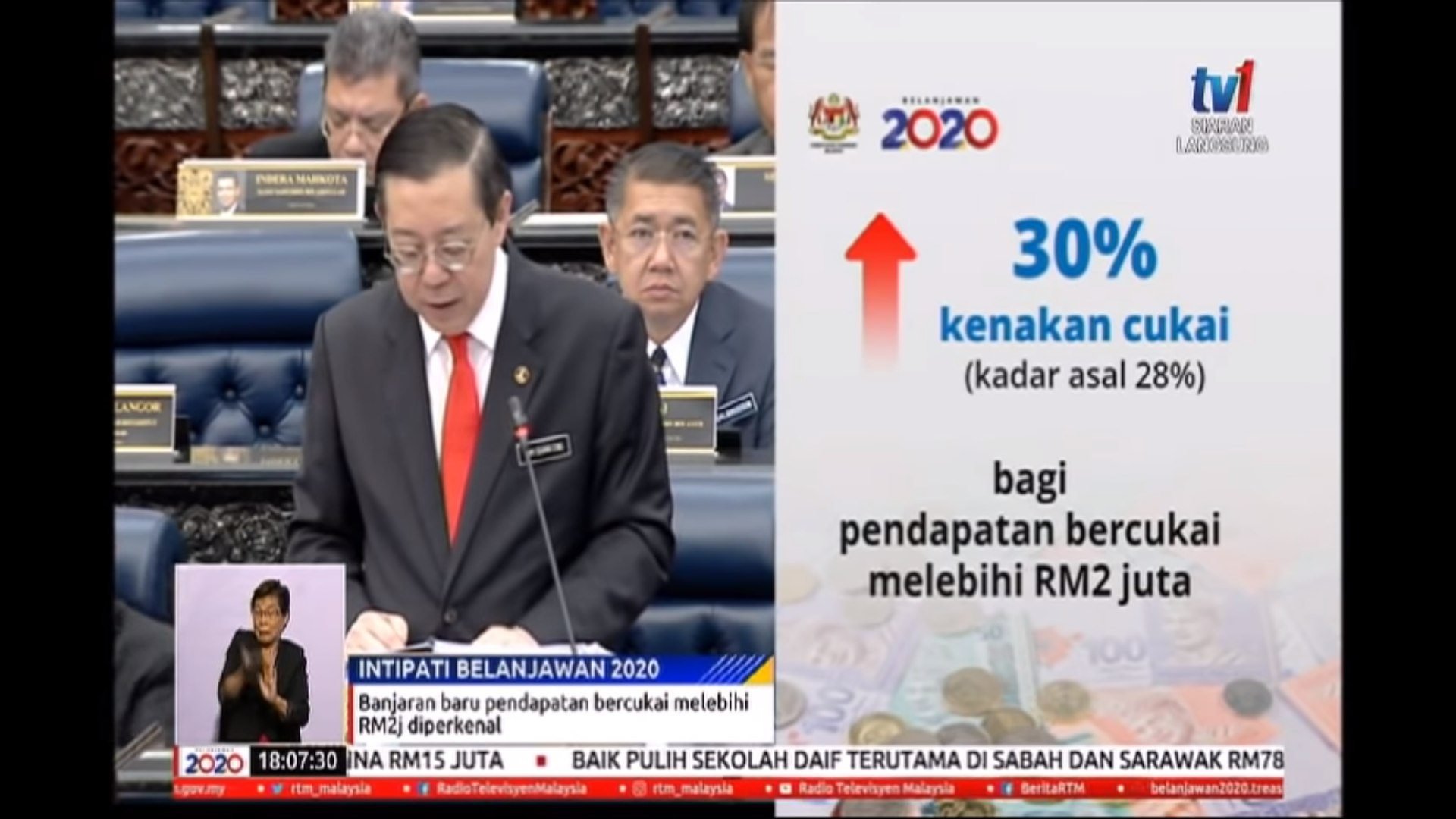 As promised by Guan Eng in the lead-up to 11 October, Budget 2020 did not see many big changes to the current taxation situation in the country. However, the Finance Minister did announce several minor updates in relation to income tax in the upcoming year.
For starters, the government has introduced a new band of income tax that will affect those who earn more than RM2 million per year. This group will be taxed at a rate of 30%, a 2-point increase from the current rate of 28%. The new band is expected to affect about 2,000 top income earners in the country and is aimed at ensuring a more progressive person income tax structure.
Besides that, it was announced that the current income tax relief for medical treatment of serious illnesses will be expanded to include fertility treatment. This move, alongside a new category of EPF withdrawals for fertility treatment, is meant to address the issue of Malaysia's falling fertility rate. The income tax relief for childcare will also be increased from RM1,000 to RM2,000 next year. Lastly, the tax deduction on donations will be expanded and its maximum cap increased from 7% to 10%.
4) MySalam Takaful Expanded To Include Middle Income Malaysians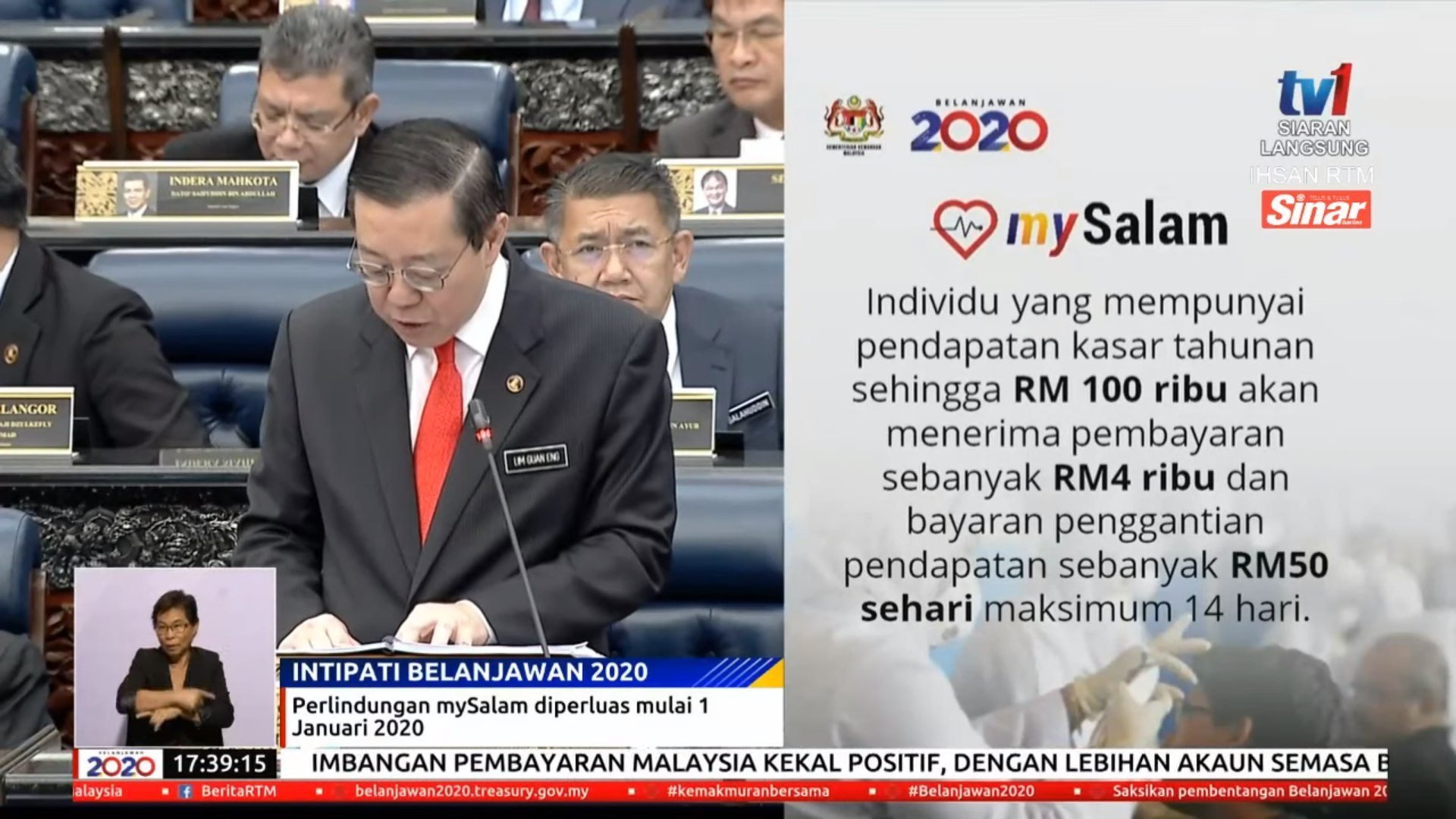 The MySalam programme was introduced during Budget 2019 as a takaful programme for the B40 group. It offered a payout of RM8,000 upon a diagnosis of any one of the 36 critical illnesses covered, as well as a RM50 daily hospitalisation allowance (for up to 14 days) for those warded in government hospitals.
Now, the MySalam scheme will be expanded to cover all Malaysians with a gross annual income of RM100,000 and below from 2020 onwards. This means that anyone earning under RM8,333.33 per month will be eligible, thus including the middle-income group in this scheme's benefits. The payout received by this group will be RM4,000 instead of the RM8,000 for the B40, but the hospitalisation benefit is the same. Thanks to this expansion, MySalam will cover another 5 million Malaysians.
In addition, the number of critical illnesses covered under MySalam is increased from 36 to 45, including polio and terminal illnesses. Finally, MySalam will cover those aged up to 65 years old instead of the current age limit of 55 years old – allowing an additional 1.5 million individuals to enjoy its benefits.
5) B40: Extended Bantuan Sara Hidup Aid And PeKa Coverage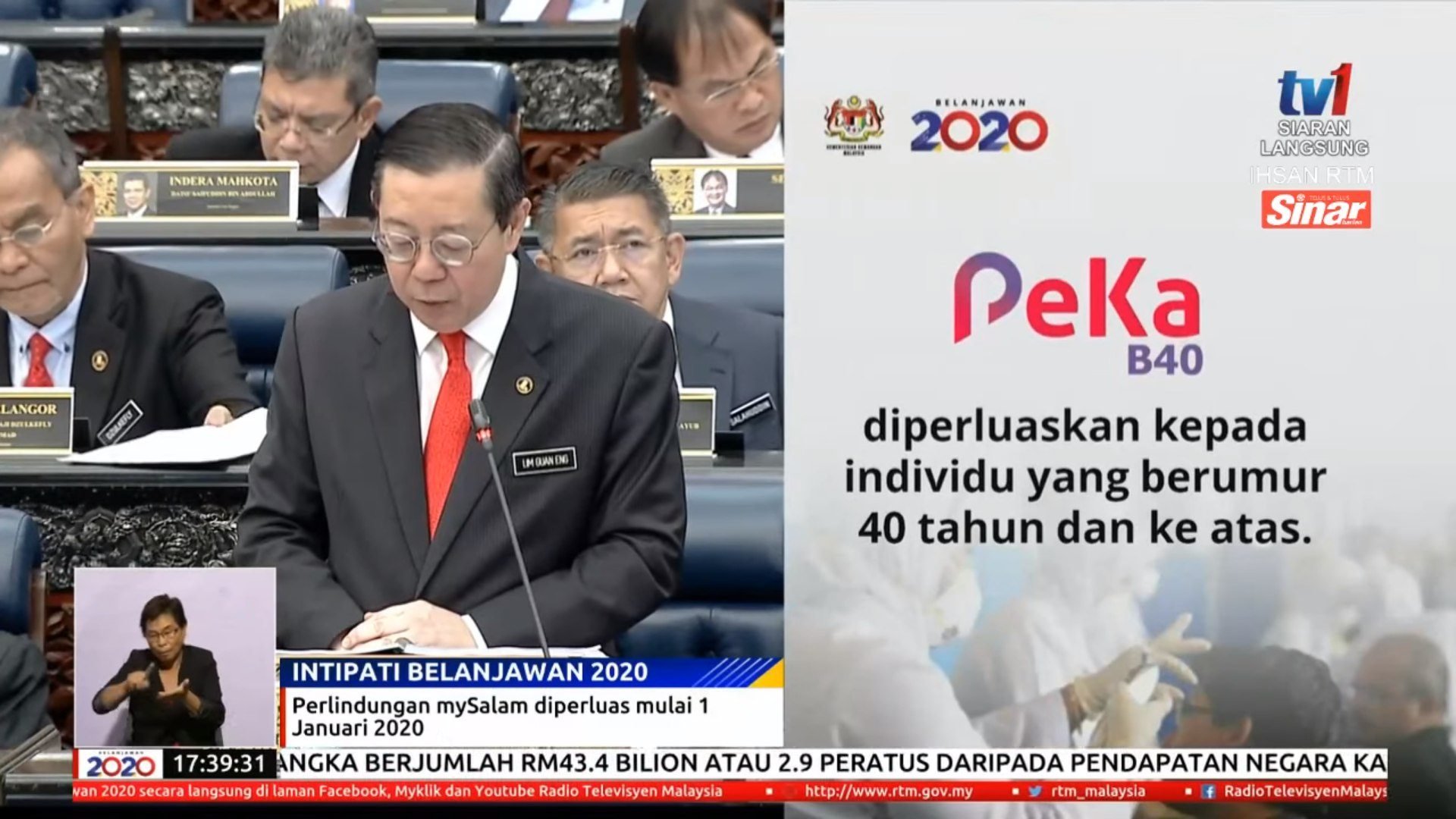 The Bantuan Sara Hidup (BSH) programme will be expanded to include single Malaysians above 40 years old who are earning below RM2,000 per month. This will mean that another 1.1 million single individuals stand to benefit from the BSH scheme. Furthermore, all disabled persons aged 18 and above who earn less than RM2,000 per month will also receive the BSH aid of RM300.
Meanwhile, the government is also expanding the scope of its PeKa B40 programme. PeKa B40 is a healthcare protection scheme designed for B40 Malaysians, covering a wide range of common medical treatments such as medical examinations and medical aids. It was originally only open to BSH recipients and their registered spouses aged between 50-60 years old, but will be expanded to cover BSH recipients aged 40 and above starting next year.
6) Tackling The Youth Unemployment Issue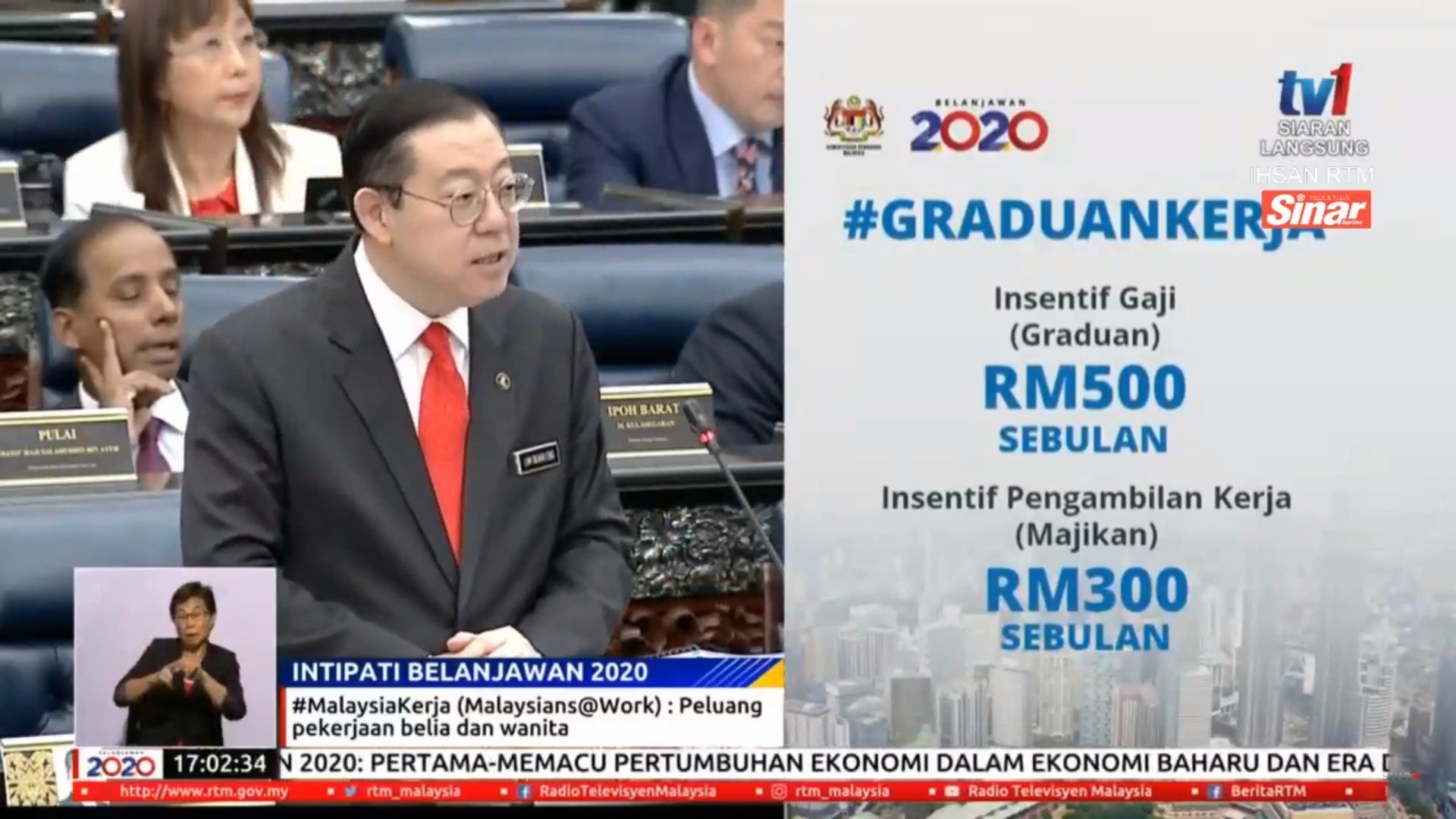 In his Budget 2020 speech, Guan Eng stated that there were more than half a million unemployed Malaysians in 2018 – with about 290,000 of these being youth up to 24 years old. One of the ways in which the government is seeking to tackle this problem is through the [email protected] programme. Under this scheme, there are two initiatives – for graduates and youth in TVET courses – which are targeted to help youth unemployment in particular.
[email protected], which is aimed at graduates who have been unemployed for over 12 months, will give graduates a wage incentive of RM500 per month for 2 years and their employers a hiring incentive of RM300 per month over the same period. Meanwhile, [email protected] hopes to encourage more youth to enter TVET courses by offering trainees on apprenticeships an additional RM100 per month for their allowance as well as giving participating companies additional tax incentives.
7) Empowering Women In The Workforce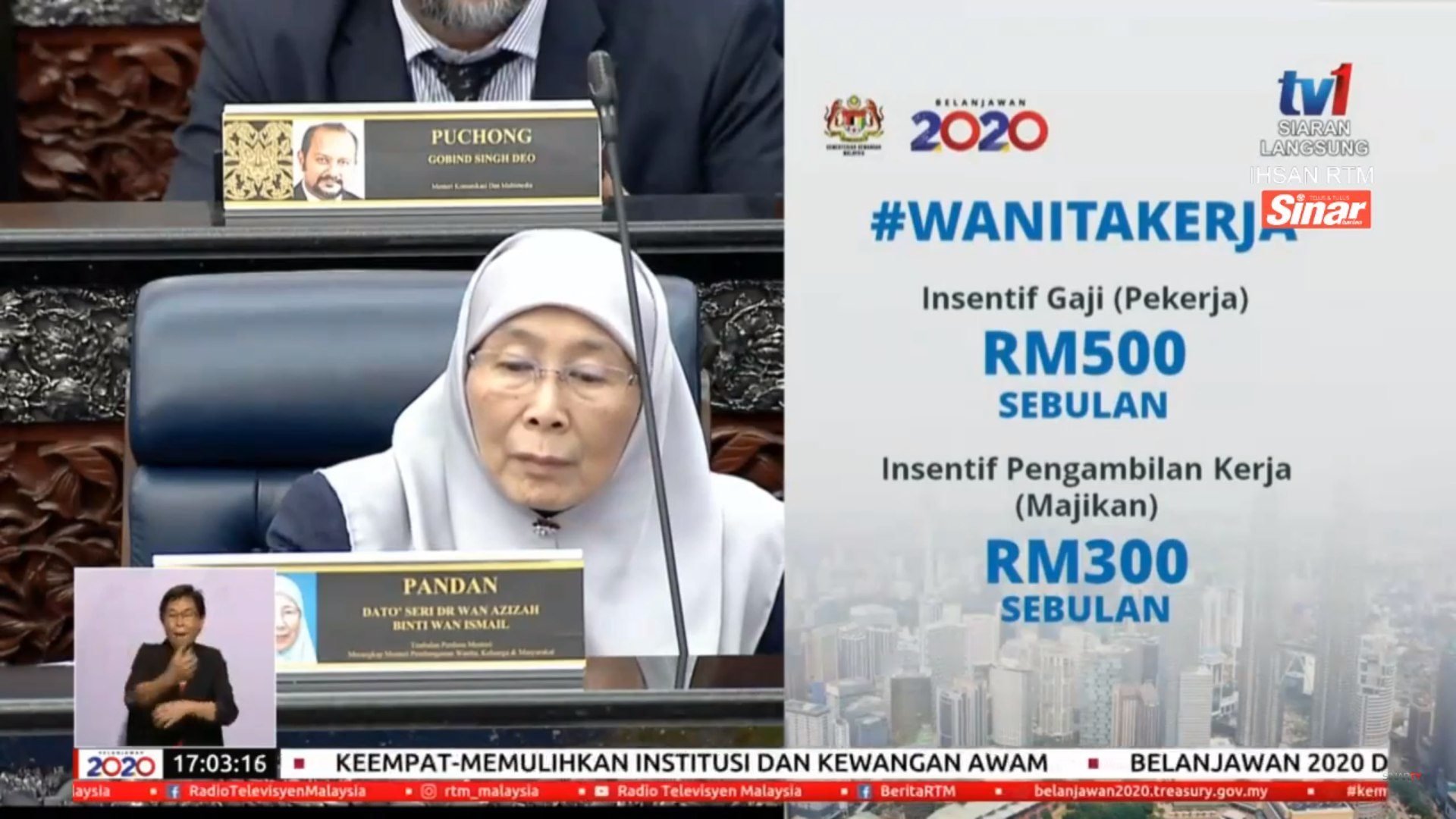 Besides the proposal to increase the period of maternity leave, Budget 2020 has introduced other sound schemes to help remove some of the barriers against Malaysian women in the workforce and other areas.
The [email protected] incentive, for instance, is aimed at providing 33,000 job opportunities per year for women between 30-50 years old who have taken a break from their careers. Women returning to the workforce will receive a wage incentive of RM500 per month for 2 years, while their employers will receive a hiring incentive of up to RM300 per month for 2 years. Moreover, the current income tax exemption for women returning to work will be extended up to 2023.
Budget 2020 also provides opportunities for women in business, with a new Skim Jaminan Pinjaman Perniagaan (SJPP) allocation of RM500 million in guarantee facility earmarked for women entrepreneurs. SME Bank is also setting up a new fund where the government will provide an annual interest subsidy of 2% specifically for women entrepreneurs, offering loans of up to RM1 million per SME.
Lastly, RM10 million has been allocated to further promote women in sports to nurture the successor generation to the legacies of Datuk Nicol David, Pandelela Rinong, and the like.
8) Addressing The Property Sector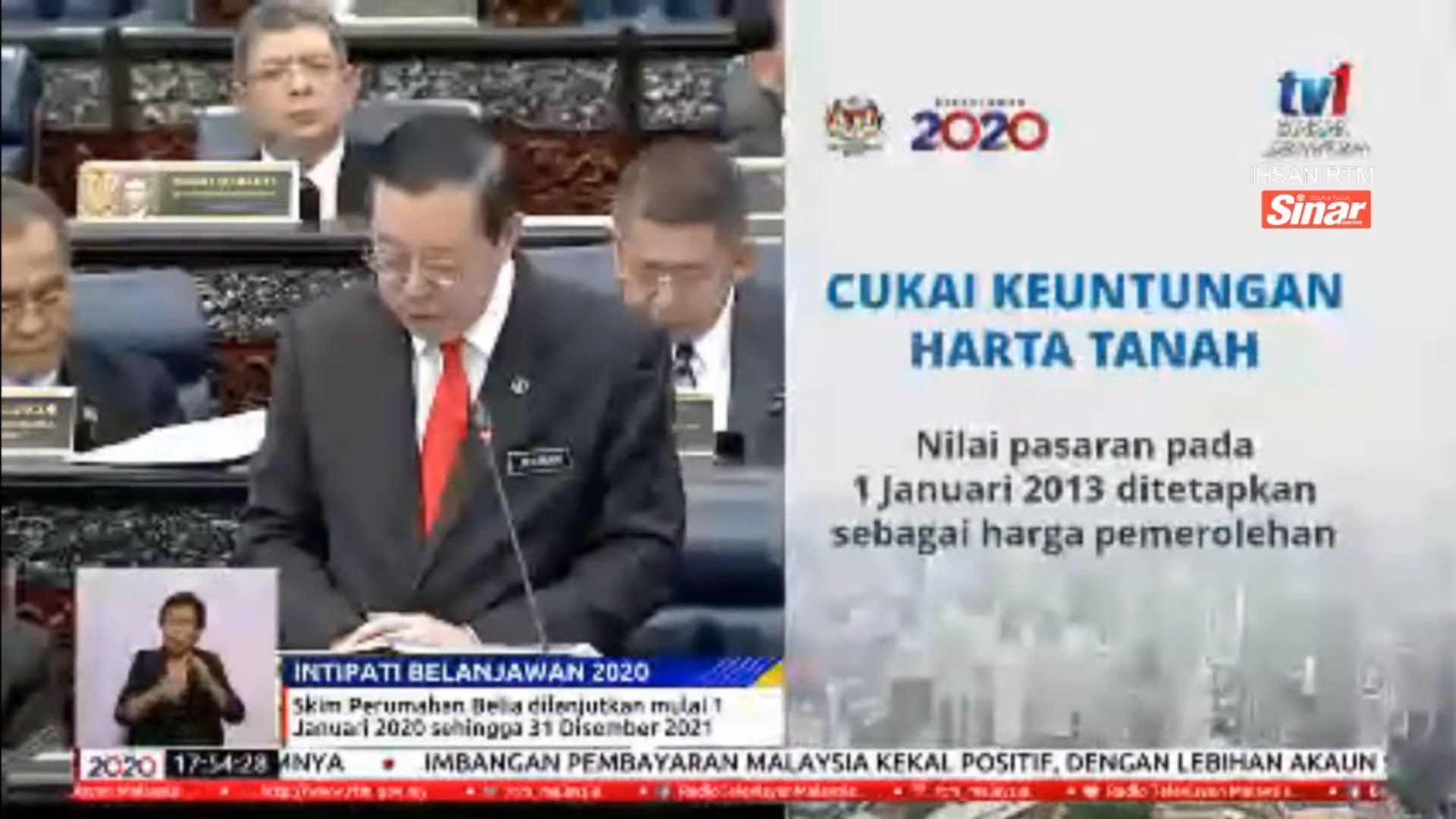 In Budget 2019, the government introduced a Fund for Affordable Homes and an extended Home Ownership Campaign, with both efforts aimed at providing financial support and incentives to home buyers looking to purchase property.
This year, the government will be extending the Youth Housing Scheme by Bank Simpanan Nasional from 1 January 2020 to 31 December 2021. The scheme offers a 10% loan guarantee to enable borrowers to get their full financing and RM200 monthly instalment assistance for the first two years – limited to 10,000 home units.
The government is also lowering the threshold on high rise property prices in urban areas for foreign ownership to RM600,000 next year. Previously, the threshold was set at RM1 million for foreigners and it is hoped that this move will reduce the supply overhang of condominiums and apartments.
As for the real property gains tax (RPGT) on properties disposed of after 5 years, the government has responded to the public view by revising the base year for asset acquisition for assets acquired before 1 January 2013. Previously, the base year was set at 1 January 2000 – it will now be set at 1 January 2013.
***
For a full overview of Budget 2020 and how each of its proposals affect you, check out our infographic on Budget 2020 and You.