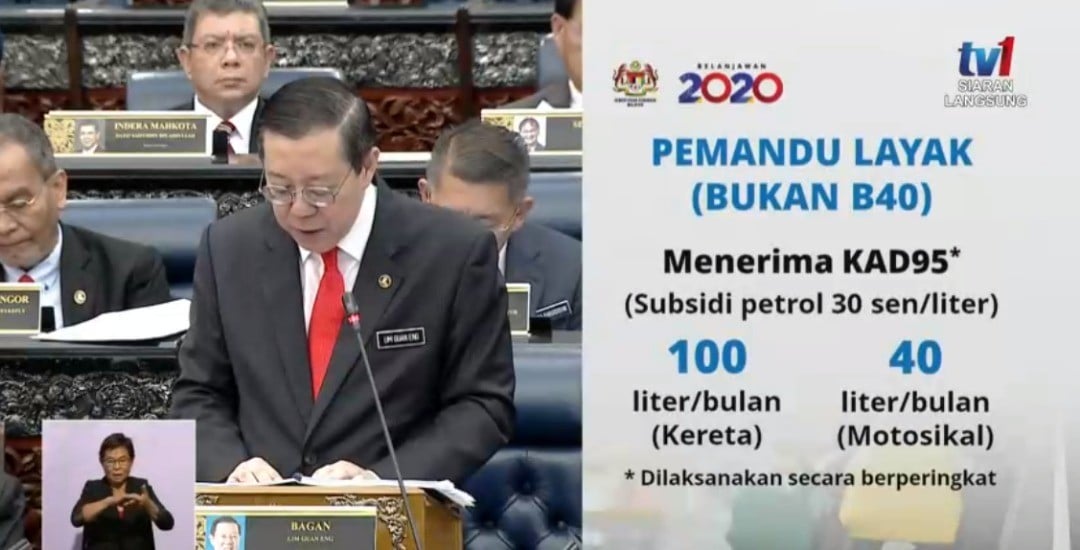 Finance Minister Lim Guan Eng has revealed that the targeted fuel subsidy for the B40 group will extend to eligible vehicle owners who are not classified in the B40. This will be done via the introduction of a Kad95, which offers the same subsidy.
Earlier this week, Domestic Trade and Consumer Affairs Minister Saifuddin Nasution Ismail announced the new petrol subsidy scheme. Today Guan Eng in his Budget 2020 tabling has revealed that this scheme will be extended to those not in the B40 group who are Bantuan Sara Hidup (BSH) recipients, with the same vehicle ownership eligibility criteria:
cars with an engine capacity of 1,600cc and below
cars with an engine capacity over 1,600cc but 10 years and older
motorcycles with an engine capacity of 150cc and below
motorcycles with an engine capacity over 150cc but 7 years and older
Those eligible will receive a petrol card called Kad95, which will grant the same set of subsidies as the BSH recipient groups (30 sen per liter limited to a monthly cap of 100 liters for cars and 40 liters for motorcyles). Kad95 will be implemented in stages in the first quarter of 2020.
The expansion of the targeted fuel subsidy means this scheme will now benefit 8 million Malaysians, and the Government will allocate a total of RM2.2 billion.
It is not currently known the actual mechanics of the distribution of the card, nor how it will be used – but more on this will definitely be revealed in the coming days.