CIMB Bank has revised its benefits of its Cash Rebate Platinum Mastercard, which now makes it a lot more attractive. With a new 12% weekend dining cashback with zero minimum spend, this card definitely would appeal to plenty of Malaysians.
The CIMB Cash Rebate Platinum Mastercard is one of CIMB's most popular cards in its lineup. Thanks to a combination of low requirements and a then-attractive cashback benefit that also included online spend, it proved a popular card among the early adopters of online shopping. However, the card's benefits revision in November 2017 removed the online cashback benefit, and imposed a heavy RM3,000 minimum spend amount to be eligible for 5% cashback.
The new weekend dining benefit, which goes into effect from 15 May 2019, is exempted from the RM3,000 minimum spend requirement. That means cardholders will enjoy 12% cashback on weekend dining regardless of the amount spent for the calendar month. Weekend dining cashback is capped at RM30 a month.
However, CIMB is removing the 2% cashback on foreign currency spend benefit. For most cardholders, this won't make much of a difference, compared to weekend dining cashback benefit. Beyond that, the other card benefits remain unchanged. Depending on the minimum spend, cardholders will get 2% or 5% cashback on cinema, petrol, groceries, and standing instructions on mobile phone and utility bills. For all other spend, cardholders get 0.2% unlimited cashback.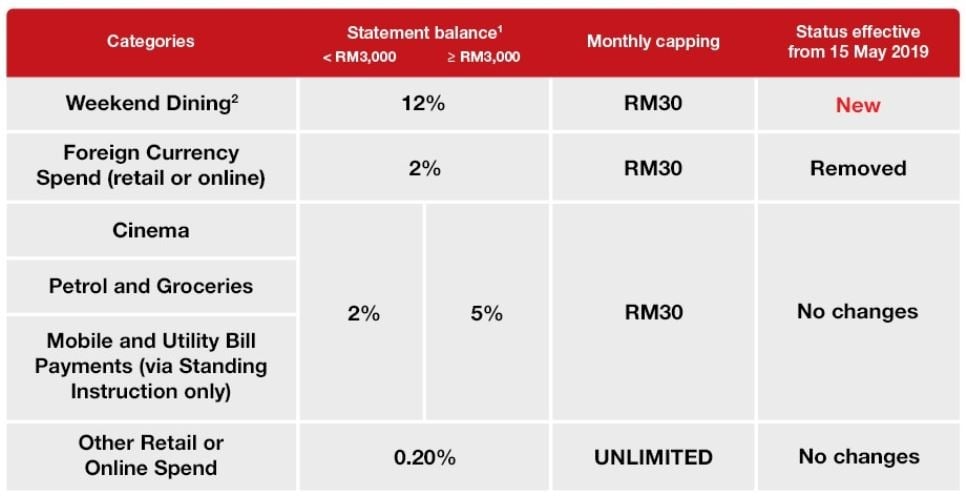 With this cashback revision, the CIMB Cash Rebate Mastercard certainly becomes a lot more appealing. However, the terms and conditions of the weekend cash rebates indicate that this is a limited-time campaign that will end on 31 May 2020; it is at the bank's discretion to extend this offer.