So the (almost) unthinkable has happened: You've lost your credit card. Unfortunately, there isn't a missing card alert you can put out to get the whole police force looking but there are other ways to deal with this.
Firstly, don't panic. Breathe into a paperbag if you have to (I am kidding). But whatever you do; the best thing to have with you at a time is your wits. Then follow these easy steps.
Make Some (Mental & Written) Notes
The first thing you need to do before even calling your bank is to note these things down:
What time do you estimate your card went missing? (if you're not sure; note the last time you saw it or used it).
If you know exactly when you lost your card; you now need to remember the time you last used; where and how much.
With this info in hand; you can proceed to call your bank because you can be sure; they are going to ask you these questions.
Call the Emergency Number for Credit Card Loss
All banks will have a special customer service line, round the clock to deal with loss credit cards. If you haven't got this written down somewhere on your person; you can surf the bank's website to get it. The bank will ask you when and where you suspect you lost your card. As an added bit of info; they may even ask you where you last used your credit card to check if any fraudulent charges have been made on the card yet.
They will then proceed to cancel your card – rendering it unusable to anyone who may have taken it.
Make a Police Report
Your bank has already cut your credit card and any fraudulent charges should no longer be your problem but there's no harm in taking precautions. Report the card missing/stolen and provide the full credit card number to the police in your report. Let them know what time you called the bank to cancel and what your last spend on it was. Whilst the police don't need to know this info per se and it doesn't really prove much; it shows the bank that you are transparent. You don't mind recording this information as an official police statement.
Once you have a copy of your report; append a photocopy along with a letter to your bank reminding them of both the cancellation phone call and the reminder that you should not be held responsible for any charges on the card after you've effectively cancelled your card. Again, none of this is an absolute requirement but it really makes a difference if there should ever be a dispute between the bank and yourself regarding the card cancellation.
As always; keep copies of all letters and documentation. The certified police statement copy should be with you. Send the bank a photocopy.
Phew; the worst is over now – but there are a few more steps you will need to take to get all your financial dealings in proper order again.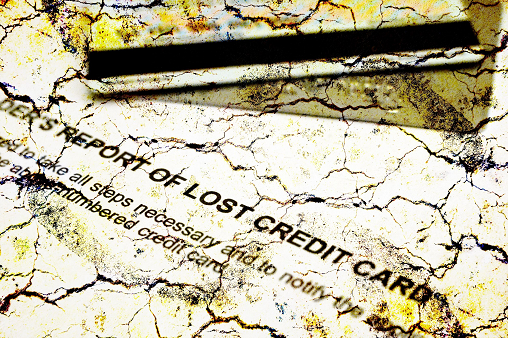 Cancel All Standing Instructions and Payments
Did you use that particular credit card for any auto bill payment? Or perhaps you linked it to your Paypal account – proceed to remove and update this information. The last thing you want is to find yourself literally in the dark when Tenaga Nasional Berhad cuts your electricity for failing to pay your bill on time.
Scrutinise the Last Bill You Receive
Chances are you didn't lose your card on exactly the last day of your usual billing cycle so there will be another bill coming to you even after you've cancelled the card. Make sure you take a good look at the statement to make sure no charges were made after your reported cancellation.
And that's it! Your bank will likely send you your new card in about two weeks to a month so you'll be ready to swipe again. But before you go signature-happy; take these following precautions to ensure that if this does happen again (we certainly do hope not, though!); you will be able to react better.
Save the bank phone number in your phone.
Save credit card receipts for at least a month before discarding them.
Scrutinise your bills every month. Your card doesn't need to physically go missing in order for fraudulent charges to be incurred.
Write down important numbers in a safe place at home including the bank's phone number and your credit card numbers in case you lose your handphone as well (as in the case of snatch thefts and lost handbags).
These things happen to the best of us. Don't beat yourself up about it. The most important thing is to know the steps to take when the unfortunate does happen.