Are you an Apple fan? If you are (even if you're not), surely you've heard about the recent launch for iPhone 8, iPhone 8 Plus, and the iPhone X (which is the Roman numeral for the number 10).
The announcement on iPhone X just half an hour after the launch of iPhone 8 and 8 Plus nearly broke the internet, and by now Apple fans all over Malaysia are just waiting to get their hands on the three newest smartphones.
It's unclear on when the iPhone X will be released in Malaysia, but if you're looking to buy the iPhone 8 or iPhone 8 Plus, the wait is almost over! Apple has announced that the iPhone 8 series will be available for purchase on 20th October 2017.
Of course, you can also get them from our local telecommunications companies and authorised Apple dealers, but if you don't want to spend hours lining up for the new iPhone, you can also pre-order it online – which starts on 13th October 2017 (at 12.01am local time).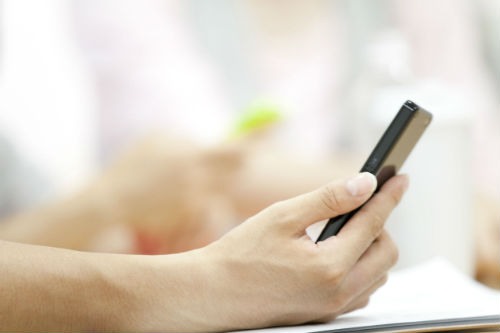 But Which New iPhone Should I Get?
That depends on your budget and how much you're willing to shell out for a brand-new smartphone. Although the exact prices for the three newest Apple smartphones haven't been announced in Malaysia yet, you can still get a rough estimate on how much they may be based on their prices in our next-door neighbor – Singapore (bear in mind that the prices may differ due to taxes and currency rates).
From Apple's website in Singapore, iPhone 8 starts from SGD1,148 (RM3,565) while the iPhone 8 Plus starts from SGD1,308 (RM4,062). If you don't mind spending – and can afford – what could be the equivalent of a few month's rent or even possibly half a year's worth of car loan instalment, then by all means get you a new iPhone that suits your budget and preference best!
It's worth noting that the prices of the iPhone 8 series' predecessor, the iPhone 7 series, will likely go down once the newer smartphone is released in Malaysia. If you're still unsure of which of the three new iPhones you should get, or if you're wondering if you should take advantage of the iPhone 7 series' price drop instead, check out our comparison table below and take a look at what you'll get from these Apple smartphones: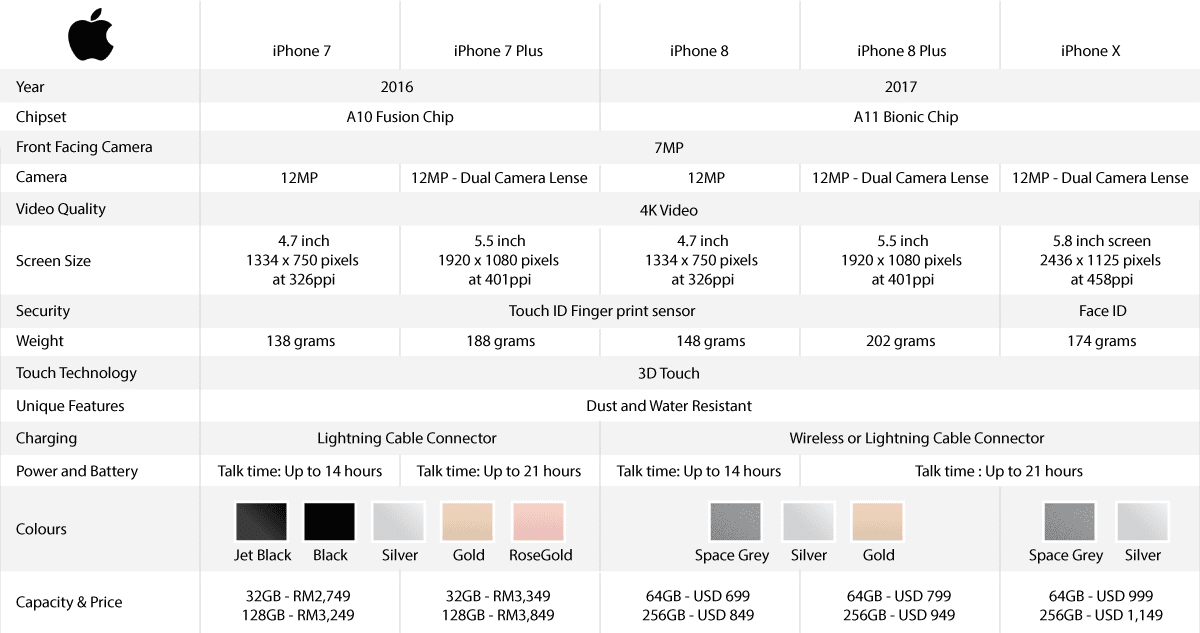 What is Really New About The iPhone 8, iPhone 8 Plus, and iPhone x?
As you can see, by no means is the iPhone 7 series obsolete. Apple is still providing software updates for the smartphone on a regular basis so users can continue to enjoy an optimum performance.
Also, almost all of the specs are identical, with the only obvious difference being the higher processor offered for the newer iPhones, as well as the Face ID feature. Another notable difference in terms of design is that the iPhone 8 series and iPhone X are fitted with a glass panel at the back of the phone – which Apple claims to be durable.
One of the big changes to the hardware which showed some signs of a leap in functionality from the previous iPhone 7 series is the iPhone 8 and iPhone X's ability to charge wirelessly. Sure, it's a technology that has existed for quite a while, but it's still new for Apple.
Your Cheat Sheet to Owning a New iPhone Without Going Broke
1. Sign up for a new iPhone on contract. Unless you are already on a renewable smartphone contract plans such as the Maxis Zerolution Upgrade or Celcom's New Phone plan, consider waiting for the new iPhone contract plans from the local telecommunications companies. They often offer discounts and freebies if you buy and sign up for a data and call plan from them.
2. Make a claim under the lifestyle income tax relief. Starting from 2017, you can claim for lifestyle related purchases such as smartphones, computers, books, broadband, and gym membership for up to RM2,500. Check out other income tax relief on our Maximise Your Income Tax Relief in 2017 by Spending On These article!
3. Trade-in your old smartphone. Depending on the condition (and model) of your old smartphone, you can use its trade-in value to offset the new iPhone's full price when you purchase smartphone retail stores.
4. Opt for Easy Payment Plan (EPP) or 0% Instalment Plan. Some telecommunications companies and stores offer EPP or 0% Instalment Plans when you pay with a credit card. You can also check with your credit card provider if you can convert your new iPhone purchase to an EPP so it can ease your monthly bill payments.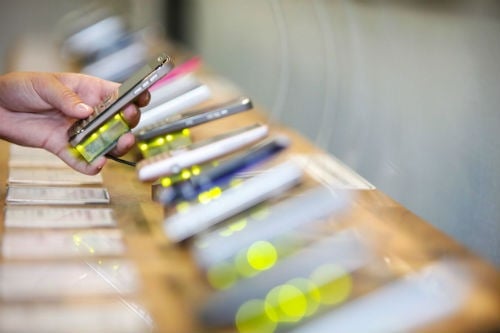 Of course, even with the above cheat sheet to owning a new iPhone without going completely broke, they are still quite expensive. If you already own a smartphone that is still functioning well, study the new features offered by the three new iPhone and weigh them against your existing phones.
Do you really need the new features? Do you need to replace your current smartphone for a better performing one? Don't fall for the latest trends and consider your current finances before making any big purchase. But, if you have enough savings and are on top of your money-management, perhaps you can think about treating yourself to a new smartphone!
Thinking of applying for an EPP to buy a new iPhone? Don't forget to get the best EPP credit card first! Take a look at our comprehensive list of EPP credit cards in Malaysia and apply for the most suitable one for your spending style today!