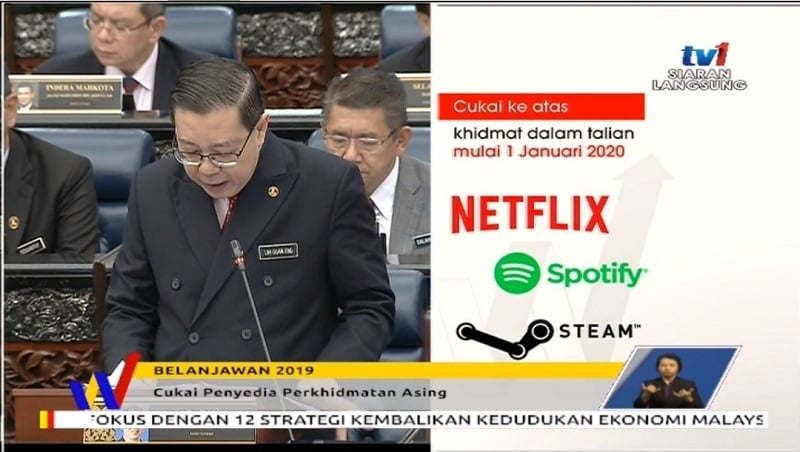 The Dewan Rakyat has passed a bill to implement a digital service tax beginning 1 January 2020. The approved rate is set at 6%, which the government feel is fair and is lower than in other countries.
Originally announced at Budget 2019, the proposed digital service tax would be imposed foreign digital service providers such as Netflix and Spotify, game platforms such as Steam, and could even cover digital advertising avenues such as Google and Facebook.
At the Dewan Rakyat yesterday, Deputy Finance Minister Datuk Amiruddin Hamzah stated that the proposed 6% rate was deemed fair, and that it was much lower when compared to the digital tax rate in other countries, citing examples such as Russia (18%), Norway (25%), and New Zealand (15%).
"They (digital service providers) should have no problem to pay…because it's only six per cent. If they can comply with Russia, Norway and New Zealand, I don't see any reason why they should refuse to comply with the rate in Malaysia," he said.

(Image: The Star)
Datuk Amiruddin also stressed that this tax is already in place for local digital service providers, but the Bill was amended to extend its reach to cover foreign companies as well. "It's not fair if only the local digital service providers had to pay the tax. This is not a new tax, it's just having the scopes extended to providers in other countries," he said.
With the digital service tax approved and its rate confirmed, it will be interesting to see if foreign digital service providers choose to absorb the tax, or decide to increase their prices and pass on the tax charges to customers.
(Source: Malay Mail)