Ready or not; our Prime Minister will today announce the details of Budget 2015. What does this mean for you and I? We present you some of our predictions (we don't really have crystal balls nor government spies – it's as Sherlock Holmes would say to Watson; "Elementary,") on policies and measures that may rear it's head later today. The list is of course not all-encompassing as we only want to talk about the issues closest to your pocket!
So without further ado; we give you our RinggitPlus Predictions.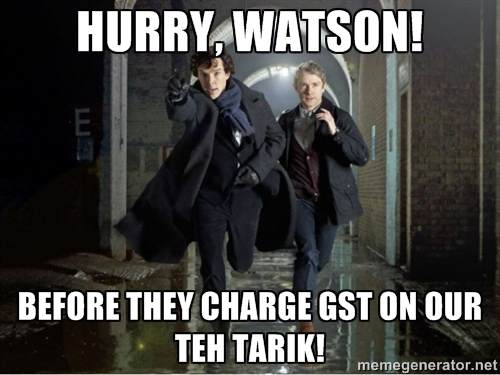 Goods and Services Tax (GST)
Sorry, but we're not going to predict they will do away with GST as much as the people may ask for it. It looks pretty set to go ahead and we'd be mighty surprised if that wasn't the case. GST will continue at 6% on 1 April 2015, but it is likely that businesses will be given more time to comply, that is, longer grace period. The reason may be because word has reached government ears that not all businesses (especially SMEs) may be ready for the move. How long will the grace period be? Your guess is as good as ours.
But before you celebrate over the slight respite, take note that some unscrupulous businesses may use time to indiscriminately raise prices, without proper reporting back to Customs – and pocket the extra.
Petrol Subsidy
Since the petrol subsidy rationalisation already happened; we might see the government attempted to ease the pockets of the lower income group with the much talked about tiered petrol subsidy system. Rumours are rife but only after 5pm today will we know for sure. The tiered system is explained in our article on the issue but in a nutshell, you can expect the following 'reliefs' for the lower income segment.
Fuel credits or fuel vouchers distributed in a similar way to BR1M;
Welfare system like myKasih which uses myKad numbers connected to LHDN to provide fuel payments.
Other Handouts
To quell a grumbling rakyat after the petrol subsidy cut announcement, we expect more handouts to be given to possibly a larger group of eligible recipients. Here's what we expect will happen here.
Continuation of BR1M / BB1M / Retiree payments;
BR1M has been gradually going up each year so there may either be an increase in amounts outright, and / or a move to combine the amount with the fuel handout.
Tax changes
There shouldn't be any new changes here as it was already announced last year that there will be a revision of tax rates (1-3% personal for 2015 and 1% corporate in 2016) to offset GST but the government may simply reiterate the move as a way to show that they are taking into account the sentiment of the rakyat.
Property Policy and Affordable Homes
A big issue on everyone's mind; there may be an announcement of plans to build more affordable homes. Last year the amount of such houses being built were approximately 80,000 and there is a good chance there may be more announced. There may not be any further tightening on speculators via real property gains tax (RPGT) as the current rate has already been increased to the highest it's ever been. There has also been a drop in the Malaysian House Price Index (MHPI) and a fall in loans in the past 12 months.
So there you have it, folks. Some top things to look out for during the budget. Although, not really a prediction (because it's been reported everywhere already!) Prime Minister Najib Razak is assuring the people that the Budget 2015 will be rakyat focused.