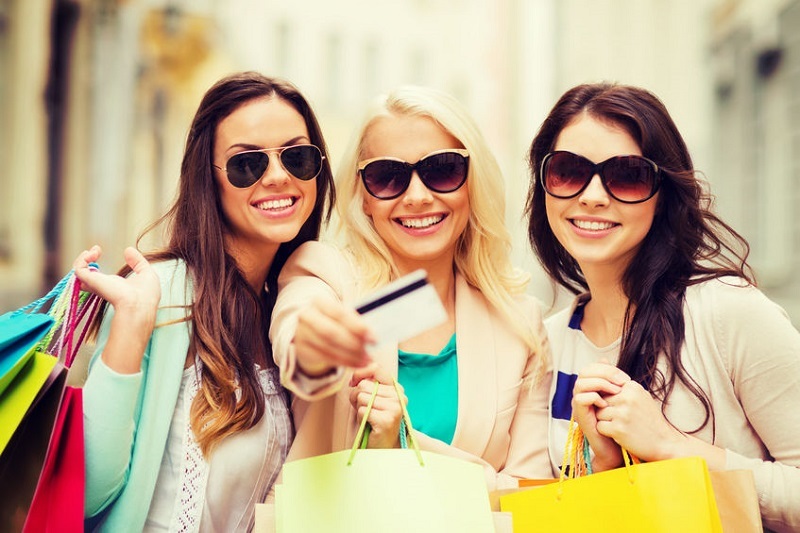 When used well, credit cards help you save money even while you are spending money with them. Benefits such as rewards points may take time to bear fruit, but cashback perks are tangible and deduct from your outstanding balance at the end of the billing cycle. For that reason, cashback credit cards are usually one of the most popular types of credit cards in the market. If you already have one, how do you maximise the cashback benefits of the card?
1. Read the fine print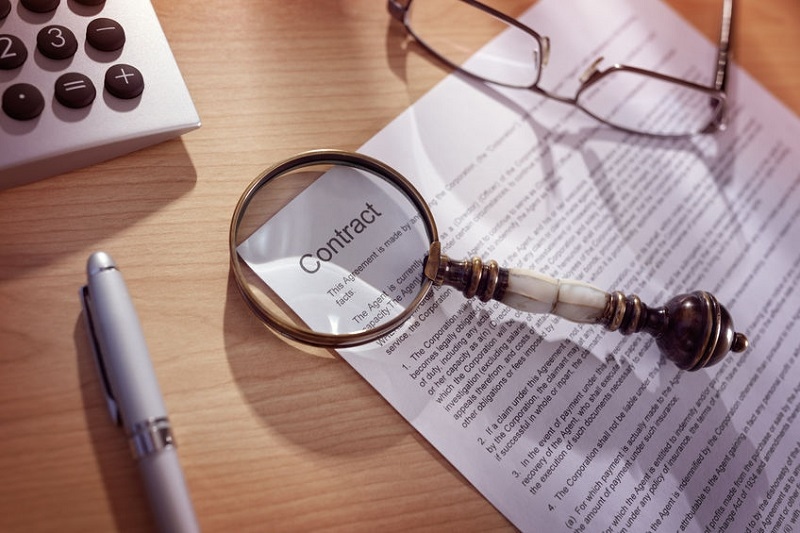 First things first, you must know what your credit card's cashback terms are before you can maximise its benefits. Usually, cashback will only be given out when you fulfil conditions like spending on certain categories, or at specific locations, or at specific times. While this may sound complicated, hitting that maximum monthly cashback cap is a satisfying feeling – especially if you're just spending on the necessities.
Let's take an example of a cashback credit card: the HSBC Amanah MPower Platinum Credit Card-i. It's one of the most popular credit cards in Malaysia, thanks to its promise of offering up to 8% cashback in two essential categories: petrol and groceries. Here's how the cashback works:
| | | | |
| --- | --- | --- | --- |
| Cashback Category | Monthly Spend Amount | Cashback Rate | Monthly Cap |
| Petrol & Groceries | Below RM2,000 | 2% | RM50 |
| Petrol & Groceries | Above RM2,001 | 8% | RM50 |
| All Other Spend | No minimum spend | 0.2% | Unlimited |
Essentially, the HSBC Amanah MPower Platinum Credit Card-i offers 8% cashback when you spend above RM2,000, and the cashback is reserved to two categories which is capped at RM50 a month. Note that you do not actually need to spend the entire RM2,000 in these two categories alone, and we've done the math for you: to hit the RM50 cashback cap at an 8% rate, you'd need to only spend RM625. Granted, RM625 is a large amount to spend on petrol and groceries, so how do you maximise that? We'll explore that in the following tips.
2. Pay your bills with your credit card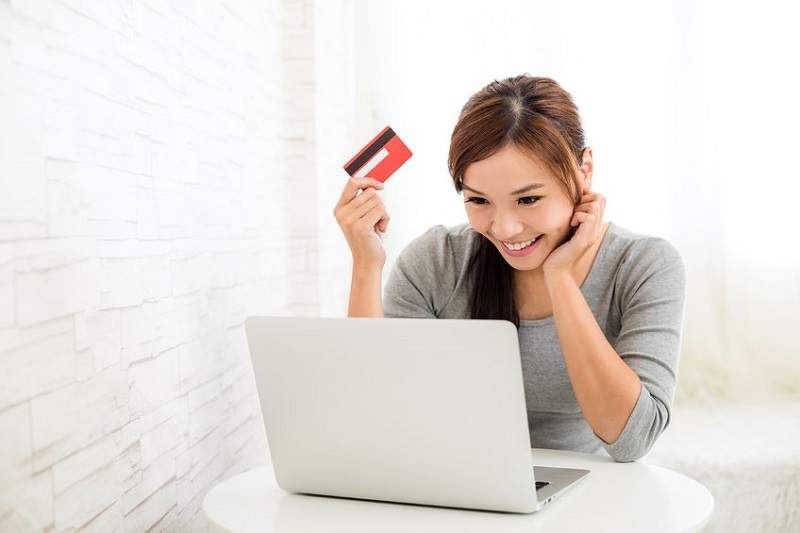 Using the HSBC Amanah MPower Platinum Credit Card-i example as above, you'd need to spend RM2,000 to unlock the 8% cashback rate – and from our calculations, only RM625 spend in petrol and groceries would be entitled for cashback. So, where should you spend the remaining RM1,375 on?
A good place to start would be to pay for the essentials with your credit card – splurging on unnecessary items just to hit the cashback criteria is not only financially irresponsible, but also defeats the purpose of earning money while spending it. Therefore, look to pay for essentials and recurring payments such as bills and subscriptions – utilities, insurance premiums, and even your monthly Netflix subscription add up to quite a bit, and this total easily takes a chunk off that minimum spend requirement.
3. Apply for a supplementary card and give it to your parents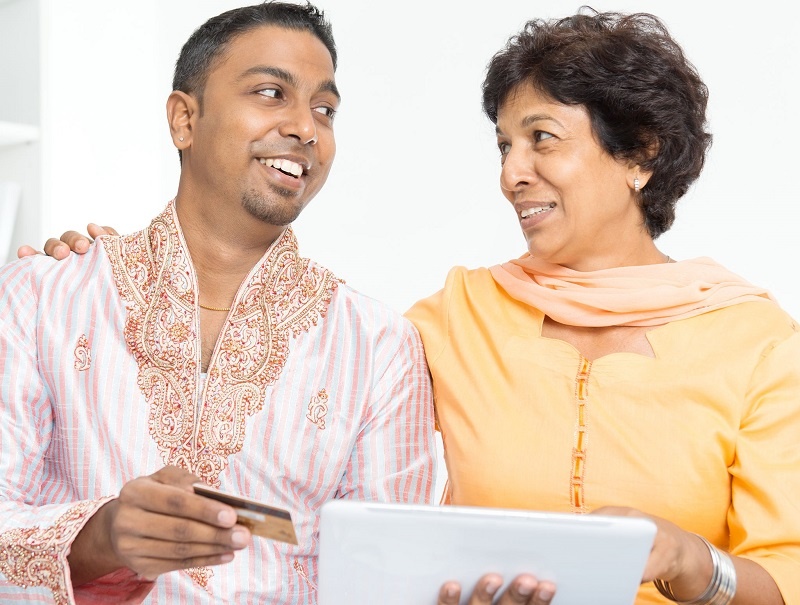 As we grow older and earn our own income, it's important to give back to our parents who brought us to where we are today. The Asian practice of giving our parents some pocket money every month can be given a twist by giving them a supplementary credit card that they can use.
By teaching them the benefits of the card and how it helps us save money, we're sure parents would be more than happy to help us hit the minimum spend amount. Just be mindful that some supplementary cards have annual fees, so be sure to choose a card that has zero annual fees or has an annual fee waiver policy that's easily. The HSBC Amanah MPower Platinum Credit Card-i – and its supplementary cards – waives the annual fee when you use at least once a month.
4. Offer to pay for meals and groceries, then split the bill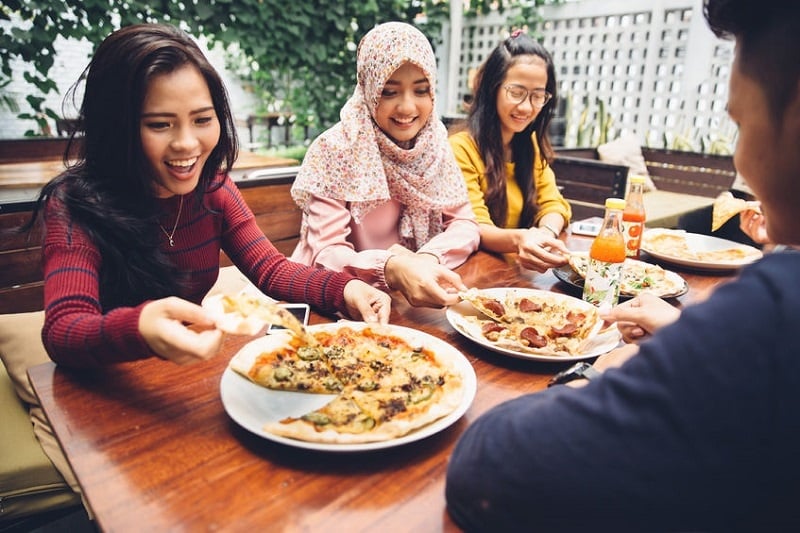 If you regularly eat out with friends, this is a surefire way to help you hit the minimum monthly spend amount
without actually spending it. Offer to pay for group meals and split the bill after to make it easier for everyone. It's also less embarrassing to be passing money around while the waiter waits for you!
Similarly, if you live with housemates, you can also pay for the monthly groceries and split the bill equally later on. In this case, using the HSBC Amanah MPower Platinum Credit Card-i would entitle you both to the minimum spend amount
and the cashback, since this is the category where cashback is eligible.
As long as you split the bill and your buddies pay you on time, this is the best way to rack up that minimum spend amount and unlock higher cashback tiers. We also know of people who help friends and family buy things online just so that they can use their credit cards!
We'll leave it to you to decide if you should let your friends know that they are indirectly helping you save money.
5. Take advantage of attractive sign-up promotions
With hundreds of cards to choose from, it is a very competitive industry as banks all vie for a spot in your wallet. As a result, many banks offer attractive bonuses and perks when you sign up for their credit cards. Do keep a look out for offers such as these, which when combined with the benefits of the card itself, makes it very beneficial to you.
For example, HSBC's ongoing promotion for new customers to apply for the HSBC Amanah MPower Platinum Credit Card-i is quite fantastic. If your application is approved, you get to choose between two offers. The first is a cashback feature that offers attractive cashback when you spend a specific amount within 60 days of your welcome letter. For new primary cardholders, you will get RM225 in cashback when you spend RM1,500, which is a huge 15% rebate.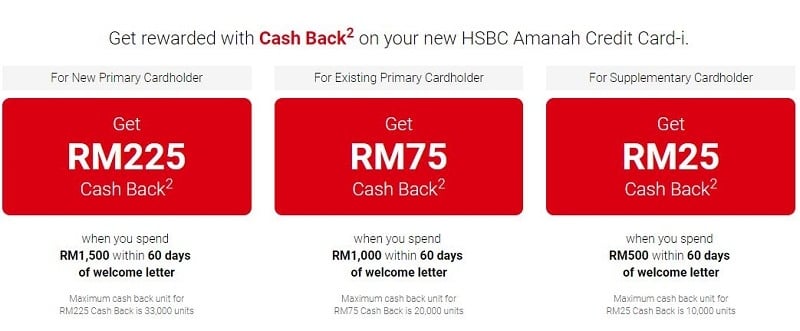 The second choice a bit more interesting. It's a cash advance feature that gives you up to RM12,000 in cold hard cash upon approval, which is to be repaid within 12 months at 0% interest. This is extremely useful to clear out existing credit card debts at zero interest, or to make any big ticket payments that you cannot pay for immediately, such as for renovation works, education, or even a wedding – all at no interest charged.
On top of that, regardless of which option you choose, you also get RM25 cashback when you activate your new HSBC Amanah MPower Platinum Credit Card-i and spend any amount with the card! For more information about this card and campaign, visit the official HSBC website, or to apply, check out the product page on RinggitPlus.
Get creative and save
We've heard of a few more of these tips and hacks to maximise cashback, but the ones we listed here are what we found to be the most reliable. Remember, when it comes to maximising cashback, a little effort can go a long way!
Heard of a cashback tip that you think is worth sharing? Let us know in the comments section!
Disclaimer: The views and opinions expressed in this article are those of the author/RinggitPlus and do not necessarily reflect those of HSBC.