(Image: Digi)
Digi has officially launched its new and improved MyDigi Reward platform on the MyDigi app. The enhanced platform comes with new features and more deals from over 500 participating merchants and brands.
One of these new features is a membership tiering system: Yellow, Gold, and Platinum. These tiers provide Digi customers with different privileges and benefits based on the amount of accumulated Digi Poins earned during each of the two 6–month cycles: Cycle 1 (1 January – 30 June) and Cycle 2 (1 July to 31 December).
| | |
| --- | --- |
| Tiers | Accumulated Digi Points in Each Cycle |
| Yellow | Up to 299 |
| Gold | 300 – 1,499 |
| Platinum | 1,500 and above |
Customers can earn Digi Points by just paying their prepaid and postpaid bills, where every RM1 spent earns 1 Digi Point. The tiers and the benefits that go with their tiers are as follows: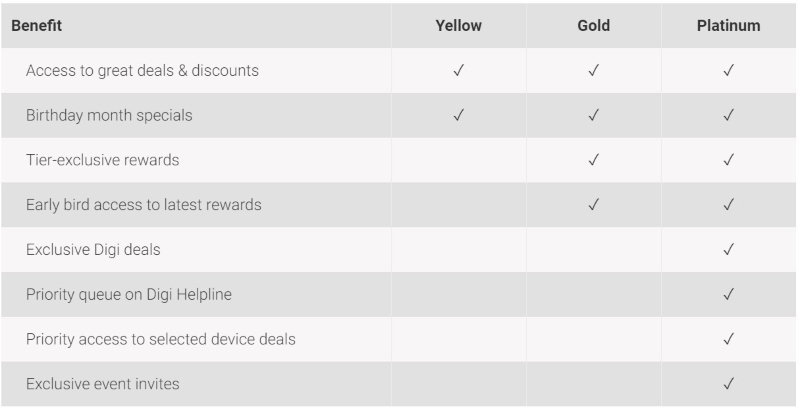 (Image: Digi)
Customers automatically upgrade tiers if they have collected the required amount of Digi Points and enjoy the benefits until the end of the current cycle and the next cycle. Gold and Platinum customers will also receive an extra perk where they can check out upcoming deals via the Reward Sneak Peek feature.
Another feature that Digi has introduced in the refreshed version of MyDigi Rewards is the Near Me function, which enables customers to locate the nearest deals and rewards around them. This function will be useful as the platform offers Digi customers with thousands of deals and rewards from over 500 participating brands, which can be enjoyed in 7,000 locations nationwide. Additionally, customers can also share the deals and rewards with their friends and family via the platform's gift function.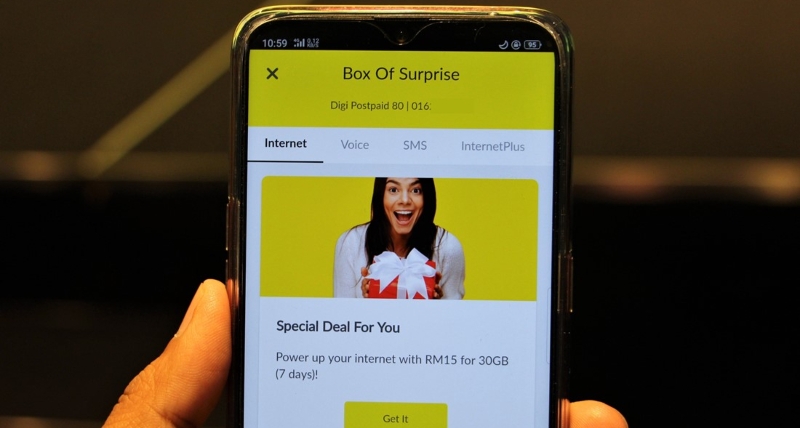 (Image: Lowyat.NET)
Alongside MyDigi Rewards, the telco has also introduced the Box of Surprise feature. This feature provides Digi customers personalised discounted internet plans, free internet, exclusive internet passes and phone bundles based on their spending and usage patterns. Similar to Hotlink's MU deals, these deals are refreshed from time to time based on the customers' usage behaviour.
The new MyDigi Rewards and the Box of Surprise are available in the latest version of the MyDigi app, which can be download from the Apple App Store and Google Play Store.
(Source: Lowyat.NET and Digi)